Whether you are self-employed or work for an agency, the job of a logo designer is a dream occupation for many.  Using your artistic skills to help businesses achieve their goals, and making a living in the process, is a career most aspire to.
However……..
Logo design can also be a tricky affair, especially when it comes to dealing with clients. More often not, what you think is an easy job turns into a horror story.
Today, we talk about six types of logo design clients that suck the life out of the creative process and leave you second-guessing your career choices.
Type 1 – Captain Confused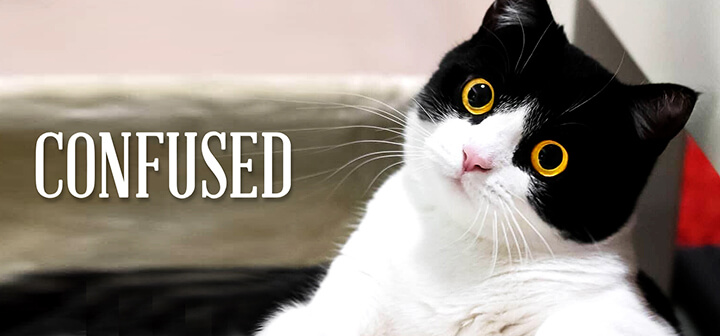 To begin with, we have the confused client who doesn't really know what he needs ( or doesn't know how to explain it). He seems unable to make decisions, or perhaps he is not the one making decisions in this project.
This happens both in the case of a corporate representative who is running forth between the marketing and accounting departments, or a small businessman or an entrepreneur who has a friend, girlfriend or spouse making the logo design decisions.
In either case, such clients keep on requesting revisions.
Hate to say this, but there is no way to get around this client. But what you can (and should) do is provide a detailed proposal and have em' clearly agree to charges for additional work. Doing this will compensate for the longer-than-expected work hours and continuous rounds of revisions.
The opposite of Captain Confused are established business owners or serial entrepreneurs, which means they take quick decisions.
Type 2 – Super Cheap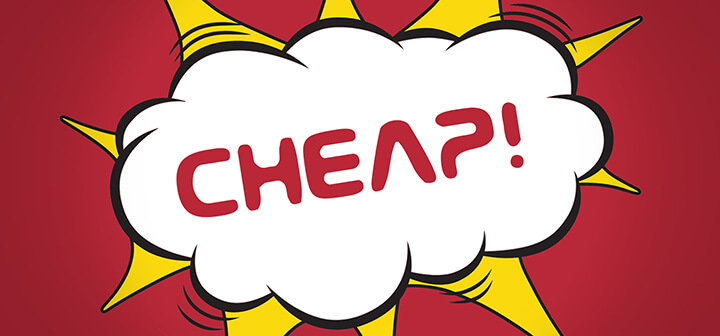 The second type of difficult logo design clients includes those who haggle for a living. The adage 'you get what you pay for' works in reverse as well, i.e. if you work with clients who want it cheap, you will get cheap clients all the time.
These are the people who don't know the worth of the logo design and how much time is invested in developing one.
You will identify the super cheap client when they argue about price than helping you create the brief. Not only will they suck every ounce of value from the budget, but they will also want to know exactly where every dollar is spent.
So you labor for days to give them 3 logo concepts, and they will say 'OK, now send me 5 more options, please'
The way to deal with these clients is to have a project management software in place that tracks the hours your clock in making those logos. Also, stay wary of their negotiating tactics. If they want a lower price, you need to cut back on some of your services as well.
This may be difficult for designers inexperienced with the business side of things, but you need to some planning and decisiveness to exercise control over your logo projects.
Never price your services vaguely (e.g. logo design for $X). Instead, be more specific. E.g. Three logo concepts for $X and $Y for every additional concept. If you don't set clear expectations from the start, you will soon run out of great logo ideas with no money to show for it.
The opposite of Super Cheap clients are those who understand the worth of a good logo and a ready to pay for it. These are clients that make us feel good about taking up this career.
Type 3 – Mr. Know It All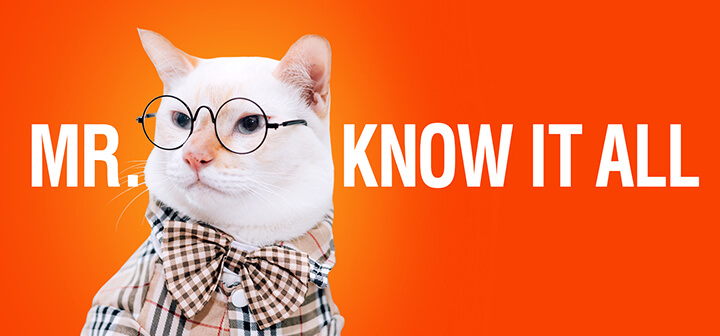 Our next contender for the worst logo design client is who we refer to Mr. Know It All. These are the clients who consider themselves art directors. They will dictate instructions, in fact, even draw out the damn logo themselves. You end up basically recreating his idea on Illustrator.
Seems an easy gig, right? Here's the catch: now he hates the design that you created!
And he'll once again tell you about his skills as an artist and start pushing his concepts on you. It is hard to be upfront to a client and tell him he's not a creative professional. The best way to deal with this kind of client is to use his ideas for brainstorming. Encourage him, if possible, to provide you with concepts instead of actual designs.
The opposite of Mr Know It Alls are those who understand that they are paying you, the ones who let you do your job. They may know a lot about logo designs, but they also know the importance of professional work.
Type 4 – The Visionary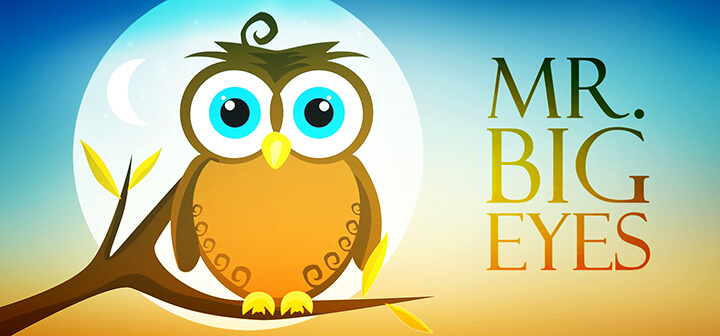 Moving on, The Visionary is the client who understands brand identity and what it takes to create a world-class logo. He will even give you the creative freedom to create detailed, illustrative logos. Sounds like the perfect client, right?
The problem is, they don't have the money for it!
They will want you to work like a top-tier designer, but they will not compensate you for the time it takes to develop a great logo. To put it simply, these are the clients with a big vision but small pockets.
Of course, we recommend that you avoid taking such clients on board. Unless of course, you are running short on work. If you fall into the latter category, don't feel bad and give the project your best. You may not get the money you deserve, but a high-end logo on your portfolio will help you recover financially.
Also remember that there a VISIONARY clients with deep pockets there. Yes, they exist, and a little bit of persistence and networking will help you find them.
Type 5 – Mr. Hit n' Run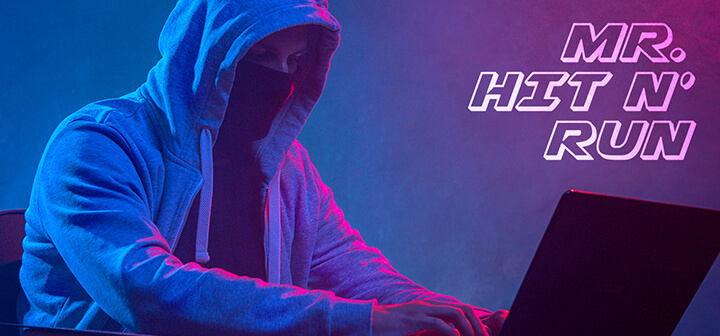 Here is a category of clients who approach you with the prospects of 'repeat' work. "I need 10 logo design projects completed daily" comes the promise.
But this seemingly lucrative offer is followed by insanely low prices. And even if you agree to work for a lower price, they will end the contract after you deliver the first logo. These are not real clients. They just use a cheap tactic to get a good quality logo, and then they disappear.
NEVER take such jobs in which you have to chase the client and his money later on. The low-paying gig isn't worth it.
Eventually, you will come to know that the vast majority of clients are honest. But if you aren't getting paid at all, don't just sit back and allow such clients to abuse you. You can even seek legal help, if necessary.
The Real Clients – Quick Decision Makers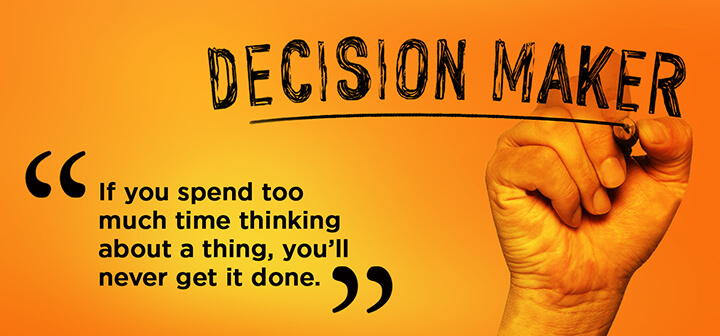 These are clients we like to call 'Quick Decision Makers'.  They are genuine business owners and entrepreneurs who value the services they pay for.
They are the people who give designers real respect since they know how essential a logo is for their brand. Real clients appreciate professional designer's recommendations instead of their family/friends, and we love them for it!
These are the clients that make all those hours of intensive creative work worth it, and they positively reinforce our career choices.
That's all for now. This rant of a post was just to let off some steam. Frankly, many logo design clients suck because they just want you to digitally recreate their pen and paper logos. And even when they do need new designs, they will always ask for an unending series of revisions and concept changes that will shatter all your dreams of making money from your craft.
With enough years in the field, you will eventually learn to identify, avoid or deal with difficult logo design clients.
Infographics on 6 Different Types of Logo Design Clients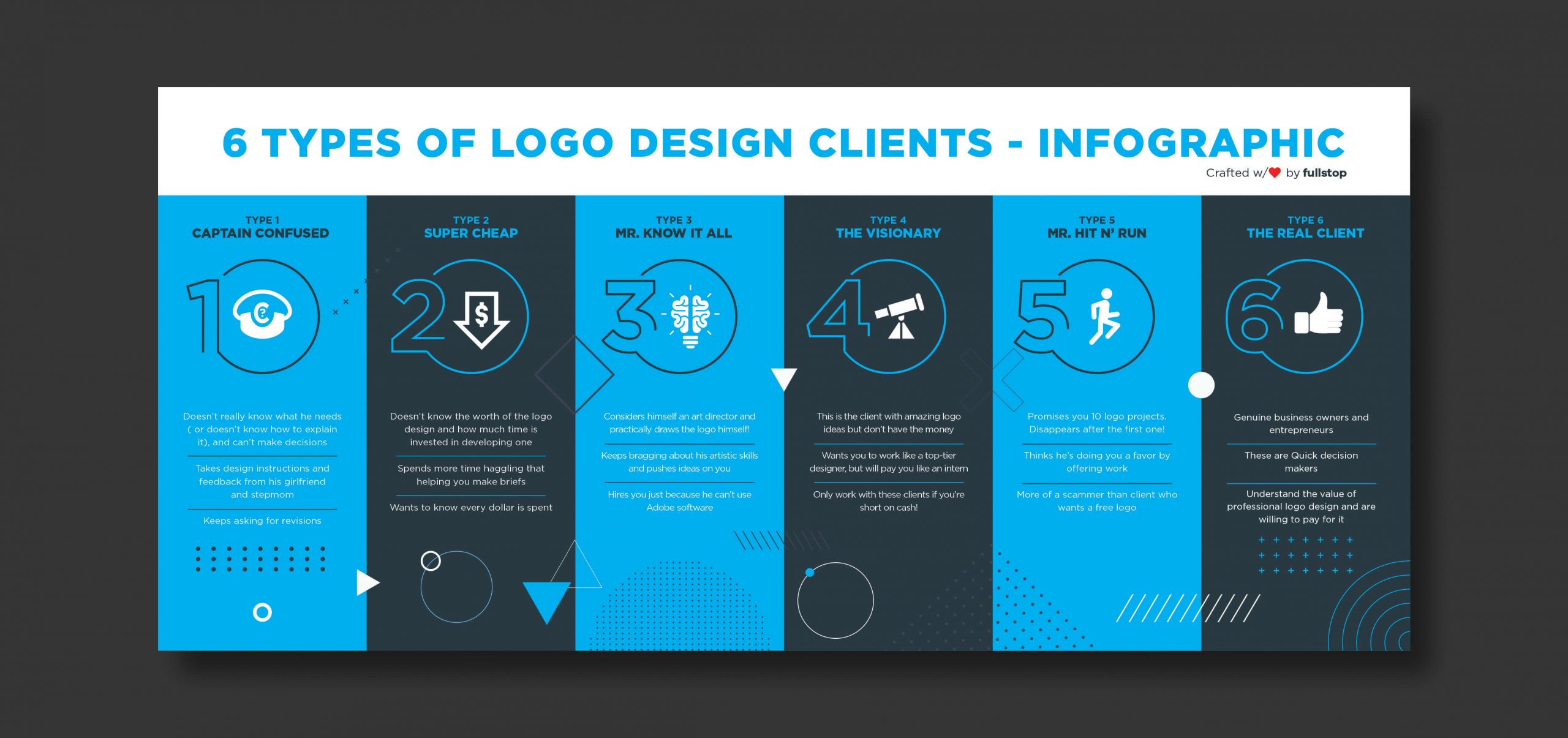 Embed This Infographics
Is there any other TYPE of clients you'd like to add? Feel free to share your experience with clients in the comment section. Also let us know how you deal with these clients.