Apple Pencil proved a revolutionary invention for all the creative beings out there!
Since Apple Inc. is known for offering premium products, many are seen seeking affordable Apple Pencil alternative options that are in their budget.
Wait, are you an Apple Pencil fan with low-budget issues?
Today's your lucky day as I've plenty of alternatives to the Apple Pencil to share that offer somewhat same quality as an Apple Pencil does. And surprisingly all of them offer the same precision, grip, and stylish vibes that you aspire to have in your stylus pen while attending a brainstorm session with your design team.
So, keep reading and discover your true creative partner with our Apple Pencil alternative list, below!
Stylus Pen Selection Tips
If you're buying your first stylus pen and have little (to no prior experience) in this domain or maybe you're a curious being, like me, then here are some helpful selection tips. Knowing the fundamental rules will help you select the best Apple Pencil alternative according to your working patterns and personal preferences. So, do consider these selection metrics while you seek the most ideal replacement for an Apple Pencil, below:
Weight – While there are numerous options but an ideal stylus would have a perfect weight that is well proportionated with its length for easily carrying it anywhere you go.
Humanistic Feel – Another selection metric, for stylus pen, is its natural feel when you hold it in your hand and experience nothing but smoothness and comfort.
Long Lasting – One pertinent aspect, that you must keep in mind, is that an ideal stylus pen would offer you longer durability so that you won't have to buy a stylus pen again and again.
Touchscreen Type – Resistive touchscreens do exist but if you're using a stylus pen for designing work mostly, seek a pen that offers capacitive features.
Comfortable Usage – As described earlier, an ideal stylus pen would come with a non-slip feature offering you an exceptional experience.
Storage – Unlike common pens, a stylus would come with a magnetic grip that allows you to easily carry it anywhere with you.
Best Apple Pencil Alternative in 2021
Since you know the basic selection metrics, let us take you to the list to select the right Apple Pencil alternative options. All the suggestions, listed below, are included to offer you an affordable alternative to the Apple Pencil that does rule the industry due to unlimited features but has a slightly high price tag. Come, let us show you all the ideal options below!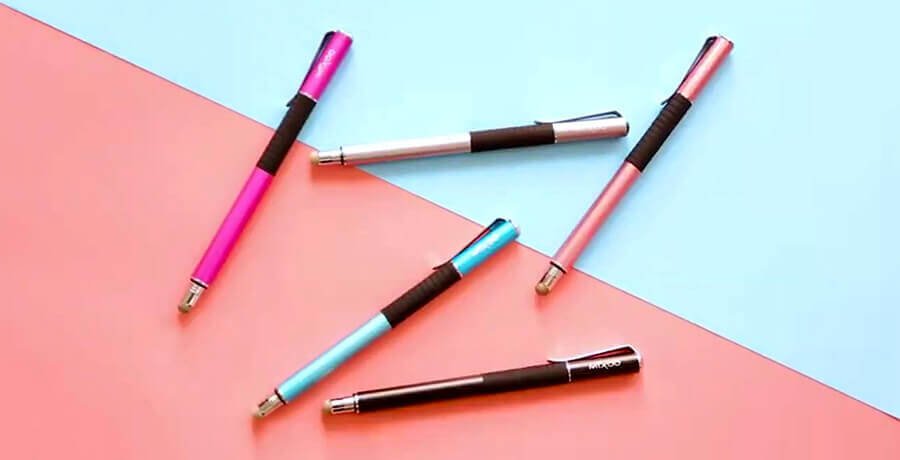 Mixoo, being the first alternative to the Apple Pencil, really gets everyone's attention at such a remarkable price tag with multiple features that make it a worthy inclusion in my list. From high sensitivity and precision to universal connectivity, you'll find Mixoo Capacitive Stylus Pen an accurate replacement for an Apple Pencil and that on such a nominal cost. Along with that, you get to select from 8 vibrant bodies that add a wow factor, too.
Mixoo Capacitive Stylus Pen has an extra smooth tip that gives your work super fine clarity whether you write something or draw your ideas.
The pen has been designed to prevent scratches that our finger tips sometimes cause the screen. So, you can stop worrying about scratching while working on your projects.
Its compact size allows you to carry as well as protect it with ease. Hold it in hand, put it in your pencil case or just cling it with your iPad's cover.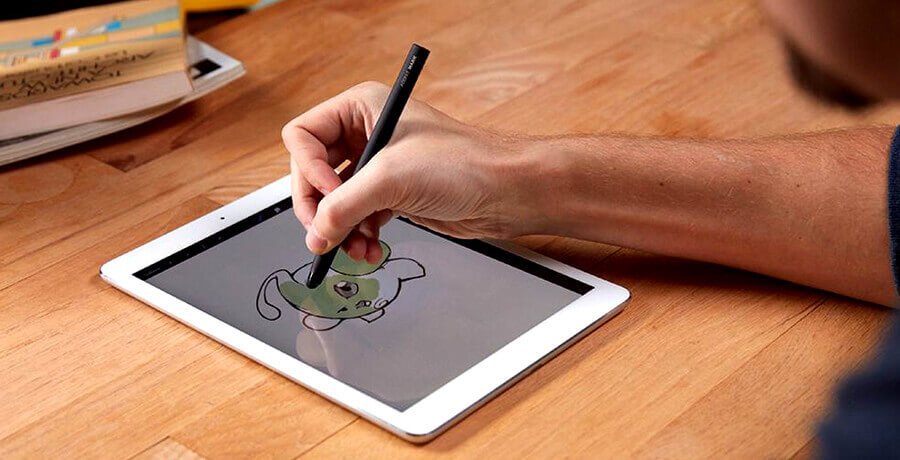 Reviewed as Best Stylus for iPad by NY Times, Adonit Mark can be regarded as a leader in low-budget stylus pen as Apple Pencil alternative. Adonit, continuing its tradition for making designer-oriented pens, has infused all essential features that a creative mind would ever need during the design process.
On top of that, the exterior design has been kept extremely ergonomic for firmer grip and easy usage, too. In simple words, Adonit Mark is your prime thought collector that works both on tabs as well as mobile screen for taking quick notes or doodling your brilliant creative ideas.
Offering an identical experience as you'd have with a grade-school pencil, Adonit Mark makes it to the cheapest stylus list with a low-price tag.
The durable mesh tip gives you to draw or write flawlessly without facing friction or resistance on the screen which is another great feature that they've added to Adonit Mark.
The Bluetooth connectivity allows you to connect your Adonit Mark with multiple apps in a fraction of a second.
Are you seeking an affordable alternative to the Apple Pencil that doesn't require Bluetooth connectivity?
Well, I just have one in shape of AWAVO Stylus Pencil that costs almost as much as a pizza!
AWAVO's stylus pencil gives you almost identical looks to your all-time favorite Apple Pencil in a low price that makes it a must have if you count appearance during the selection part. Plus, you can expect a 24-hour long battery time after every charge and get along with your routine work without worrying about the dying battery.
Apart from pricing, battery or overall similarity with Apple Pencil, it just fails to give you the pressure sensitivity that Apple Pencil does.
AWAVO is an ideal choice for general writing and scribbling and supports every iPad after 3rd generation onwards.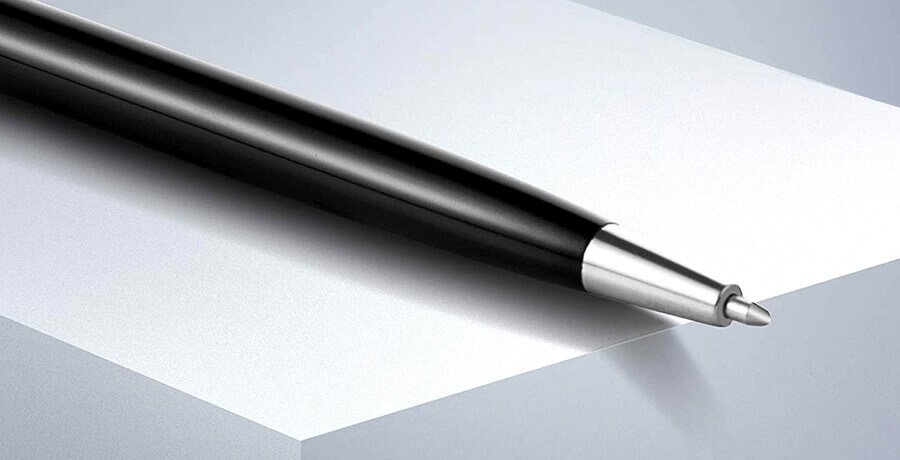 And here's an identical Apple Pencil option in shape of ORIbox Stylus Pen that offers the amazing grip on the screen. This stylus pen has an aluminum-plastic body combination that gives it the status of light weight pens when you seek an affordable Apple Pencil alternative.
The only downside, that you'll experience with ORIbox Stylus Pen, is that you'd need to be careful with the tip which can't bear much pressure unlike other pens in this price range.
If you've 2nd gen iPad, you'll find this stylus pen a wise investment.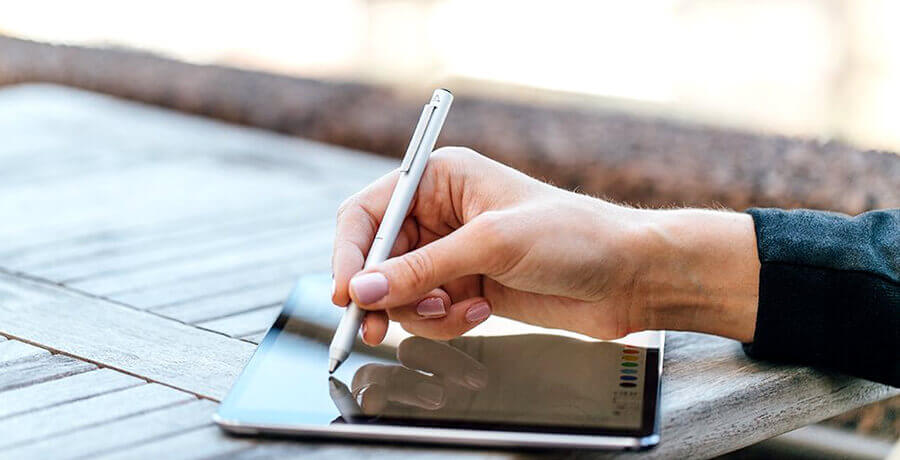 Adonit upgraded its stylus pen series and gave the Dash 2 few more options in shape of Adonit Dash 3. Along with having a quite decent price tag, Adonit Dash 3 also offers you easy connectivity, smart charging option and a 1.9mm tip to write, scribble, or draw.
The most significant change, from Dash 2, is the non-glossy tip that offers Adonit Dash 3 more accuracy and stability when you draw.
You'll have to put extra work on being cautious of your movements since Dash 3 is not very good at palm rejection unlike the other styluses from Adonit.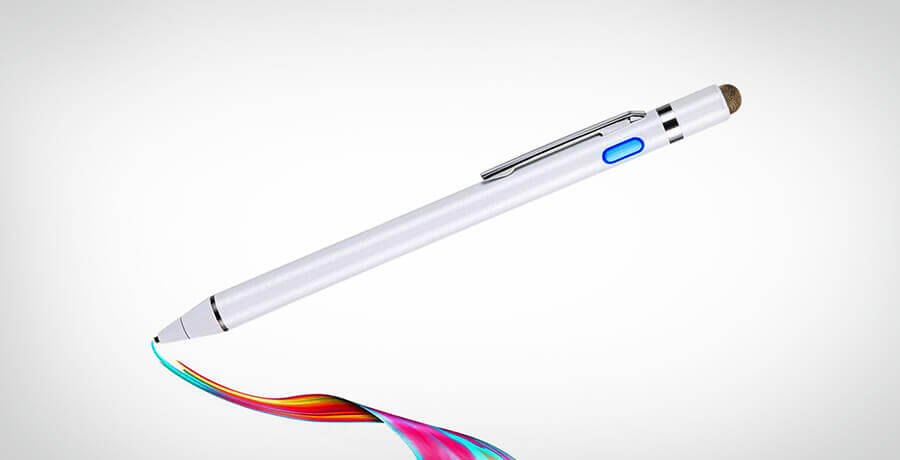 If your search description involves a compact size as Apple Pencil alternative, I'd suggest you to buy Xiron Stylus. No Bluetooth connectivity, 12-hour battery life and a clean design that resembles your favorite Apple Pencil, what more do you need in such a low-price stylus?
The only discouraging feature, of this Apple Pencil alternative, is the absence of palm rejection feature that is covered with a glove which comes with it.
The battery life is exceptional for a basic stylus under $25 price tag along with 30 days standby time on a 60-minute charge, though.
Another wonderful creation from the house of Adonit, the Pro 4 is an ideal alternative to the Apple Pencil that scores high in my list. This, just like Apple Pencil, offers direct connectivity ditching the Bluetooth connectivity method along with the scratch-less disc design that adds more weightage into its overall ratings.
Again, Adonit Pro 4 does impress with all the above-mentioned features but lacks palm rejection as well as the pressure sensitivity which might restrict its fan following in comparison to other pens in this price tag.
Adonit Pro 4 can be your dream stylus pen, after Apple Pencil, with its multiple functions such as write, draw, swipe and tapping functions.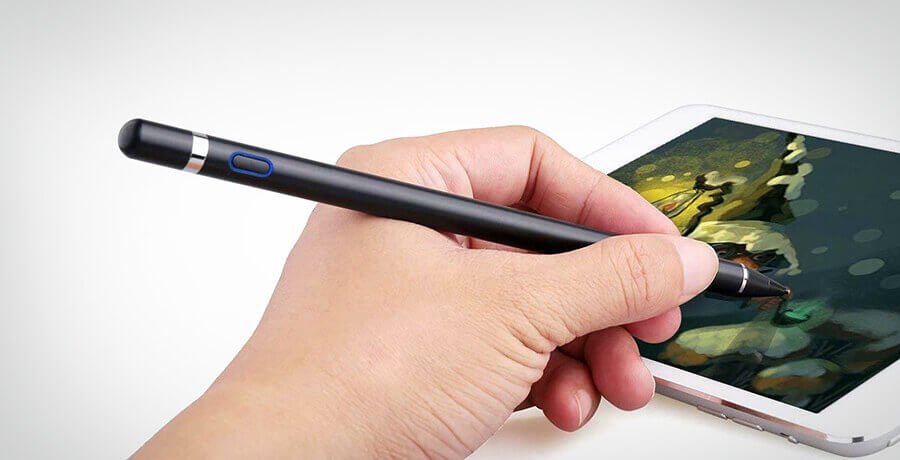 It's not wrong to label Zspeed's pen as a universal option for a multitude of devices including iPhone, iPad, even the non-Apple tablets as well. You charge it, connect it with your device and enjoy up to 12 hours of battery time, all that in an ideal price range.
Zspeed excels at usability test with its smart design in comparison to other Apple Pencil alternatives in this price range.
Having a built-in lithium battery allows you to enjoy a longer battery life which is another positive aspect of Zspeed stylus pen.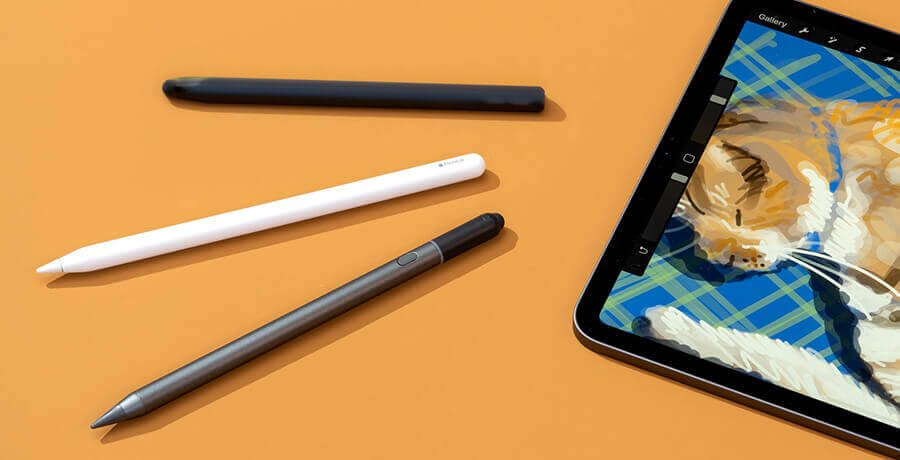 Another great addition to the Apple Pencil alternative is Buteny stylus pen having an impressive resemblance with it. Not only that, you'll find the LED power button a wise integration into this Apple Pencil contender for full control over your creative drawing tool.
Avail up to 10 hours battery time along with a magnetic cap in Buteny Stylus Pen.
Own stylus pen that offers you such precision that other pens fail to have when you draw or write something.
If you're seeking control over your work quality into the Apple Pencil alternative, MEKO is the answer! This stylus pen not only gives you awesome exterior aesthetics but also offer wider range of device connectivity, too. Plus, MEKO offers you one much needed feature that not many (in this price range) provide, the pressure sensitivity.
Increase your satisfaction in the work with multiple tips that come in the package to better suit your preferences.
The rubberized grip allows you to have a fantastic experience as you write, draw or scribble on your iPad.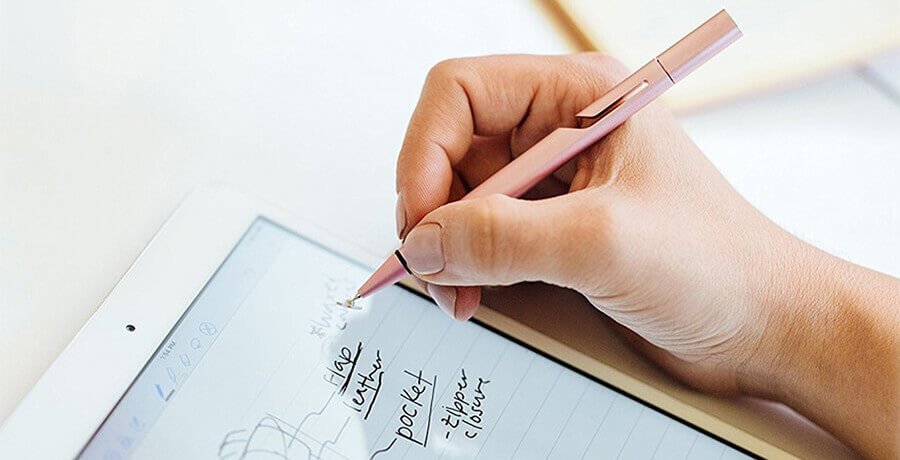 In terms of design, precision, and connectivity, Adonit Jot Pro 3 can literally be termed as a jab on Apple Pencil's face in such a nominal price tag. The multi-color body, disc precision, and an amazing user experience all sum up to the dedication of Adonit that are summarized in shape of Jot Pro 3.
The etched texture grip allows you to have more control over the stylus pen which is a relief to your fingers in comparison to Adonit's other variants.
If you're planning to use Adonit Jot Pro 3 on an uneven (or low-maintained) screen, you might not get satisfactory results.
Having super compatibility with every touchscreen device, this pen can do wonders for you if disconnecting/reconnecting is not what you like to do during the work.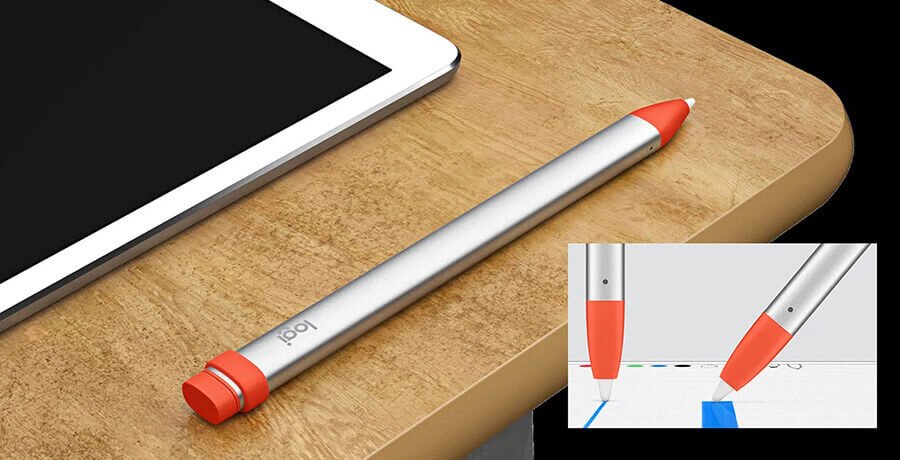 Known for its magnificent design and identical features to Apple Pencil, Logitech's Crayon can rightly be said as the most powerful contender in this list. The reason for declaring this is the unlimited common features that both the styluses have except pressure sensitivity. Apart from that, Crayon wins heart with ergonomic grip that makes the whole experience extremely comfortable without letting you feel that it's not Apple Pencil but a marvel from Logitech.
The no-pairing-needed is one of the best features that make Crayon an ideal option if you're seeking the best alternative to the Apple Pencil.
The smartly crafted tip of Crayon makes it a prime choice of artists, designers and anyone with artistic aspirations on touchscreen.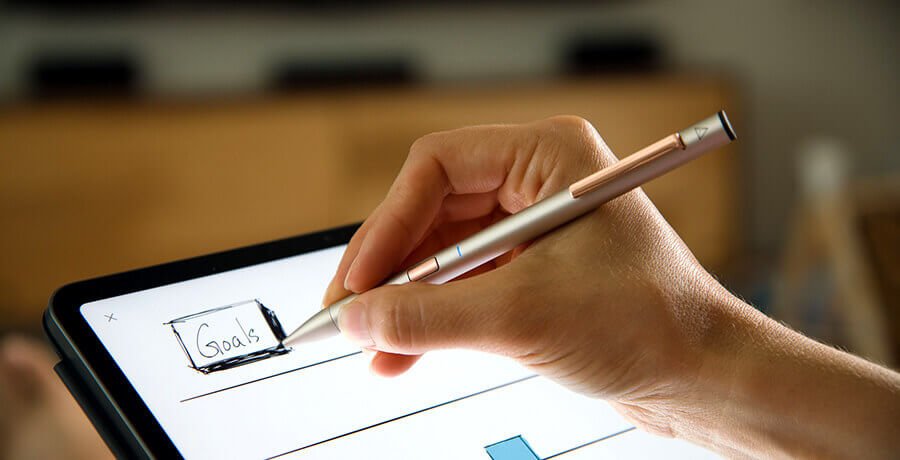 Adonit unveiled a better version of its Note variant in shape of Note+ that can be regarded as an ideal replacement for an Apple Pencil if you're on a budget. Along with Bluetooth connectivity and customizable button functions, you get to have pressure sensitivity feature (of up to 2048 levels) in new (and improved) Adonit Note+. Plus, the plastic body does offer you a satisfactory grip in comparison to its predecessor, Note, along with a 10-hour battery time.
Unlike other variants of Adonit stylus pens, this one doesn't come with a pocket clip that demands extra care for holding and caring for the device.
While using the Adonit Note+ you won't feel any lags as you move your hand either to draw something or take notes on your touchscreen device.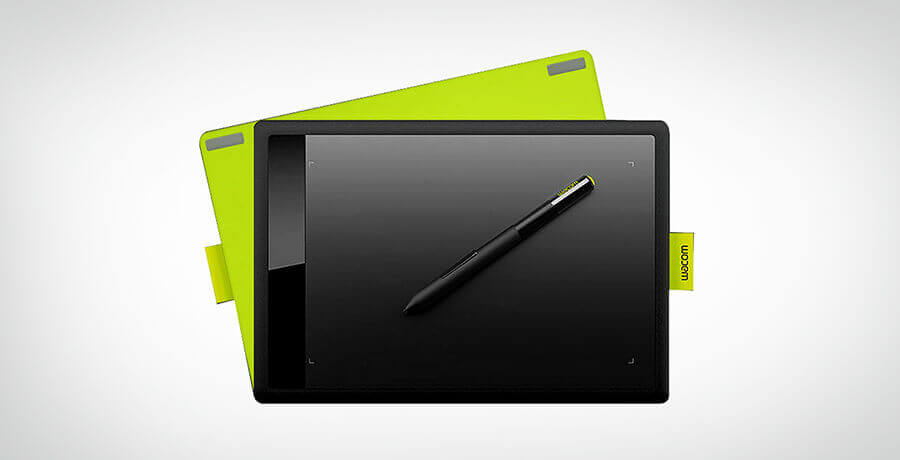 Window's users have always been a little envious with Apple's magnificent product line and Apple Pencil is one of them.
But not anymore as Wacom has a befitting answer in shape of its Bamboo Ink Plus that is an ideal Apple Pencil alternative offering premium experience as you start to draw something. If you want to opt for a different stylus option than Apple's Pencil but want all the amazing feature it has then Wacom's Bamboo Ink Plus is the way to go. The interchangeable nibs, tilts, and the no-battery-required feature all are the perfect ingredient to create something as astonishing as Apple Pencil offers.
The triangle barrel is one such creative amendment to Bamboo Ink Plus's design that prevents rolling off and offer you a firmer grip.
Despite having an ergonomic design and excellent amendment to battery issues, this new version of Bamboo Ink Plus does have some tip issue where you'll have to be a little cautious while putting too much pressure on the tip during work.
Also check:
Conclusion
No doubt that Apple Pencil is amongst the astonishing inventions for designers and all other creative beings but the price tag limits its scope for some. I've tried to suggest some cool Apple Pencil alternatives that offer best usage experience as well as cost very less than Stylus Sumpreme (aka Apple Pencil). And I do hope you'll get to find a stylus pen that's not very costly and offers almost the same experience as you'd have with an Apple Pencil.
Disclosure: This content is reader-supported, which means if you click on some of our links that we may earn a commission.