Being a designer is not easy, especially because of the continuous edits in the task. It's okay if you still like to draw designs with your pencil on paper, but that's not what most people prefer these days.
Drawing can be made easy and more eye-capturing by using the right tools. Yes, it's true.
A lot of graphic designers are opting for graphics tablet to make sure that their work is completed on time and without any hassle. There are a lot of benefits of using a good graphics tablet to complete your work. If you're looking to get tablets for drawing, then you're in the right place. We've some excellent suggestions in line for you!
Before digging into the suggestions for you, let's first talk about how they are beneficial for your graphic designing career.
Draw in Flow
Well, this is a big one. Smooth curves, easily drawing complicated shapes, and whatnot!
When it comes to designing something on a graphics tablet, everything just becomes extremely easy. Drawing tablets allow you to easily design anything by simply moving a mouse. They are pretty easy and simple to use as compared to typical software for editing and drawing.
Great Pressure Detection
When it comes to designing an adequate design, the contrast matters the most. A lot of graphics tablet comes with a pressure detection system. The system allows the designer to darken or lighten certain areas by simply increasing or decreasing the pressure. You can use this technology to simply trace existing images or whatnot.
Eliminating Stress Injuries
If you're looking to eliminate the chances of stress injuries or carpal tunnel syndrome, then a graphics tablet is all you need. Furthermore, they come with USB connections and Plug and Play option to ensure feasibility for designers. Most of the pen that comes with the tablets do not require any batteries or cords. It's one of the best choices for graphic designers.
Don't Forget the Custom Settings
The market is filled with tablets for graphic designers, but do you know why they are so famous? Because of uncountable custom settings in them. Custom settings allow you to make your work look better and more importantly, easy to do.
Can you reverse a step on paper? No, right? But on a graphics tablet, you can.
There are plenty of features on a drawing tablet that allows you to polish your work with great efficiency and precision. Once you get a tablet, you will realize what a great investment you made!
Connect With Your Computer
Yes, another best thing about a drawing tablet is that you can easily connect it with your PC. All you need is a USB to do it for you. Don't worry if it does not suit you, there are plenty of wireless models of tablets available in the market as well. Sharing files on your PC is pretty simple and easy with a graphics tablet.
No Need for Any Program
You don't need any program or function to run your tablet. It can be simply operated without it and is also interchangeable with the mouse. Although you don't need them, you can certainly make use of them.
Yes, you can make the most use out of the graphics tablet by installing Adobe Photoshop in it. How about that?
Variety of Sizes
No matter what size you're looking for, you can certainly get it on a tablet. If you're a professional graphic artist or an illustrator, then you definitely need a bigger screen.
The type of tablet that you're looking for will vary in cost as well. You must plan on a budget before finally deciding on a tablet. So, are you planning to invest for the long-term?
Great Efficiency and Productivity
Using the tablet is one of the best things that you can do for your designing career. It's fast, simple, and easy to use. The main reason why designers opt for graphics tablet is mostly because of the rise in productivity and efficiency. It's highly amazing for using apps such as Adobe InDesign, Photoshop, Illustrator, and others.
15 Best Art Tablets for Designers
Looking for a design tablet? Don't worry, you're in the right place.
Looking for the best art tablet in the market can be tough, but it's not impossible at all. When you're planning to buy a good design tablet, then all you have to do is look for some basic features.
Here's what you need to check in a graphics tablet.
You can buy either a high-resolution tablet or the low-resolution one. It's totally up to your budget. If you want to work on high-end projects or if your work requires a lot of detailing, then a high-resolution one might be the right choice. But, remember that you never know when your work will shift to a new side. It's always better to make a long-term investment.
Pressure Sensitivity. It's one of the most important features when you're planning to shop for a drawing tablet. Pressure sensitivity decides the quality of stroke that you can get in your art. Ideally, you should be purchasing a tablet with maximum pressure sensitivity. However, decide for yourself based on your budget.
Tracking Speed. Do you want your tablet to take a lot of time between the stroke and the effect? No, right? The better the Points per Second (PPS), the less delay between the stroke and the computer's response.
Size of the Tablet. Another important feature to look for is the size of the table. When we talk about graphics tablets, the biggest is not the best. Even if you want a big tablet, then make sure that you the room for it. The size does not matter when the specifications of the tablet are up to the mark.
Look for Connectivity. Connectivity matters the most as you will need to transfer your work from here to there at all times. Currently, you can easily get a PC with a USB 3. It's important to check the specification of your PC before buying a tablet with the wrong connectivity options. Also, check if the tablet comes with Bluetooth technology or not.
Now that you know what to check, let's get to the final list of our recommended graphics tablets.
If you want a large sketching screen, then Wacom Cintiq 22 is the one that you should be looking for. And also, it's affordable for everyone!
| | |
| --- | --- |
| When it comes to purchasing some valuable tools, the first thing that people look for is VALUE. Wacom Cintiq 22 is exactly what you should be buying for your craft if you're looking to get value for money. It gives amazing colors, comes with an adjustable stand, and is comfortable to use. | |
For graphic designers, you should know that the tablet does not contain multi-touch capabilities. Additionally, you may not find it the right choice for high resolution, wide color gamut, and wide range of connections. Since it comes at a modest price and offers a fair set of features, it's still loved among the artists!
If you take our advice, this machine is the best for students who are looking to get their hands on editing and designing for the first time.
Coming to our next recommendation, XP-Pen Artist is truly a masterpiece. The device comes with a 15.6 large display screen and a 1920x1080p screen resolution. Furthermore, it comes with a USB connection that allows you to connect your graphics tablet with a PC. Also, it's a must to connect a device with it if you want to do sketching, painting, or designing.
| | |
| --- | --- |
| Since the device comes with a glass design, you can work flawlessly on it without worrying about the dust build-up. When we talk about pressure sensitivity, the device has to offer something great. Yes, it comes with 8192 levels of pressure sensitivity, so you can create some exceptional designs in no time. Enjoy painting with life-like colors, high resolution, and whatnot. | |
It's one of the best devices that you can buy for yourself to develop some amazing designs of your lifetime. It's not that expensive as well!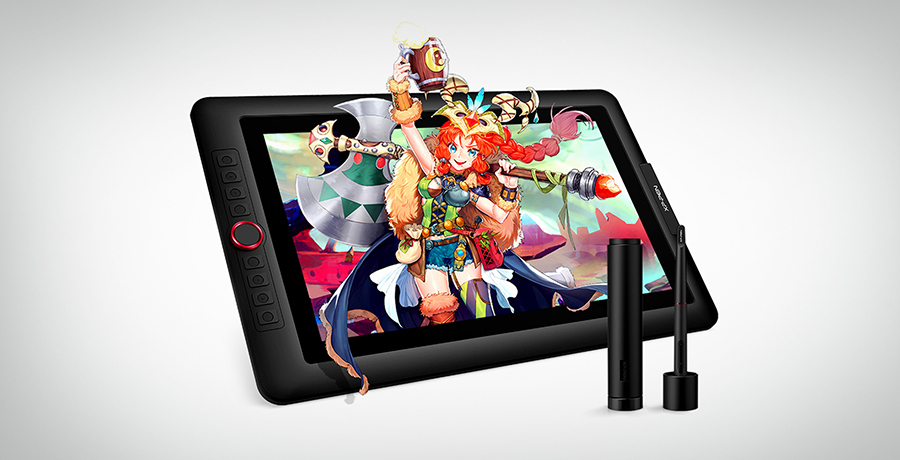 Equipped with a 13.3 inches large display screen, the Wacom DTC133W0A is the third on our list. You can use this device at your home or in your office to design some incredible designs of all time. Not to mention the amazing pen that comes with it. Let us describe it to you – it feels like you're painting with a real pen. It's true.
You definitely don't need to put batteries in the pen to make it work. How great is that? It only uses software for operation, so you're safe here.

With this device in your hands, you can make your craft even better with the best surface friction that it has to offer. You can easily edit, create or share your craft in no time.
Despite so many good features, the device does not come with multi-touch (finger) support. Even though it's great, but not the first choice of graphic designers. However, this device can work best for casual artists, students, and doodlers.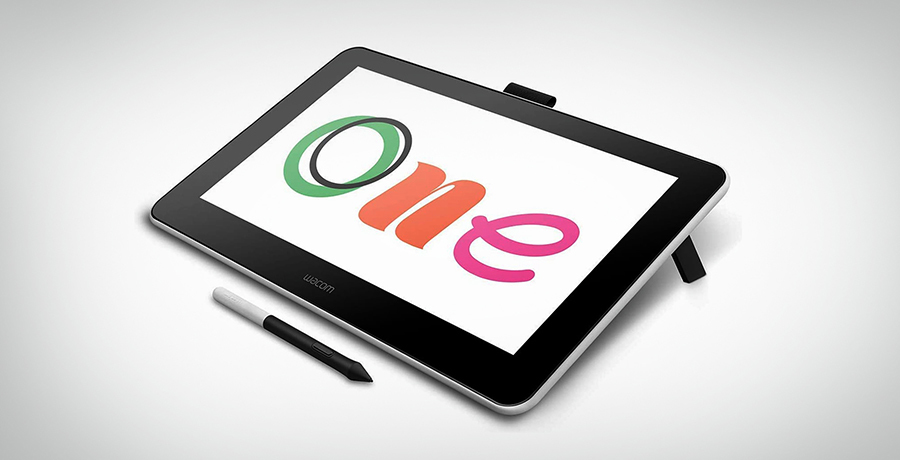 Equipped with the Pro Pen 2 technology, this device is one of the best in the market. Do you know what the best thing about this graphics tablet is? It comes with OPTIONS.
You can literally buy the device in either small, medium, or large sizes. That's not it.

If you opt for the small version, you can use this tablet on your phone as well. It's extremely portable and comes with amazing features as well. As a matter of fact, this tablet comes with multi-touch support. Depending on the size, the size of the screen also varies.
This tablet offers value for money and there is no doubt that it's almost every designer's favorite. Its features are unlimited so you can expect to do some high-quality work in no time with this ultra-efficient device.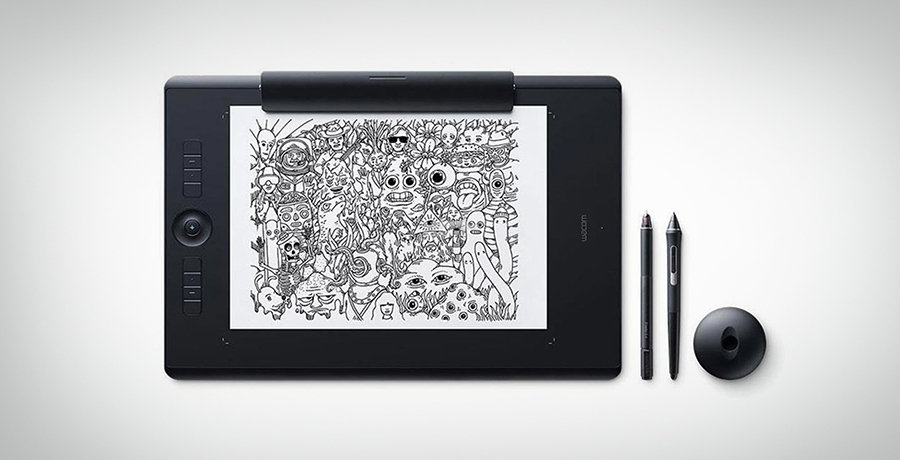 Huion Pro 13 comes with a 13-inch display screen with some top features in it. For instance, you get a 120% sRGB color gamut, a battery-free pen, and a laminated textured screen.
When there is no pressure to put the batteries all the time or charge the pen, you can invest your time in drawing some flawless designs. It further comes with tilt recognition, so you will have more fun painting your designs.
| | |
| --- | --- |
| The tablet comes with a multi-angle adjustable stand, which is all you need to put the monitor in your favorite position. If you're an artist, then you must definitely spend a lot of day in front of the screen. Forget about backaches and stiff neck, you can get avoid this situation with this tablet. Also, the 'glare' effect on the screen helps you avoid eye stress as well. | |
We highly recommend this device to designers who are looking to create some mind-blowing designs. It's one of the best tablets that you can get on a budget – no kidding!
Wacom is one of the leading names in the market when it comes to buying drawing tablets. This device offers excellent portability to designers, which is one of the many features that they look for. The compact size of the device makes it easier to handle and does not take much space on your workstation as well.
| | |
| --- | --- |
| The amazing tablet comes with 8192 Pressure Sensitivity, so designers can flawlessly design what they want. It's a beautiful device, not only from the inside but on the outside as well. | |
The most amazing thing about this device is the pen that comes with it. You can draw endlessly with extreme precision for hours and hours. It comes with a great tilt response and offers amazing accuracy and control. So, if you want your work to never get affected due to inappropriate equipment, then this is your tablet!
Coming with a battery-free pen, this device should definitely be on your list. The design and build of the tablet are extremely fine if you want something beautiful in your collection. The tablet offers good performance and comes at a fairly decent price.
The tablet offers 4096 Pressure Sensitivity so you can draw flawlessly on it. The pen is lightweight, so you won't feel like operating Thor's hammer at all times.

Working on this graphic tablet feels smooth and the pen is also easier to control. It's a good drawing tablet if you're an artist or a newbie. So, don't worry and get this for yourself!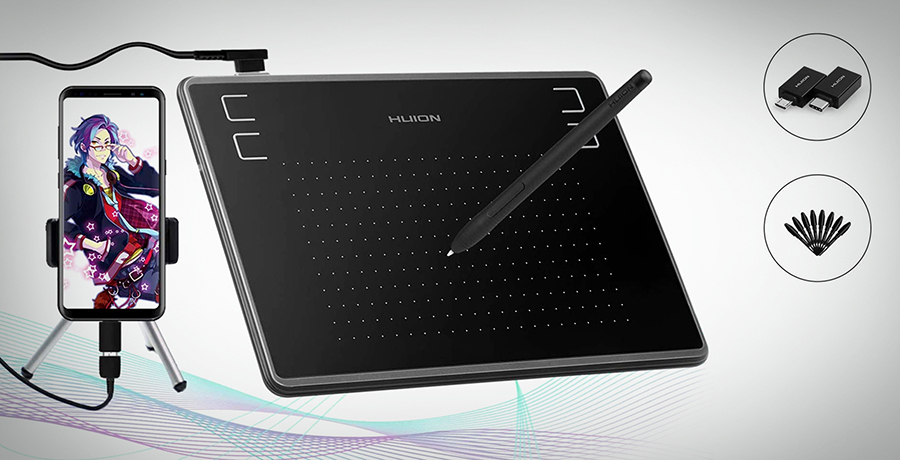 Are you on a tight budget? If yes, then this drawing tablet is for you. The tablet comes with a 15.6-inch panel, which is large enough for you to draw on it smoothly.
| | |
| --- | --- |
| Wacom offers an interactive screen that allows you to run several programs and perform your artist's work in no time. It is equipped with multi-touch capabilities and comes with a high resolution. This graphics tablet offers many connection choices and offers a wider color gamut. | |
This tablet is easy to use, but it does not come with multi-touch support. Also, you need to connect the tablet with two computer ports. The resolution is also not as high as other top tablets in the market. So, it's up to you if you want to go for this tablet or not.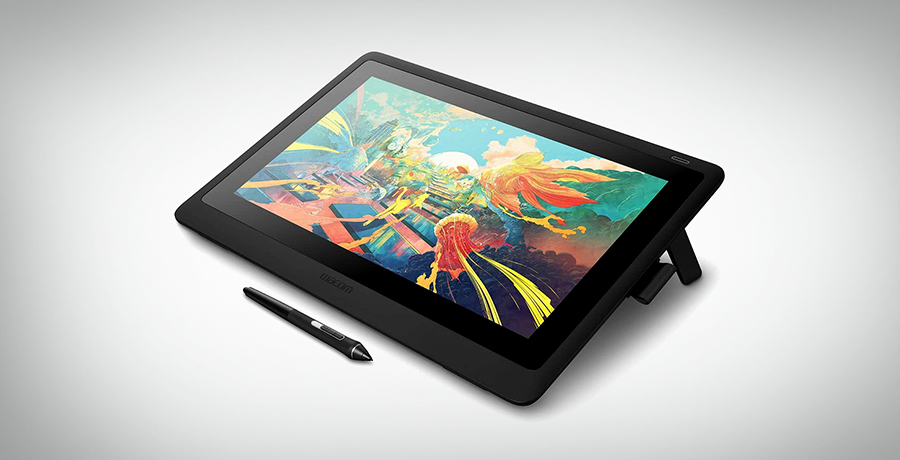 If you want to buy a portable graphics tablet to carry anywhere, then XP-Pen Deco 03 is the one that you should root for. This tablet comes with a pen that is lightweight and does not hurt your wrist for using it too much.
| | |
| --- | --- |
| It's a battery-free pen and comes with 8192 Pressure Sensitivity. The screen size is also great considering the affordable prices of the tablet. It's a sleek design with a premium plastic build. If you're a traditional artist, then this tablet is the best for you. Coming with a nice texture, this drawing tablet is what you're looking for. | |
There's more to this tablet that would interest any artist. It comes with both wired and wireless connections. It also allows multi-function Red Dial with its Red Dial Roller Key. The tablet also supports a Type-C USB port.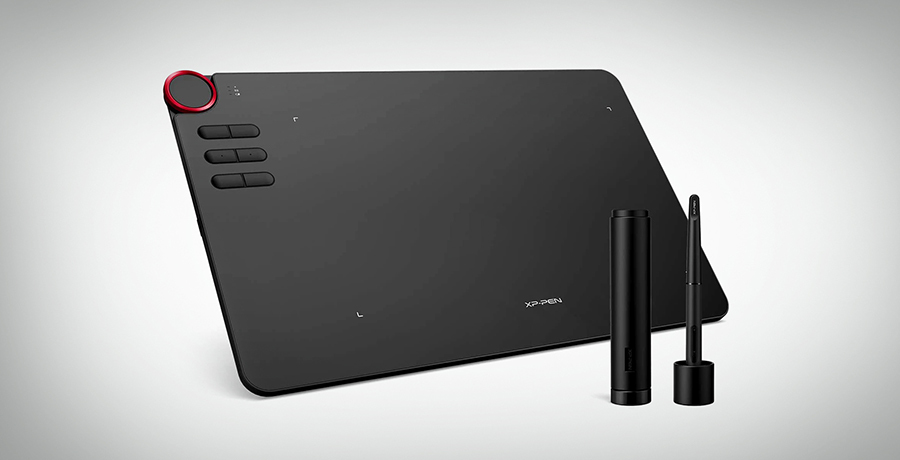 Another top recommendation is Simbans PicassoTab that comes with a 10-inch display screen. It further comes with a pre-installed Autodesk Sketchbook app that plans to draw or take notes on their tablet.
| | |
| --- | --- |
| The box comes with a high-quality tablet case and an Active Pen. You can do multi-tasking with this drawing tablet pretty easily. Furthermore, the tablet comes with 64 GB of storage so you can download as many apps as you want. Also, the IPS HD resolution allows you to enjoy amazing quality images. | |
The tablet comes with connectivity options and is also pretty portable so you can carry it anywhere with you. Not only for drawing and sketching, but you can also use this tablet for watching movies and so much more.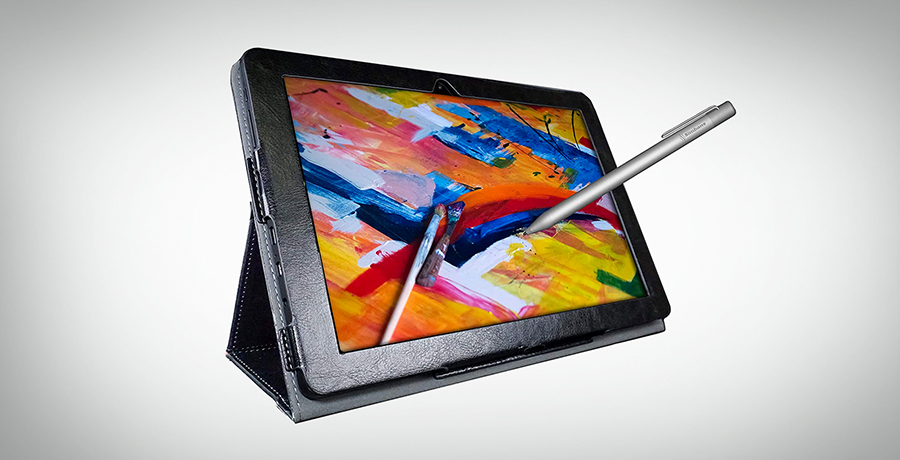 This graphics tablet is one of the best choices for artists, doodlers, or students. The design tablet comes with an 11.6-inch large display screen and 1920x1080p resolution. Additionally, the tablet comes with 8192 levels of Pressure Sensitivity. With this monitor, you will get enough space to draw your amazing craft and view images in high-quality resolution.
The tablet further comes with 8 express keys that are all you need to increase your efficiency. This tablet is a great investment and is definitely one of our top recommendations.

This tablet is not only the best for sketching, drawing, or painting, but you can also conduct your online teaching sessions on this tablet. It's portable enough to be carried anywhere with you.
Do you wish to add this tablet to your collection? Don't wait up to make the decision!
If you're on a budget, then this design tablet is the right choice for you. It's a pretty good machine considering the size and resolution. The drawing performance is also quite great when it comes to this tablet. The design is also decent with full black color. Even if you're on a budget, this device does not look like a cheap option.
| | |
| --- | --- |
| It has a pretty smooth surface texture that allows the artist to draw as much as they like on it. The tablet comes with a battery-free pen with a plastic body. It might not be the best, but it's the best that you can get in your budget. You cannot expect the best, but expecting decent features might not be wrong with this tablet. | |
Another top choice for a tablet in the budget is UGEE M708. The design of the tablet is quite exceptional. The tablet looks amazing and definitely comes with some incredible features as well. The tablet comes with 10.6 inches large display screen, so you can doodle your way on it. With this size of the tablet, you can literally fit it anywhere in your bag. It further comes with 8 customizable keys so you can enhance your efficiency and productivity.
| | |
| --- | --- |
| The tablet comes with a great Pen with 8192 levels of Pressure Sensitivity. It allows you to get a seamless experience of working on the tablet. If you're planning to get this tablet, then it might not be the worst option for you. | |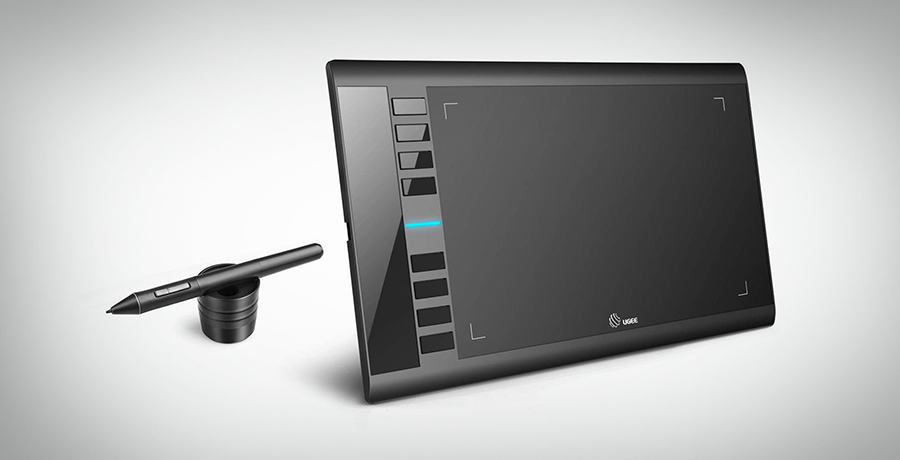 This tablet has even won the Taiwan Golden Pin Design Award, so you can expect some beauty from it. That's not it, this tablet for graphic design is instilled with incredible features as well. With this tablet, you can get a wired and wireless connection. Also, you don't have to worry about this tablet running out of battery, thanks to its 1100mAh lithium-ion battery.
| | |
| --- | --- |
| You can get appropriate tilt and 8192 levels of Pressure Sensitivity with this tablet. The tablet offers great storage capacity so you can download a lot of apps on your device. It is incredible how one tablet can offer you so many features, so why not invest in it? | |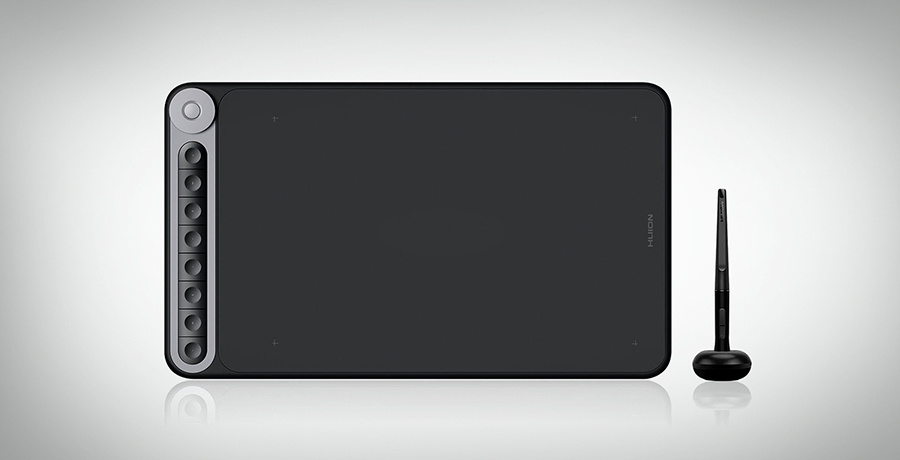 If you're looking for a cheap option, then this is yet another one.
| | |
| --- | --- |
| This tablet offers great features for beginners. You will get a 10-inch large display screen with this device along with 8192 levels of Pressure Sensitivity. The tablet comes with a smooth surface, so you can enjoy working on it for long hours. The Pen is also easy to hold and comes with an eraser as well. It's a battery-less pen, so there is less to worry about. | |
Also check:
Conclusion
If you are a designer, then investing in a graphics tablet is necessary for you. You definitely want to ease your work and want to work seamlessly on your projects, so why not make the investment today?
If you're unable to make the decision, then this article must have helped you in making the right decision. It's totally up to you to check the features as per your requirements.
There are a lot of things that you need to check on your tablet and now you know all of them. Make sure to check all of it in the tablet before purchasing it.
Disclosure: This content is reader-supported, which means if you click on some of our links that we may earn a commission.