When was the last time you bought a product? Think of the reason you may have bought it – There is a 99% chance that you bought it because of its exceptionally creative packaging style.
This is what unique packaging does – It makes you look twice. Even if you don't have cash on yourself at that moment, you might spill your credit card for those scrumptiously packaged macaroons. 
Here are 18 ideas that will get your product selling in huge numbers:
Keep it Simple
What is the most common tip you hear from every expert regarding anything you ask? – Yes that's right. Do not overcomplicate it. Better yet, make it the best it can be.
A simple paper bag with a minimalistic design might be all that you need to bring in sales this month.
All this packaging holds is some paper, a very silky design, and soothing colors. That is enough to include it into a list of unique packaging ideas.
This is a perfect combination that screams 'BEAUTIFUL' aloud but remains silent in the background, nonetheless.
Be Brash
The next best thing that you can do after being simple is to go all out without being polite. This might not soothe everyone's taste buds, but if you have the guts for it – DO NOT HOLD BACK!
How about this card game? You can't go blunter than this, right? This is a very creative packaging idea as this box displays the right amount of offensive on its common but beautiful color scheme.
It has a simplistic design but the words on the front box attract the right customers. The target audience will not waver from the brash design and will most probably buy it for its 'bigger than thou' attitude.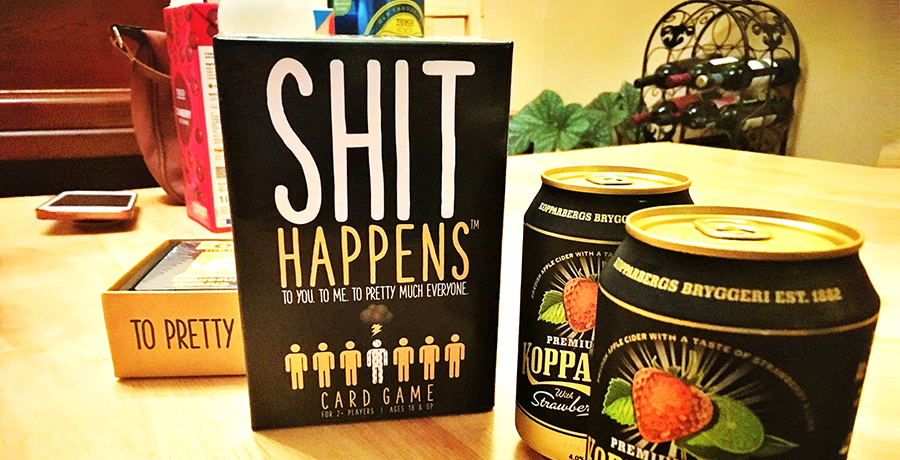 Go Brown!
Brown is not boring if you check all the right boxes. Though, you should not rely on the color alone for the packaging to work. The brown is not enough to include the product in a list of unique packaging ideas.
You might want to add the right flavors in order for the packaging to balance out with the boring brown.
The seam printed on the ends of the boxes is also a part of the beautiful design. This box is the epitome of 'subtle but beautiful'.This brown box has the correct front – the shape of a bowtie. This shows an equal amount of uniqueness and simplicity at the same time. 
Take Care of The Interior
You know that the box is going to get opened. So, why not make the experience beautiful from the inside. You can make it simple while using the product in itself as a part of the overall aesthetic.
This suspenders' box is a magnificent example of a box made to showcase beauty from the inside.
This box's inside is an example of creative packaging as you can put it on a shop's display rack or put it inside your wardrobe. Wherever it is, this box will make the room sparkle and will serve as an improvement.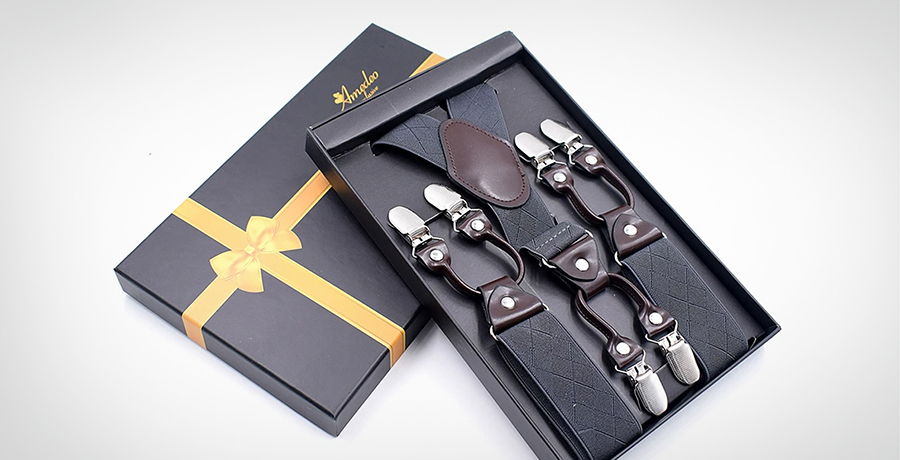 Add Art to it
You can make it artsy if you have a soul that craves beauty. Certainly, you can't go wrong if you go for something beautiful. Though, this will require a lot of effort and talent for it to work.
There is a lot of room for creative packaging in here, as all it takes is a box, a brush, and a pair of expert hands. Machines can also be used for artistic designs but it is better to go traditional in this method.
It still aligns with the subject- matter, as it contrasts with the 'naturistic' theme that is being portrayed.This incense box is beautiful and is as simplistic as you can get. It is also very over-the-top in the sense that it is very different from other boxes of its kind.
Think Outside The Box
A new idea is always difficult to find, but once you find it, it always serves you in unusual ways. Therefore, you should be willing to go that extra mile to think outside the box.
Thinking outside the box might also mean that you may need to put something 'inside the box'. Just like this box of water.
Water is usually inside a bottle, right? Well, this bottle resides inside a box and I don't think it minds, considering how thoughtful the packaging looks.
Not only that, but the words 'BOXED WATER IS BETTER' is unique in itself as it is flashy and bold and can garner a lot of attention.
Get Weird
Sometimes, when you see the product for the first time, you can tell in the first glimpse that something's wrong. It might look unusual. That can be used to its advantage.
Consider this Buck Naked Soap. It is a hand-made organic soap and the creators of this product have no fear demonstrating the imperfections (if they can even be called that) of this soap.
This soap has a unique packaging and it is not scared to show that to the customers. A minimalistic design is all that is needed to cover the product. This is not even a proper covering as half the soap is there for us to see.
Think Other Shapes
You have to know that going square is not always a good option. Especially when you make something inherently square, such as a lump of cheese.
When you think of cheese, those pointy shapes come to your minds. It's not necessarily the case, though. You can go for other shapes and it can come off nicely.
'Babybel' are flavored cheese snacks that are ready-to-eat and are known for their memorable circular design.
Each flavor has its unique packaging design and they are a delight to peel-off as well as when they are eaten.  
Make The Product Reminiscent of an Idea
The best thing that can happen when a customer sees your product is that he starts to reminisce about an idea. This can happen through the product itself or maybe through its creative packaging.
This Cuba Libre packaging is an ideal way to reminisce about as it symbolizes the Cuban architecture upon its lavish design and portrays an immaculate design on the bottle too.
There is a consistent theme running through the cap, the bottle, the design on the neck, the body along with the box itself.
Not only that, but the color scheme is a delight as you can watch this scenic artistry on the bottle all day.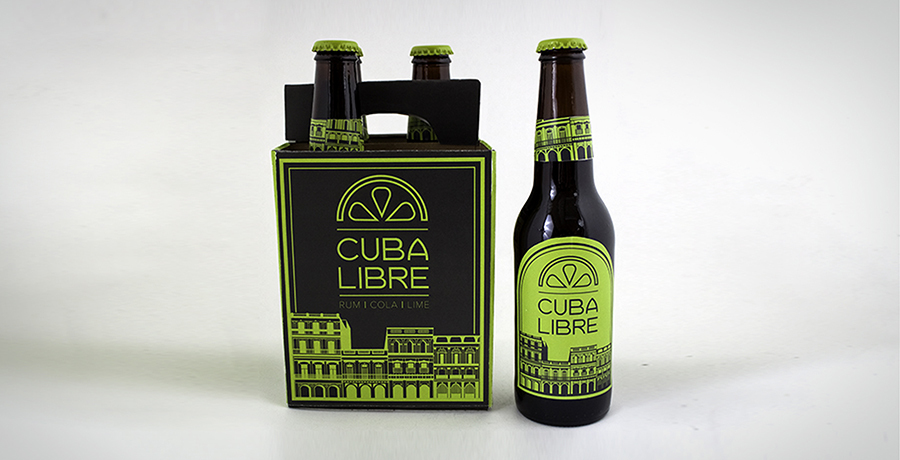 Utilize a Palette of Colors
Okay, this idea is fairly common but don't leave yet. There is still much work left to do. You have to create a uniform design and have to maintain the palette of colors decent enough to match the product that you are selling.
Consider these packs of 'Great Lakes' potato chips. They have a beautiful design that is quite western and also adds a hint of retro vibe to the whole theme. The color palette is also pretty sensible as they match the western themes with the right 'hues'.
Each flavor has a different color and every flavor complements its packaging style. For example, 'The Parmesan Ranch' flavor has this Bright yellow flavor which symbolizes the western heat and the atmosphere.
Go Vintage
Another habit that would serve you well is to stop following trends and go where your mind takes you. It may be in the futuristic cyberpunk setting or maybe the old days of the 50s.
Radiant Lamps is a store in Newark, NJ, which sells lights in a vintage setting. Their bulbs and lamps have a unique, retro design and they all look like 'set-props' from some 50s movie.
This bulb has a very 'ship-in-a-bottle' feel to it and is quite retro. The box itself also has a simple and vintage design and they both complement each other well.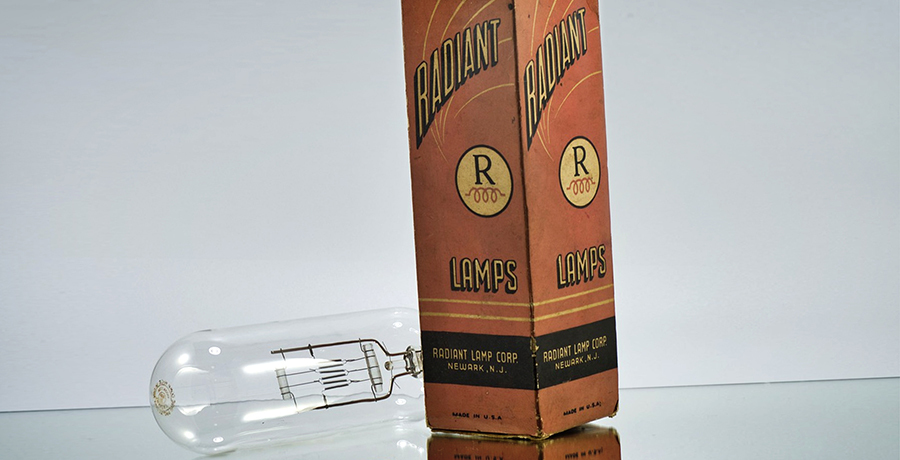 Show What's Inside
Sometimes you can add a range of flavors and not know what to do with the packaging.
These chips are enclosed in a very unique packaging and all of the flavors have their own distinct style which appeals to the customer
Apple Chips have tiny apples made on them; Tortilla chips have tiny tortillas made on them and so on.
What elevates the packaging is the description beneath the flavor panels.  They all have unique packaging descriptions and everything is written elegantly which attract the customer even more.
It is a minimalistic design and they soothe the eye. Add the fact that these chips are sugar-free. This design is a natural-born roller and should hit the ground running.
Floral Designs
Go for a floral design such as this simple box of cloud soap. This is a basic design but it is very beautiful considering how other cloud soapboxes are.
The floral design is an example of unique packaging and is uncommon in this category of products.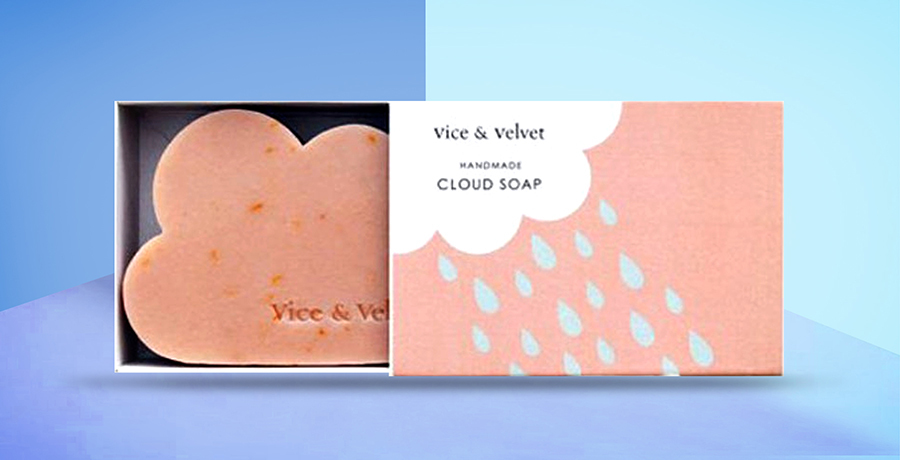 Make it Open Differently
It is quite boring to see the lid of a box opening as you may have opened millions since your birth.
The same old brown box, the same old lid and, the same old smell of shoes coming out of the box. Change that, by making the box open differently. Make it slide sideways, or maybe try to deflate it somehow. Anything but lifting the lid.
Such as this box of beans which opens sideways while giving a glimpse of what's inside through the bottom. This is a very creative packaging idea and is sure to create interest in the product for a long time.
Go Modern
These days' modern means having a sleek design with cool shapes. You can do this pretty easily. Along with that, monochromatic colors are the way to go if you are going for that futuristic, slim look.
This picture shows several flavors but each jar has the same appearance.
Also, the minimalistic covering outside of the jars symbolizes the product that is to be included in them.
Tell a Story
As the saying goes 'A picture speaks louder than words'. Visual stimulation can indeed be much stronger than spoken words.
These cans of 'Folklore' beer are a marvel to watch. They have the traditional campfire and men that are going to tell 'folklore'. Not only that, but every flavor tells a different story. These visuals will make the customer think every time they sip from the can.If you can sell a story with your unique packaging idea, it is sure to get you a lot of deals and your customers would be equally happy. Every time your customer sees the product, they will relive a memory or an idea.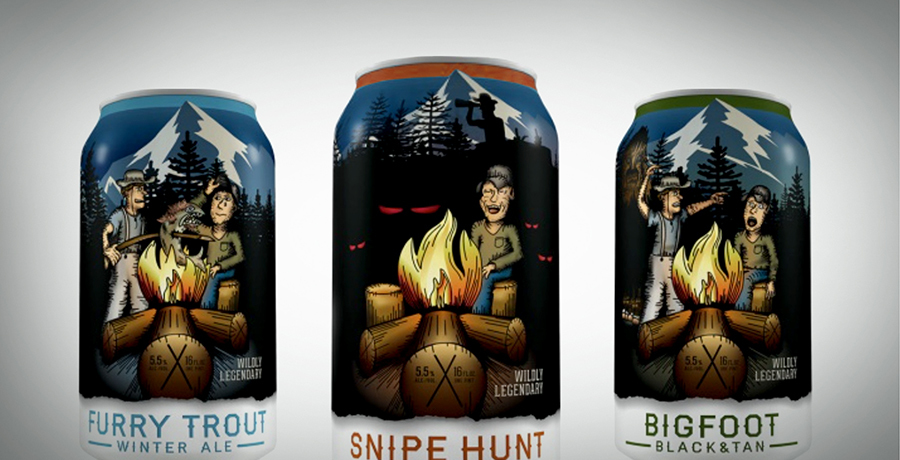 Be Relevant
How about just being relevant? You can incorporate whatever is happening right now in the world and still make a huge presence because most sellers don't change their formula much anyway.
This Jack Daniel's bottle has quite unique packaging. It is a winter pack and as we are in winters right now, it does not seem like a  bad idea to have this, right? 
You can do this to anything and it's not that difficult. Just add a relevant event and tweak them a bit to match the surroundings.
Be Functional
It's good to know that your innovation is adding some value to the product overall. Sure, catchy designs and vibrant colors will add to the overall aesthetic, but without proper functionality there isn't any point
Along with that, isn't it nice if the functional design makes the product feel unique? That is what Heineken has done. They have created a creative packaging idea with their large 18-bottle pack.
Heineken has added a cooler pack to their arsenal. This is a marvel of innovation as it allows the customers to peel off the upper packaging and add ice to it. This maintains the overall 'chill' to the product and will keep the beer fresh for a long time without even opening the product.
Another interesting read for you: The art of package design: A comprehensive guide on product packaging
Final Thoughts
These are 18 unique packaging ideas that are different from what you normally see in the market. I'm sure you will be very hyped up to rebrand your product's identity after seeing all these great unique packaging ideas.
There are several creative packaging ideas in the market. All you have to do is identify the target market, keep it relevant, and just be brave enough to do something unique.