Ever been in that phase of your career where your mind is completely blocked?
Found yourself asking "What's even the point of it?"
Have you ever wondered how great graphic designers and artists reached where they are?
Don't you crave for tidbits of wisdom to set you in the right direction?
We all need some good graphic design quotes to hit right in the feelings, and compel us to do better no matter where we are in our career.
So here's a compilation of quotes from successful graphic designers and artists I find inspiring and practical.
1. "Design is thinking made visual." – Saul Bass
Coming from one of the greatest American graphic designers, Saul Bass, this is one of the graphic design quotes that made me want to pay attention to my thoughts.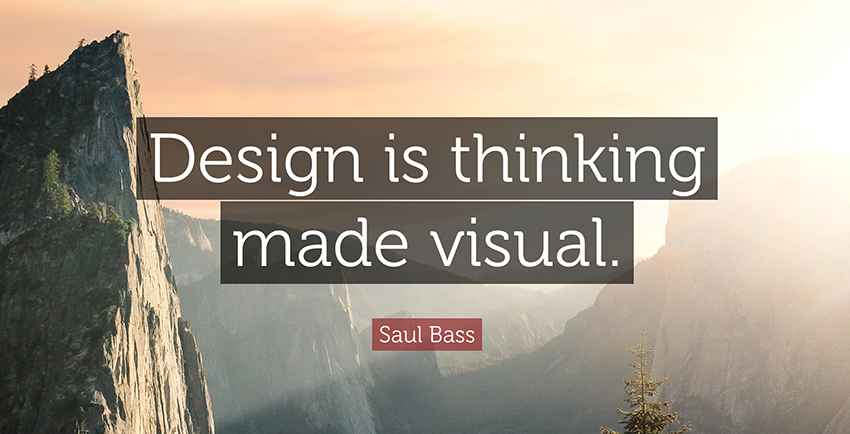 This quote made me realize that thinking, collecting your thoughts, and then making efforts to visualize those thoughts, leads to meaningful, deep, and relatable designs.
Saul Bass is an iconic role model for graphic designers like you and I. He was best known for his film posters, corporate logos, and the design for motion picture title sequences.
Apart from being a graphic designer, he has also been an Oscar-winning filmmaker. So yeah, he's been a full-blown creative artist we all can seek inspiration from.
2. "Do not seek praise, seek criticism." Paul Arden
Paul Arden's word is something you should keep in mind at all times. He was a creative director of Saatchi and Saatchi. The kind of company almost every graphic designer dreams about working with.
Any graphic design quote or advice coming from Paul Arden is an insight into what your best clients or dream companies want.
This quote addresses one of the most common behaviors of graphic designers; looking for praise. It sure is good to look for validation when you're drowning in self-doubt and need clarity.
But when praise becomes the only thing you look for, it can be toxic to your talent and creativity. This behavior can make you turn a blind eye towards or get sour about criticism.
Seeking criticism means seeking improvement. You don't have to comply with all of it, but it helps you see any flaws you might have not noticed, and then improve them.
The way to success is through progress and improvement. Don't get demotivated by criticism, instead, see it as an opportunity to make yourself better and advance your career.
3. "No design works unless it embodies ideas held common by the people for whom the object is intended." – Adrian Forty
Adrian Forty is an Emeritus Professor at The Bartlett School of Architecture. He has been teaching Architectural History for most of his career.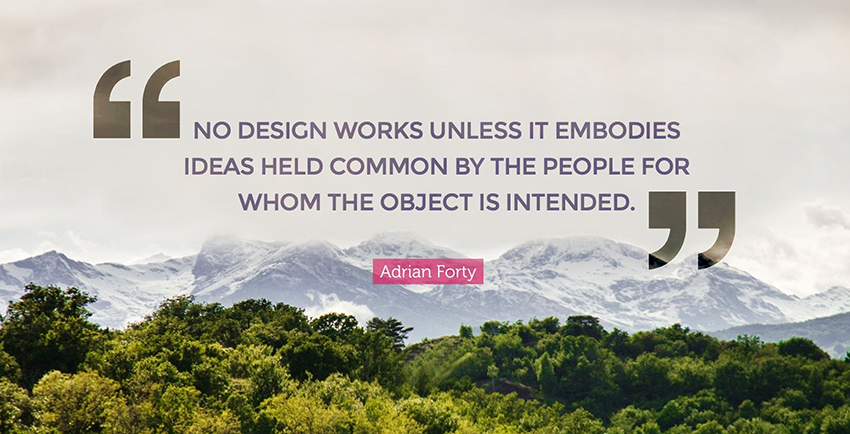 At this point, he knows designing like he knows the back of his hand. Although he is not a graphic designer, this quote of his sits well with graphic designing too.
Therefore, we can count it as one of our graphic design quotes.
A professional graphic designer is the one whose creativity revolves around the people his work is meant to serve. The sole purpose of a design is to convey a message or depict a concept.
The success of a graphic design depends on how well its target audience understands it, how deeply it touches them, and how much it stimulates them.
One of the best ways of enticing your audience is through ideas, emotions, values, experiences, pain points, or passions they have in common.
4. "Design creates culture. Culture shapes values. Values determine the future." – Robert L. Peters
Robert L. Peters is the guy almost every graphic designer aspires to be. He is the co-founder of the Circle Design Incorporated. This company has won more than 60 awards for excellence in design!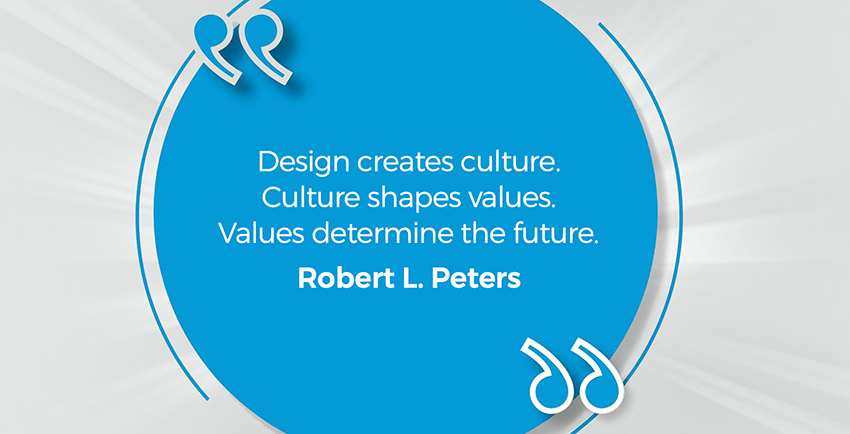 When this graphic designer quotes something, it comes from years of experience in the business. The attitude of his quote shows how his mindset is all about being a leader.
Culture and design are intertwined. However, as the culture gets older, it gains substance in the eyes of people. It is then that people assume design comes from culture, however, it can be vice versa.
A design that gets popular makes its way into the culture, and later, seen as a part of it. Since culture affects everyone, is shapes the upbringing and values of society.
The values a society holds, determine where it will go. So the design has a great impact on your future. You can shape the future with your designs. In a way, designers lead the world.
5. "A user interface is like a joke. If you have to explain it, it's not that good." – Martin LeBlanc
CEO of Iconfinder, Martin LeBlanc has been working in the fields of information technology and healthcare. His main focus has been Bioinformatics and he has a great deal of experience in designing.
Through this graphic design quote, Martin has emphasized on the importance of clarity in design. There won't be an instruction manual beside the poster you just made.
Nor will there be a piece of written explanation besides the logo you're about to use.
The design should be self-explanatory. Things should add up on their own to form the concept you want to depict or the message you're trying to convey.
6. "To create a memorable design, you have to start with a thought that's worth remembering." – Thomas Manss
Thomas Manss is a German graphic designer who has worked with great organizations like Pentagram, Volkswagen, and Votex throughout his career.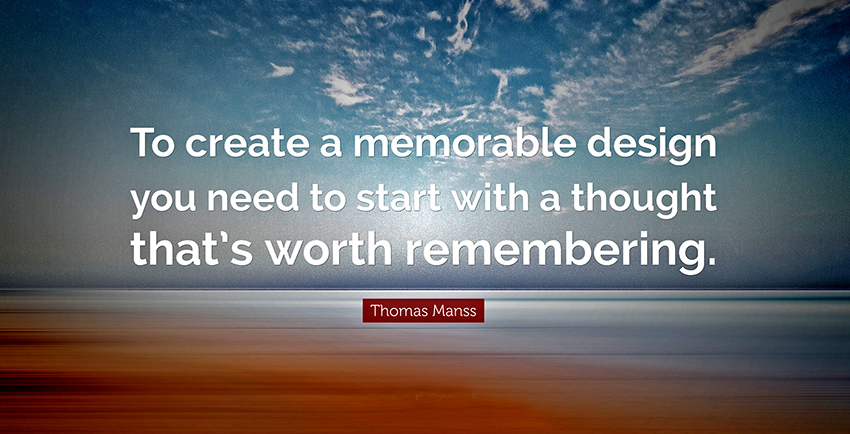 Eventually, he opened his own studio in London and formed Thomas Manss & Company. The kind of career almost all of us aspire to have.
I'll have to agree with this successful graphic designer's quote here. A design that sticks by in the minds of people is the one that is born out of unforgettable ideas.
You have to rummage through your thoughts to find that one peculiarly familiar idea, question, or thought that people in your target audience are likely to take interest in.
Once you have it clear in your mind, that's what your design shall revolve around.
7. "Design is intelligence made visible." – Alina Wheeler
Alina Wheeler, an author and branding consultant describes designing as visible intelligence. Her career is based on helping brands achieve clarity, energy, and life.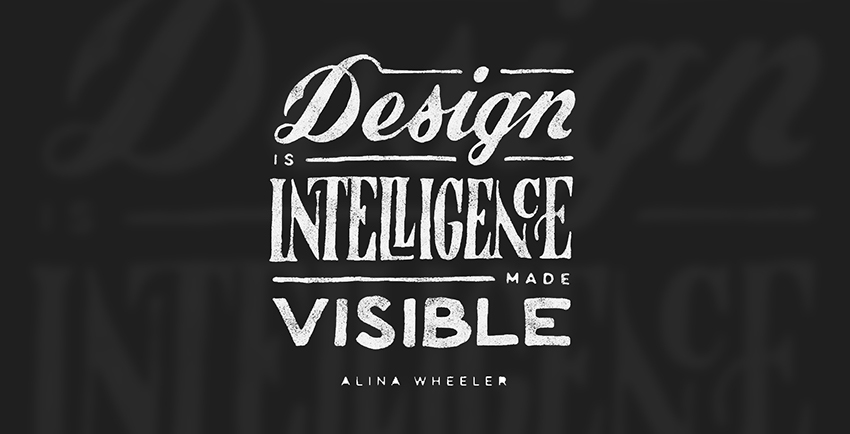 This quote of hers is one of my personal favorite graphic design quotes. I've heard and read a saying quite similar to this throughout my childhood, and it is "Art is intelligence having fun."
After all, it is our creativity that enables us to apply different concepts to multiple situations, and sometimes combine them to have different results.
These complex processes and behaviors of our minds are called intelligence in other aspects of life, and creativity in the field of art and design.
8. "Design is not a single object or dimension. Design is messy and complex." – Natasha Jen
A lot of people perceive design as a linear process as if it is an academic course outline.
Natasha Jen; a seasoned graphic designer, who has worked on a variety of designs from almost all genres and niches, and catered to popular clients like Nike, Harvard Art Museums, and Puma; rejects the notion that design is one dimensional or linear type of work.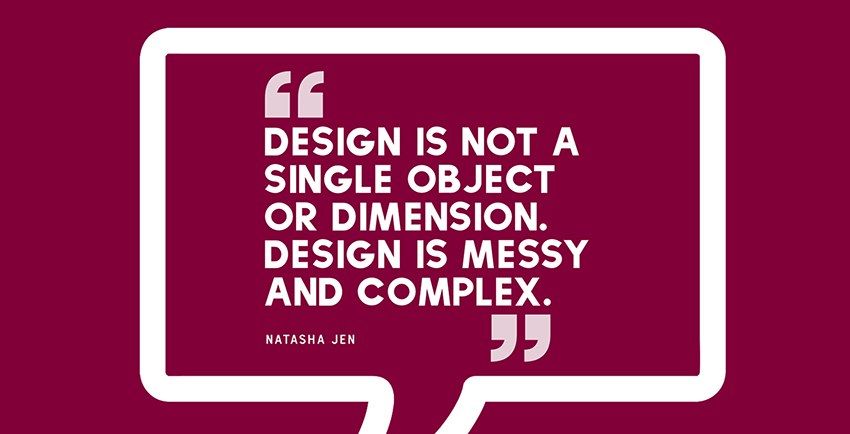 And I agree with this graphic designer's quote. It can be messy, complicated, disorganized, multidimensional, and all over the place. In many cases, the beauty of a design lies in the intricacies and asymmetry of its elements.
And to bring about that beauty, a designer's mind and hands work in all directions. That is why you can never judge what the outcome is going to be from an unfinished piece.
There are too many possibilities at every step and it can take on a different meaning from each.
9. "Design is the intermediary between information and understanding." – Hans Hoffmann
As the great painter Hans Hoffmann said, the design communicates the information to the audience. Who would know it better than an artist whose career lasted for two generations?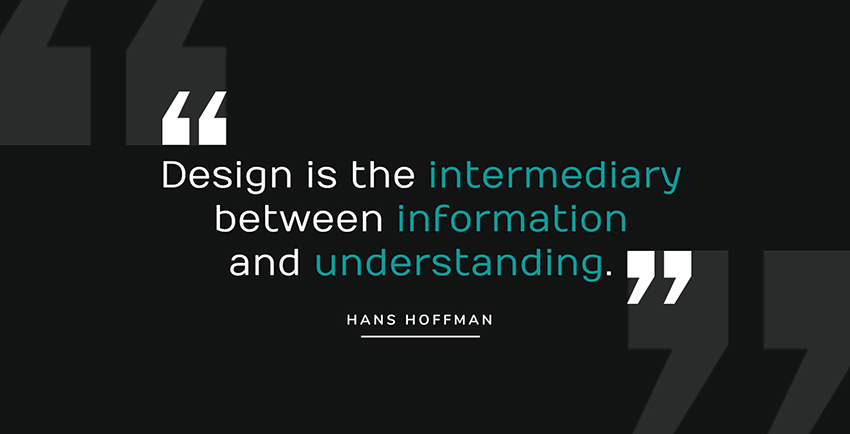 And whose work gained popularity across two continents. He had been a teacher too, which makes him all the more qualified to tell us how designs work.
Keeping this graphic design quote in mind, we have to ensure our design communicates with our audience well.
It should be able to accurately and interactively depict the information you aim to spread through it. Otherwise, there's no point in creating it.
10. "It's through mistakes that you actually can grow. You have to get bad in order to get good." – Paula Scher
A lot of us are so afraid of making mistakes that we never gain the experience we are supposed to.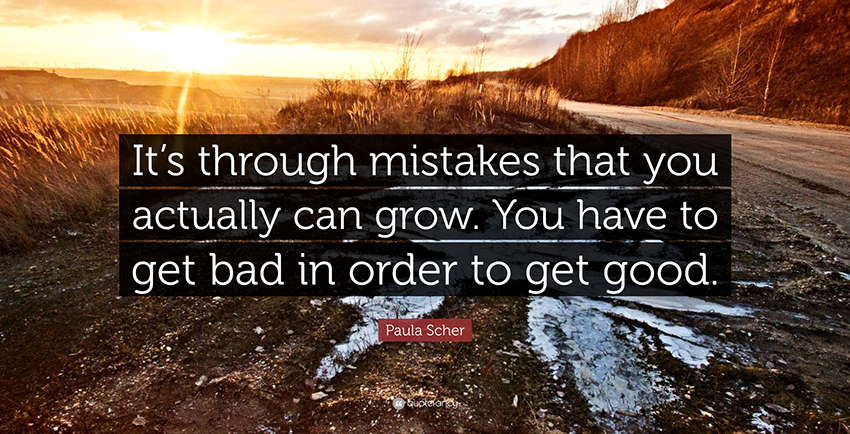 Paula Scher; a graphic designer, painter, art educator, and the first female principal at Pentagram; encourages you to face your fears and let the mistakes happen.
She not only believes that mistakes are something you shouldn't be afraid of but also sees the positive role of mistakes in the bigger picture.
That is, mistakes help you learn, grow, and improve in the long term. Someone who has made a lot of mistakes has learned a lot in life.  
The same goes for design, a mistake can be rectified, but nothing can be learned if you grow phobic to them. And I completely agree with this graphic design quote.
11. "Creativity is nothing but a mind set free." – Torrie T. Asai
This is one of the most famous sayings on the internet, and it has made its way into my list of inspiring graphic design quotes.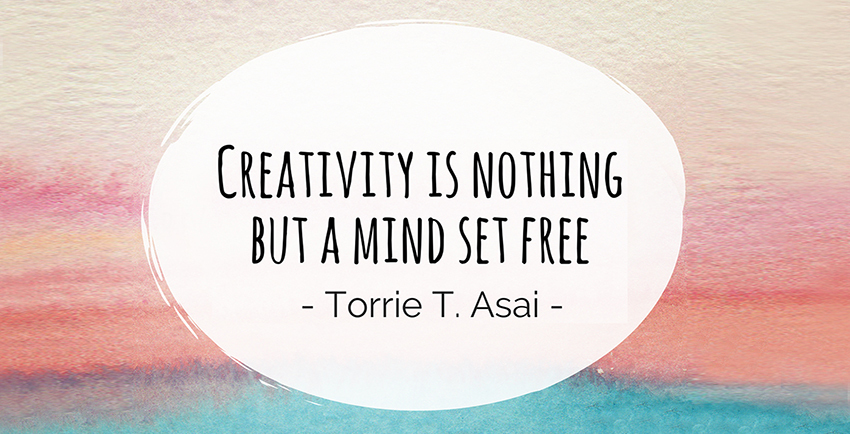 Torrie T. Asai; from what I could find of her; is a very creative graphic designer and artist. Her profiles can be found on Instagram and Pinterest. I personally liked her content.
This famous quote of her should be everyone's go-to when they feel suffocated by the lack of inspiration or ideas and overwhelmed with the commitments they have already made.
It reminds you that only when you set your mind free from all the rules and deadlines that you've set that you can truly let it breathe, think, talk, and unleash the creativity all over again.
12. "Get rid of everything that is not essential to making a point." – Christoph Niemann
Christoph Niemann has a very good point here. He focuses on the importance of minimalism in design.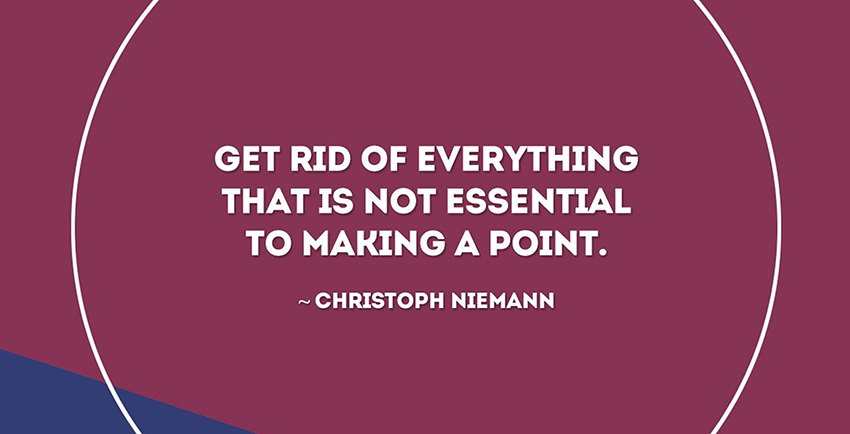 Being a graphic designer, illustrator, and a children's book author for the New York Times blog Abstract City or Abstract Sunday, his advice comes from years of quality experience.
A clear design is the one that focuses on elements that are essential to conveying the message you want. Anything nonessential takes the focus away from the real concept.
Few elements that are vital to depicting a concept can speak louder than the ones with many unimportant details.
This graphic designer's quote should be saved as important advice in our diaries and flashcards.
13. "Make it simple, but significant." – Don Draper
What better way to get inspiration than from one of our favorite fictional characters, Don Draper. Mad Men had one heck of a creative director.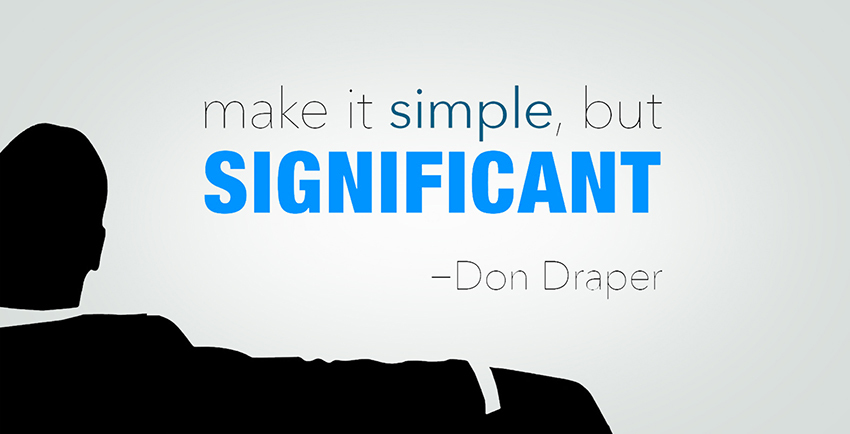 Sterling sure was a lucky firm in Manhattan. Don Draper has a point though. The best way for a design to be understood in a glimpse is to be simple.
So it makes sense for this to be a graphic design quote. Simpler designs catch eyes and stick by in the mind for longer since the brain can process and register them quicker.
But it has to be significant at the same time to be worthy of remembrance. This is where the challenge lies. Adopting simplicity in the portrayal of significant concepts is not a piece of cake.
It sure is worth the effort though.
Endnote
We can go on and on about the graphic design quotes that inspire us and the list might not ever end. There's an abundance of wisdom and quotes, and it's right on our fingertips for when we want to access it.
What matters is whether it motivates us to do something or not. Does it make us want to improve, be better, happier, or affect us in any way at all?
We've listed 13 quotes that shook us from within and spoke to us. Which ones touched you deeply?