Let me tell you a scary incident…
My super brain tricked me, and I jumped into the pool with the thought, "Oh, I will learn how to swim since I am in the water."
Sigh! I was moving my legs in the water to get some help like a roach lying on its back hitting the air helplessly.
I know you are giving me that grin, but it's okay. Finally, a swimmer saw me and saved me. That time I thought a person shouldn't do anything that they have no knowledge of.
Now, you think that it's just blah blah blah. My friend, it's more than that. I am trying to connect the dots here.
It's time to link two things here….
You feel like to bring your startup idea to life. You have a great idea and a great strategy. Horns up!
But, when it comes to brand identity, you are like… Oh yeah, why would I spend on that? I will do it on my own. After all, I have the needed support of logo generators.
If you are someone who thinks you can do everything without any proper knowledge and skillset, then I am sorry, you will end up nowhere.
You need to decide between two statements:
My brand is important to me. I'll do everything to position it in the best possible way. Be it the logo or the branding, everything will be upbeat.
My brand is important to me, but not so significant that I spend on logo design and branding.
If you have chosen statement number one, I want to welcome you. You are serious about your startup and ready to take it to the staggering heights.
People who have chosen statement number 2 will return back to this blog after a year for sure just to understand where they went wrong. You got me here, I know.
Please stop DIY-ing everything
Downloading Adobe illustrator, learning a few tools, or having MS paint in your system doesn't make you a designer. I know that in the starting phase, you want to cut corners on most of the things, but please exclude your brand identity from it.
I want to stop you all from committing the sin of murdering your brand image. Hear me out startup owners as I am trying to save you here.
I'll tell you why it is a bad idea to DIY your logo.
1. Your customers are hard-wired to remember signs
So tell me, how do you want your customers to remember you?
A clumsy brand with a clumsy logo
An iconic brand with great brand identity
Now, you see why I am emphasizing time and again that your logo has to be sheer perfection. I don't want your customers/clients to remember you as a clumsy brand. Please don't hurt your brand image.
Your idea is great, so everything should run parallel to perfection. After all, people won't take you seriously unless you give importance to every minute thing of your business.
See this quote:
"Logos and branding are so important. In a big part of the world, people cannot read French or English–but are great in remembering signs."
– Karl Lagerfeld
Even Karl understands the importance of having a great logo. Why don't you, pal?
Point to ponder: It's better to spend on getting a perfect brand identity for your business. Rather than DIYing it and facing embarrassment in the long run. P.S: You won't choose Toyota if you have the option to choose BMW, akin to your customers. (Read between the lines. The golden message is hidden inside.)
2. Your logo talks to people before you
Let's have some practical talk here. On different social media platforms, you come across many companies, but not all of them catch your eye. Why?
There must be some problem…
The real trouble is the face of their brand. Before you conduct business with a company, you see their logo, their branding, and develop perception. When their face doesn't appeal to you, you give them a NO. Hence the brand gets registered in the ashes of forgotten ones. (Rest in peace.)
Now, you are a startup founder. How would you feel if people start giving your business a big NO before even talking to you?
Terrible! I know.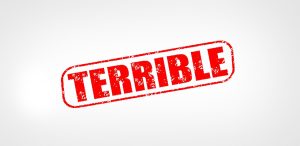 Before having the real chit-chat, let your visually pleasing logo talk to them. Trust me, if there was no truth in it, people wouldn't be buying from those who have a great brand identity.
Let's have a reality check here: Look at this logo. What does it remind you of?
I am sure the answer must be "Apple." But there is more to it. It reminds me of all those Apple fanatics who love to take mirror selfies.
So, what they actually try to show you?
Their mirror?
Ah, nuts! They want you to see this logo. Do you understand what I am trying to convey, or you want me to write a whole book?
Point to ponder: You can't remove memories with Harry Potter's wand. It's better not to have a bad image from the start. Since your logo talks to people before they conduct business with you, make sure that you give them a reason to talk.
3. Your primary message gets lost somewhere
You must have opened up your startup with a purpose. Right? Perhaps you are a B2C service provider, maybe you are into the B2B market, or you have an eCommerce brand.
Suppose that you make a logo yourself or get hitched into the trap of logo for $5. Do you feel that the outcome will be what you are looking for?
Do you feel your logo will convey the real message?
Hear me out: Your brand will suffer because the real message will get lost somewhere in the crowd. A professional designer knows how to etch your company's message in the framework of a logo.
It's a bad idea to DIY it rather than hiring the one who knows how to get the work done.
Point to ponder: Making your logo on MS paint and hiring a professional to make your logo are two different things. Don't hurt your brand's message as your real essence will get lost somewhere.
4. It's essential to register yourself as a trustworthy brand
Answer me, honestly. After seeing this logo, would you like to conduct business with it?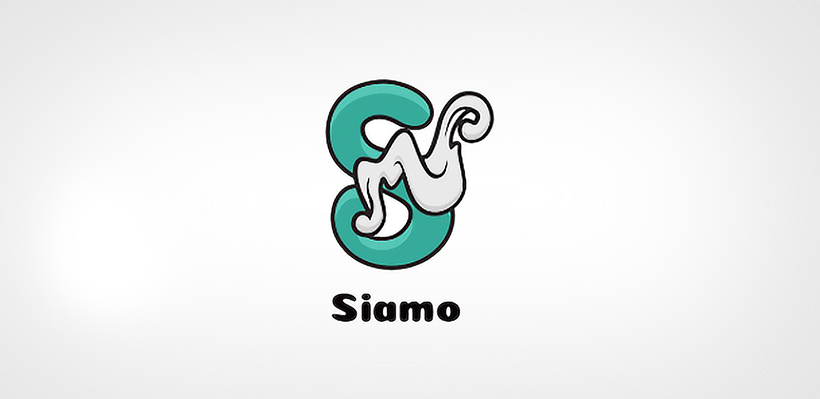 Would you trust me?
I am sure you are saying, "This is crap!"
Well, I did it intentionally to make you realize how unprofessional you appear when your brand identity fails to speak for your professionalism.
Remember that people do business with those whom they trust. Your logo fosters trust. Having a clumsy logo is next to saying, "I am not someone you can trust. Conduct business with my competitors, please." (You don't want to say that I know.)
Point to ponder: Trust brings real business. The face of your business serves the purpose here. It can seal the deal, or it can break the game for you. Therefore, invest in a good professional logo design that serves you in the long run and helps build your sales pipeline.
5. Versatility is important
Oh please, don't be one of those who are short-sighted.
The logo isn't something that will appear on your website only. It will be everywhere. From your social media accounts, your marketing collateral to your merchandise, you will see it everywhere.
Even if you have DIYed it. Do you feel it will look good in both small and large size?
Can you imagine how it would look on your merchandise?
Oh, how would you feel when you will hand over your business card to someone?
Head to toe, you will be embarrassed. Anything that you are not proud of, how can you expect your customers to like it?
I don't want people to troll you for your logo on your Twitter feed. So take it seriously before people start bullying you.
Point to ponder: Trollers are everywhere. They won't leave you for having a bad logo. Save your image as it is all that's important. Let a designer do the job while you enjoy your decaf.
6. Tangled emotional connection
Deep inside, we know that we are loyal to certain brands.
Ever thought, why?
It's because of the emotions. Whether you agree or deny, the emotional connections are hard to break. As a consumer, I connect to some brands on a personal level. Before buying from them, their logo had one to one talk with me.
During that interaction, I developed some perceptions about those brands that are there to the date. This is how a logo triggers emotions.
When you see the "Nike" or "BMW" logo, what kind of emotions do you experience?
Your eyes brighten up, and you witness a light curve on your face. At this point, I can say that logos are magical and have the power to initiate that emotions chit-chat.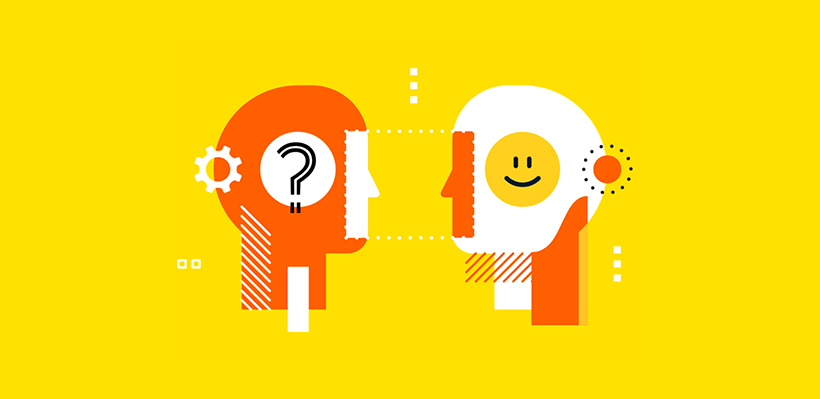 It's complicated to understand why we build emotional connections with a certain brand. But it is what it is. Make sure that you don't mess up with people's emotions by offering a poor logo that interacts badly on your behalf.
Point to ponder: Poorly designed logos turn of the customers, and they don't feel like to buy from you. To evoke positive emotions, give them a feeling that you care for them. Let your logo say it all.
7. Recognition is a vital element
How many of you recognized it?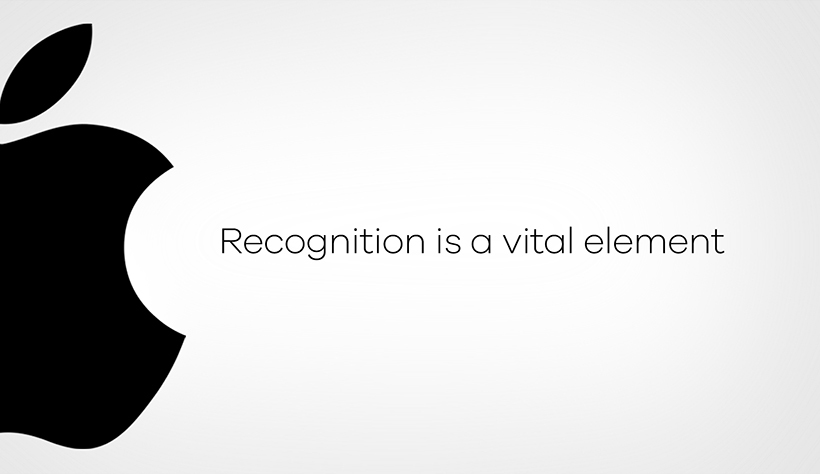 I am sure 99% of people have recognized this logo though it's incomplete.
This is what I call a strong brand recognition. A great logo hammers people's brain and gets registered in their every cell.
To have strong brand recognition, you need to have a worth-remembering logo. Your logo should make you stand out rather than making you a part of the crowd.
Since we are hard-wired to remember signs, it's imperative to have a strong brand identity. Then only you can build brand recognition.
If you think that your DIY logo will build that brand recognition, then I feel sorry for you as you are not ready to absorb the info.
8. No sense of colors, designs, and symbols
Do you know about color theory?
Okay, tell me what emotions does color purple evoke?
Do you know why you use certain bold and thin lines in a logo?
Okay, do you know about the 40 box rule?
Do you know anything about the divine ratio?
You don't have any answer to these simple questions I have asked. I even didn't get into the details, merely, touched the surface part. Still, you feel that you are capable enough to design a logo all by yourself?
Applying different filters to your pics and making a logo is not the same. You need to have advanced knowledge of design ad aesthetic sense to make a logo.
It's highly insane to make a logo when you don't even know the basics of it. Since you can't handle the nitty-gritty of it, don't get yourself stuck in the race of baboons. (We already have enough of them in the market.)
Point to ponder: It will take you years to learn the art of designing a logo. Don't waste your time on something you can't do. Work on your core business matters and let the professionals deal with what they are best at.
Final word
Designing a logo just to impress your TikTok's friend sounds okay. But please don't kill your potential customer base by showing it to them.
I know you want to save money. But mate, a logo isn't a luxury. It's something that you need. When you invest in it, you get a good return.
Designers are there to help you out. Let them do their job. They know how to create a logo that appeals to your target audience. Another important thing: You shouldn't treat your logo as a secondary thing, but a priority.
Your startup is valuable, so treat it like that.