Have you ever experienced yourself as a Graphic Designer getting into a range of disputes with clients over something so small?
Or as a client, you asked the designer to provide `that steel finish logo` and `exactly this logo on the wall` or `different variation of this engraved logo` and the designer failed to share that with you saying "it's not the actual logo, it's a photo-realistic presentation. This can't be edited".
Well, if you answered yes, you need to understand the difference between the photo-realistic mockup and the actual logo.
It's not uncommon to find clients asking to update, edit or share artwork files for the photorealistic mockups. While the client may believe this is the actual logo, but the truth is different.
Many Graphic Designers struggle on a daily basis in terms of making clients understand a simple concept. Photorealistic mockups aren't the real deal.
They are just a part of the designer's presentation purpose. The actual logo, on the other hand, is the one to finalized, edited, and to be handed over. 
And to help strengthen this argument, it's pivotal to understand the differences between the two.
Below, I am taking a closer look at how photorealistic mockups differ from the actual logo itself. So let's get right into it.
So what exactly is a Photorealistic Mockup?
While the term may appear complicated, photorealistic mockups are simple images and ready-made photoshop mockups that graphic designers use for presentation purposes.
Sometimes it's difficult to make clients understand how their final logo design will appear once it's engraved on the Glass Door or embossed on a Steel. Questions relevant to how the logo looks in physical rendering or perhaps on a signage or magazine's front cover are some other examples.
This is one of the main reasons why graphic designers go that extra step into deciphering the design to enhance the client's understanding
Presenting the logo in a realistic real-world scenario is what we call the photorealistic mockup.
Understanding the Critical Differences between an Actual Logo Design and a Photorealistic Mockup
Actual Logo

Only Mockup

This will be used for printing

This is only a presentation

This will be used on the website

This can be used on the Facebook cover photo

This is the brand identity you are paying for

This is only a limited real-life presentation of the actual logo

This logo is used for 3D Signages, Engravings, Etchings etc.

This is not used for anything it's just a presentation.

This is the one you've paid for

You've not paid for this presentation
Photorealistic mockups are a valuable tool in every graphic designer's armamentarium
You're probably wondering why a photorealistic mockup is created in the first place if they can't be modified or if a designer can't share it. 
Many times as a designer I feel it's necessary to present any specific logo with some real-world examples.  On other occasions, clients aren't able to make up their mind in terms of finalizing their selection as they are unsure how this will appear once the logo is engraved, etched or converted into the physical 3D board. This is the case when I present photorealistic mockups to give an idea.
But these are not 100% accurate presentation. These mockups are normally created using premade photoshop templates (which have their own limitations of what they can represent) and the whole purpose of these is just to give clients an IDEA.
2D Actual Design vs. 3D in Mockups
To cut the chase, actual logos are almost always designed in 2D (unless specifically agreed to design a 3D logo).
Even if you intend to physically engrave the logo or your intention is to convert it into a physical 3D Billboard, you don't need artwork files in 3D.
All you need is 2D files and share that with the board manufacturer.
3D versions are just to help you get a taste of visual brilliance. Photorealistic mockups are solely designed for client understanding.
Keeping that in mind, photorealistic mockups will hence come with their own share of visual limitations.
If you want to visualize the logo design in 100% realistic and customized environment, you need to hire a 3D visualizer. They are the right people for this job. 99% of clients don't need this.
Can you demand artwork files for realistic mockups?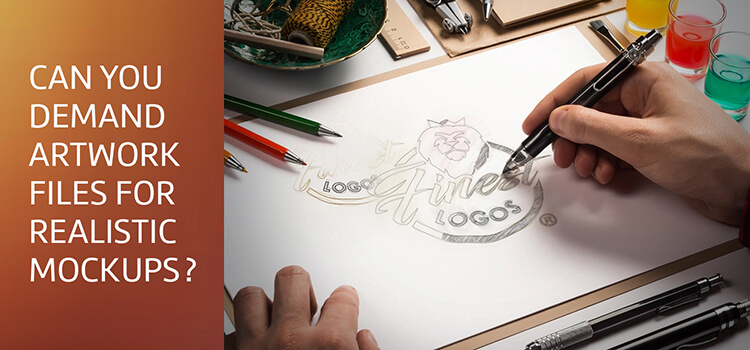 Let's start from the beginning!
When a client comes to a graphic designer with a vision, they are heard of by all means. What they expect, their likes and dislikes, and their customized requirements are put forward.
At the same time, a graphic designer notes down all of the client's requirements while putting forward their method of working too.
Forthwith, a contract is signed and both parties go about their dealings. Towards the end of the working relationship, the client will receive exactly what they have asked for. And that is the final logo design. And this is what a project is all about!
The purpose of Photo-realistic mockup is the presentation and they are usually not provided with the final logo files. It's the same as you don't get the showpieces, bed covers and pillows when you purchase bedroom furniture.
It's there only for a better presentation.
Should Graphic Designers Release their Photorealistic mockups?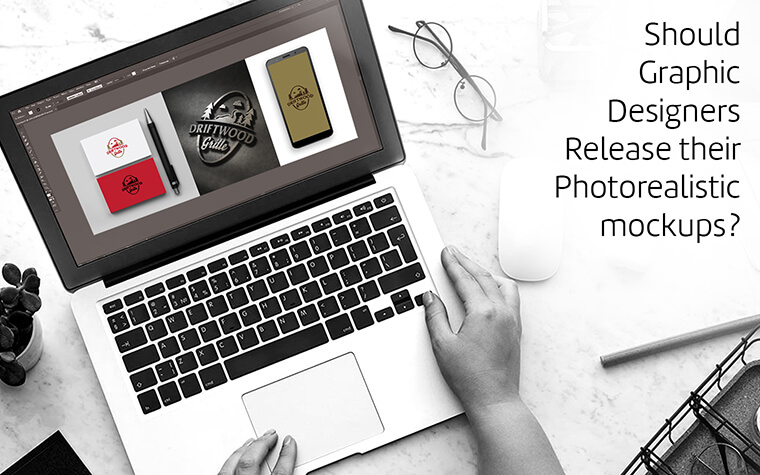 The concept can best be understood by breaking up the term. 
Photorealistic mockups are graphic representations of how the end product will appear in real life. They don't serve any real-life purpose, thus normally they should not be released with the final files.
However, If a graphic designer chooses to release their mockup to assist client understanding then well and good. But there is no compulsion on their part to do so.
Graphic Designers are in no way liable to release source files of the mockups to clients as they are useless for them.
Is it Ethical for Clients to ask for Photorealistic Mockups from their Graphic Designers?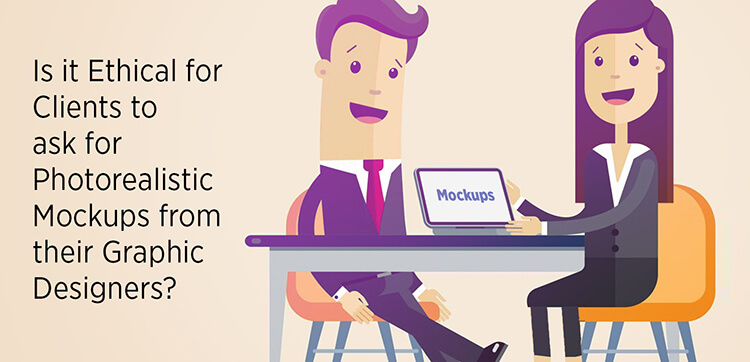 It is said that nothing in life comes for free and that statement is authentic to the core.
You can grasp the concept easily like this. Graphic Designers are the owners of a series of sticks. It is up to them which sticks they wish to sell. And it is also up to them to consider on what grounds they wish to sell them on.
Just because clients have paid for the actual logo design doesn't mean they receive everything else that comes with it for free. If and when a Designer wishes to sell their mockup, clients may avail the offer by paying for it.
So, How to Avoid disputes Regarding this Issue?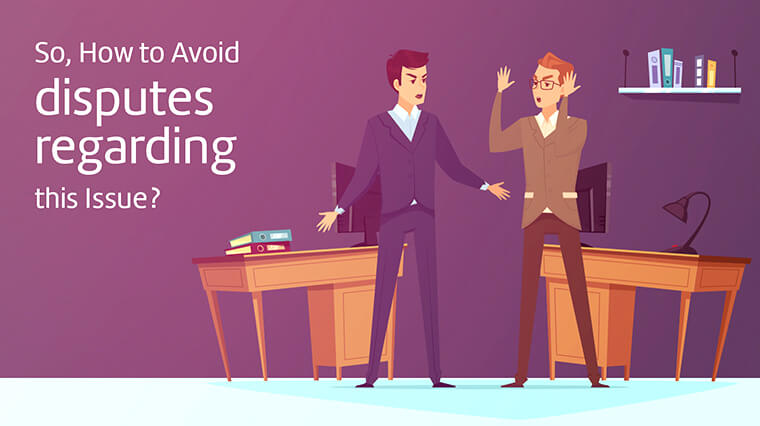 It can be hard sometimes to get through rigid clients who fail to understand but communication is key!
Ultimately, it is the choice of the Graphic designer at hand on how to deal with situations like these.
To conclude, avoiding any confusions and disputes should be the first thing. And so, your aide in this regard is having an upfront discussion with your designer and a fair, well-written contract that clearly depicts the deliverables.
FullStop always collaborates with their clients in a fair and professional way. We do understand what our clients want from us and so we work to pave the way for their brand's success. This is why we have so many recurrent clients.
Let's make your venture's branding a success! Checkout FullStop's Corporate branding Services for more.