How often have you been hearing this phrase "minimal is the new trend" or "keep it simple"? These are the trends of the 21st Century and not just for your rooms or apparel. Even in the world of brands and logo design, there has been a significant shift, from graphically complex logo designs to simple yet impactful logos.
Trend alone however doesn't give logo design the direction it requires. With the remarkable changes and innovations in technology as well as the various mediums of advertising which have emerged, there is an increasing need to move towards simpler, more responsive logos.
If you're still unaware of what responsive logos are and need to make the decision of probably a lifetime (or at least until you intend to keep your brand alive), you can sit back, relax and get all the knowledge you need right here.
Why is my logo so important?
Before I begin with what responsive logos are and how could they matter in your brand's life, allow me to explain the importance of a great logo.
Originality never grows old and never ceases to exist. Just like people, brands need to have a unique persona – the identity. It's like when you see a famous personality you don't need him/her to tell you their name, you can recognize them through their visual presence. This is what a logo is for your brand: its visual presence!
We've often heard that first impressions are last impressions. So if you want your brand to have an impactful and memorable first impression, break your savings pot and invest in a professional logo design!
How many of these brands can you identify simply by taking a look at their logo?
That's the success of a great logo: you see it and you can name the brand!
Point to remember: the apple logo design for instance started off with a very complex logo that was changed to the partially bitten apple after a year! Another lesson to learn: invest now instead of investing again later!
What are responsive logos?
So being responsive isn't an entirely new phenomenon. It was originally associated with website design, indicating the responsiveness of the design with different mediums (phone, tablets, desktop) but with the evolution of technology and advertising mediums, the term was soon used for smart logos.
In a nutshell, responsive logos are the most adaptable species in the design universe and can adapt to any advertising/communication medium. Whether it's OOH advertising (billboards, flyers, and standees, etc.), digital advertising, television commercials, or your brand's stationery; responsive logo designs are the most socially active logos adapting without distorting the brand's identity!
What does that mean?
These examples will clear out your vision
Notice how these logos alter overtime but despite their change in form, is it hard for you to recognize which brands these logos belong to? I hope not! Disney for instance starts off with a Walt Disney graphical logo inclusive of the famous Disney castle and font yet over the period of time manages to hold on to a simple D, broken from the same Walt Disney classic font! So the original logo can be used where space is not an issue whereas the D can come in handy for mediums such as print advertising!
A responsive logo thus isn't just a simple font or an image, it is pure genius! That's because every logo which has the capability to adapt itself to the plethora of advertising mediums which technology has given birth to is a futuristic logo!
How do I distinguish the good from the bad?
No offense to any designer here, but unnecessary ingredients spoil the final product. So if you're going to add every spice and sweetener you can possibly find to define the brand, you'll end up making a dish that's just distasteful: a waste of time and effort.
The quality of a great logo or to be more precise a responsive logo, is the element of simplicity yet the ability to define a brand: narrate a story.
Consider these two contrasting logos: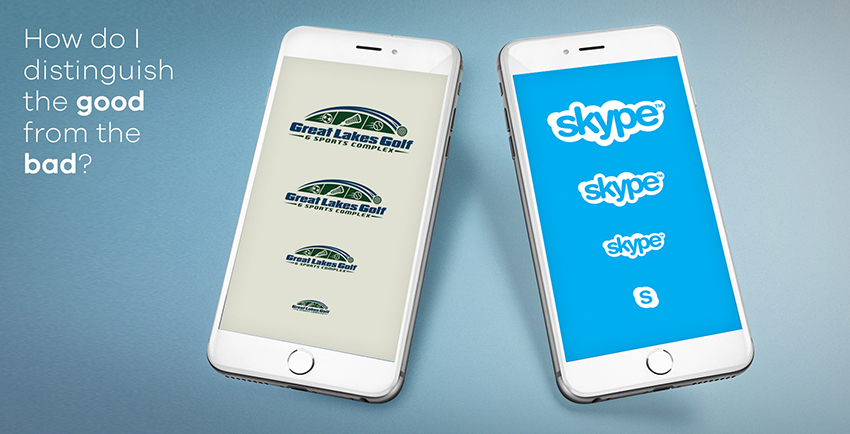 Observe closely how the Skype logo manages to split into a simple S that is identifiable as Skype's logo yet can easily make its way on a mobile app or website designed for small devices. On the other hand, the Golf Lake logo design has apparently no scope for alteration owing to the multiple elements which the designer has generously thrown in the final design. The sole solution is to shrink the entire logo, eventually distorting its readability.
Hence, simplicity wins over complexity without taking into account perhaps the greater efforts of the graphic designer who formulated the Golf Lake logo design. Most of the times clients actually ask to add more and more concepts in one logo.
Their intention is to somehow stuff every minute operation of the business into the logo. Frankly speaking, this is not a great idea.
Does your brand / start-up require a responsive logo?
I think the best judge of this can be no other than YOU! However every start-up needs to know the significance of a responsive logo for their brand before making a final decision. So here we go!
Ask yourself the following questions:
What is the purpose of my brand? Does it provide services or sell products?
Where do I want to see my brand in the next 10 years?
Do I need to spend money on advertising?
Which mediums of advertising do I need to spend money on?
Which class does my brand cater to?
How can a responsive logo help me?
Here's all you need to know in order to answer these questions and to determine whether or not a responsive logo is your ultimate requirement.
1. Product or service?
TBH, there's no thumb rule which says your brand won't survive without a responsive logo however keep in mind that advertising is survival of the fittest but we'll come to that later. What you really need to ponder upon before initiating your business is whether or not a responsive logo is your prime requirement (they don't come cheap).
For instance if you intend to open up a dog walking service or a pet store for that matter, your core advertising mediums are probably flyers or print advertising.
It's true, when it comes to services such as the ones mentioned above personal communication rather than advertising has more impact. Take a look at the logo design samples above, they're not responsive and won't probably squeeze well onto small device apps but they may attract your target market: pet owners! Hey, they're really cute.
Nevertheless, if your future plans have some products lined up such as pet food or accessories for pets, you might need to rethink your investment plans and shift the dollar bills towards getting a responsive logo for your brand.
See how these logos differ from the ones above?
2. Advertising: which medium do you choose?
"Stopping advertising to save money is like stopping your watch to save time." – Henry Ford
If advertising is important, a great logo design is vital. Running an advertising campaign without a great logo is competing in the car race on a car without wheels.
If you're ever planning on owning a shop, a service or a brand that you want to see become big in the near future and think you can get away without advertising it, you'd have a better chance of success at a 9-5 job (I'm sorry to disappoint you but that's the bitter reality: you've got to spend on advertising).
But we're not discussing the importance of advertising here. I'm here to give you some perspective on how important your logo can be with the mediums you plan to use for advertising your brand?
As explained above, the small your advertising medium the more it should be your desperation for a responsive, simple yet memorable logo design. So if you're looking to get a website designed for mobile phones and tablets, planning on social media advertising or even product packaging, you'll need a logo design that's flexible and doesn't lose its identity with multiple variations.
3. Who is my target market?
So your start-up could be an amusement park that needs to portray the element of fun and enthusiasm. A simple font probably won't convey that message. Additionally, the chances of your logo having to go through technological phases that change at the speed of light may be less than those for any other product-oriented or more serious brand.
If you think a responsive brand identity may compromise the overall quality of your logo, you can safely go without responsive logos because your market is different.
Having said that, there's still a chance that you might move with the evolving world of advertising and opt for loyalty cards with game points or apps which introduce discounts with a QR scan code. That's where a non-responsive logo can become a hurdle. Go back to the Golf Lake logo again: you don't want to end up with a logo that's visually challenging to notice, do you?
You're the captain of your own ship!
At the end of the day, it's your ship and you can steer it wherever you'd want it to head towards. All I've done here is provide you with some navigational advice. Remember, a start-up today might reach stardom tomorrow, so plan ahead and keep in mind everything you've just read. Good Luck!