Oh, have you just started your business?
Now that you've finalized everything, there is just one crucial thing left: designing a logo for your brand.
Wait!
Now don't tell me that you prefer making flashing logos that go bling?
Sophistication and glamour for you translate into something full of intricacy.
Hence, you're strolling through the internet, taking inspirations for coming up with a versatile and genuinely classic text logo?
You, my friend, have landed on just the right island of logo discovery.
Welcome to the comprehensive and quick guide where I shall offer you tips to master your wordmark logo designing.
Give text to your logo to become the next best
No matter what type of business your start-up is- from,
Stick with me…
And find out all the treats and hacks you ought to know before giving that utterly original "word" to your brand!
Psst…
A hint for what's in store for you: WordMark.
Buckle up, people.
I will not just offer you some of the optimal templates for wordmark logos,
But also guide you on what you must follow and what factors to run miles away from (no, don't get your joggers on, yet.).
Notebooks and pens, all ready? Great, happy learning!
What are Wordmark logos- a basic idea
Wordmark logos follow a design including text- preferably the name of your firm or your product. Such logotypes have no symbols, imagery, or emblems. (No need, for that, pouted confused look.)
Here you go.
Being alphabetic-centered, however, does not make wordmark logo designs boring-
NOT AT ALL.
Quite the opposite in fact;
Because of their simplistic approach, these logos are timeless gems engraved in your consumers' cognition for a very long time.
Here is a plus point, some become synonymous with product category themselves.
For example, Pampers.
Take examples of some of the ever-thriving logos like Disney, Subway, and Google. Till today, they have no competition whatsoever in terms of brand recognition. (Mic-drop)
Wordmarks are for special occasions
Because there isn't any graphical or imagery detailing in the wordmark logos, indeed, you can't always use them.
However, it is not because these designs are boring. You'd be amazed at how much of a breath of fresh air wordmark logos can be!
I'll list down some situations.
If your firm matches any one of the below-mentioned standards, trust me;
Wordmark logos are what you need to have to cause a considerable impact.
You are not daunted by experimenting with colors
The font of your logo is vital- no doubt in that. But that does not mean you ignore the color palette either. 
A dash of color or a classy color scheming can add just the right touch of magic. You'd be at awe as to how it can help your wordmark logo outshine other logos.
After all, this is the goal, right?
All your efforts and those back-aches boil down to one fact:
To make a difference and attract your target market like moths to flames. 
You are a start-up
Let me offer you an example.
Remember the first day of your school- or even the orientation day when you were a freshman at college?
Your teachers ask you to introduce yourself to the class. You tell your name, maybe your hobbies, or the field you are majoring in.
Even for the art students, you do not introduce yourself using your artwork or displaying those majestic skills, right?
That is why, if you are a newbie- just laid down foundations for your start-up, it's good that you raise awareness using your name.
That's all: no symbolism, and no glitter and glam.
Wordmark logos assist you in making a name for yourself. Work on the color and font of your logo to enchant your audience.
You will develop brand awareness in no time, all with the help of effective wordmark logo designs.
Your firm has a unique and short name to set apart from others
Wordmark logos work like a pro if you have a peculiar, innovative, and small business name.
An effective logo must highlight you among your competitors. Add in the fact that your firm's name is precise and even distinct.
That's a whole jackpot, no?
Therefore,
Creating a wordmark logo is what will help your brand name be recognized by many. It will be the kind that sticks in the minds of your audience.
A font to flaunt: a crucial element
Now, as I proceed towards my guide,
Let's take a deep dive and study the essential component of any successful wordmark logo:
The font of your wordmark logo
As I mentioned above, one fact is clear: the typeface of your wordmark logo is to be, under no circumstances, compromised.
Why is typeface so important?
The question might linger into the minds of some of you curious souls, right?
Wordmark logos consist of alphabets. Therefore, your wordmark's font must be interest-piquing enough to grab the attention of anyone viewing your logo.
The typeface includes decisions related to what case your logo must follow- complete uppercase or lowercase.
It also includes deciding the thickness of the alphabets in your logo; for instance, must they be in bold or light.
Then, you must also think about the space between the letters. It refers to how near or far they must be to highlight your logo's individuality.
Altering these three elements can make wonders happen.
A logo with your firm's name all in bold, upper case letters will give an edgy and authoritative look. While the same name, if written in italic, light, and lower case letters, will offer a more delicate and intricate look.
The fourth and the last element, you must select the font:
What font will make your logo go from hero to super-hero in a heartbeat? Ask yourself this.
For wordmark logos, four fundamental fonts are ideally preferred: Script, Serifs, Sans serif, and Slab serif.
If you are confused in deciding what font will work most optimally,
My best bet:
See what others in the industry are using- not just the font but also the whole package of the typeface. Observe the trending templates; assess what is more appealing to the eye and what casing suits with what font or thickness.
That will guide you to get yourself an extraordinary wordmark that gives off the precise vibes you want it to offer.
Rules to stick to for wordmark logo designing
The world of wordmark logos come with their own sets of instructions to follow.
You act on them- make them your core value- and success shall follow your way. You ignore them and well,
Things may become a little tricky for you.
Hence, let me begin with the Must Do's when developing your wordmark logo:
When in confusion, go for Uppercase and Lowercase both!
Scratch that,
Confused or not, our vote will always go to a mixture of upper and lowercase. See, there is a reason why this is one of the best strategies for wordmark logo designs.
If you are going with wordmarks, chances are, it is because your firm's name is small, right? That means you have more space to align and style your characters. Add in your iconic uniqueness and never compromise.
Forget just upper or lowercase. It's time you take the big guns out. Have your watermark logo look super distinct and intricate.
Vibrancy never hurts
Do you want to be super cautious when designing your wordmark? Add a stroke of color- or colors- in your logo. Right colors have the power to make your wordmark go from terrible to terrific.
I'm aware that we might refer to babies and toddlers when we say the phrase 'rainbows, sunshine, and unicorns.' But if I am all about being honest with you, colors play vital roles in everyone's psychology- regardless of our age or gender.
That is why selecting ideal colors for your wordmark isn't as easy as it might seem. Incorporate colors that create an exuberant or lively image or reputation of your business.
Learn from Google!
Look at the minimalistic approach Google took. Although the wordmark is short and straightforward- 'Google,' but something about it just clicks, no?
The use of bright colors makes you think of positivity, like user-friendliness. I can't say about you, but I feel as if I'm surrounded by nature, breathing in the fresh air the moment I go to the search engine.
Accentuate a letter
Highlight a specific alphabet- or two- of your wordmark. That will enhance the appeal of your logo, making people give it a second look.
Why go for ordinary when you can make your wordmark logo extraordinary, right?
There are numerous ways to achieve this. You can increase or decrease the letter's size in between or have a character in italics while the rest are straight.
Take the example of Coca Cola and its iconic C's. The pretty and swirl of both C's just linger in your mind. You can even picture them half asleep.
Chances are, anytime you see even just the italic and stretched C on a logo, the first thing that will pop up is definitely of this black soda, right?
All this Coca-Cola talk has made me crave that bubbling swig of ice-cold freshness. AH!
Things to say a big NO for wordmark logo designing
Now that you are well aware of some hacks to follow definitely,
Let's move on to the mistakes you must refrain from when designing for your wordmark logo.
Avoid too much and too little kerning
While yes, kerning is a powerful tool to boost appeals of your wordmark. But at the same time, see that you don't put too much- or too little- space between your letters.
Many firms come up with brilliant wordmarks, fonts, cases, and everything created with perfection; 
Except for one thing:
They forget how much spacing is the right amount.
Less space might make your logo seem muddled. Too much spacing might also have your market confused as to what your name is. In both ways, it will send a negative signal to your buyers.
Keep away from tweaking a lot
Getting a bit artsy with alphabets is cool, but getting too over the board is a recipe for disaster.
While you can make alterations with colors, styles, fonts, etc., making the letters resemble imagery or icons is a no-go-area.
Types of Wordmark
Are you thinking about which wordmark logo design to select? We say it depends on what kind of business or product you are offering.
To assist you a bit more, allow me to offer you some of the most-used and potential types to narrow down your list.
Stylish playfulness
Who doesn't like quirky and eccentric? I sure do!
Adding subtle creativity with cleverness is an art that can grab instant attention.
Incorporate some of that cleverness in your wordmark logo design. Make your wordmark logo design have its humorous edge- that calls out to the cognitive and emotional part of your target market.
Anything funny or creative can appeal to people's emotions that will help them remember your logo for a long time. Rewarding, right?
Personalized with friendliness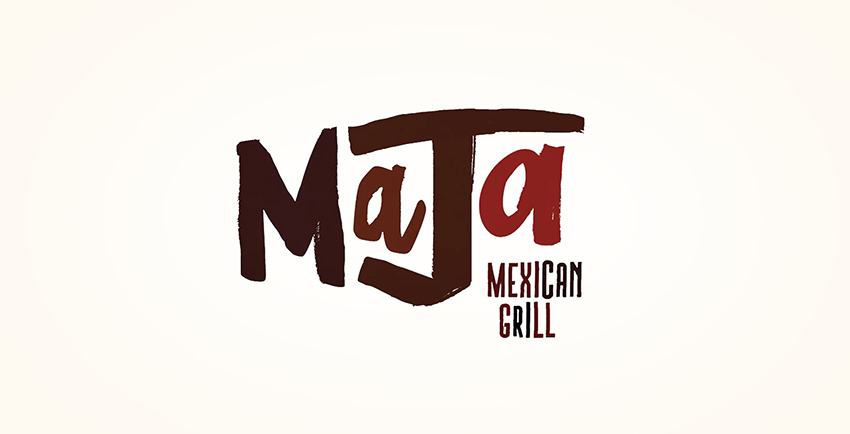 Customization offers closeness and intimacy that helps you bond well with your target market.
In today's world of high competitiveness, you want to survive and flourish as you operate among significant players?
Offer those personal touches in your wordmark that target and call out to the emotions of your market. Customize your logo that it hints at the presence of handwriting, painting, or calligraphy.
Offer your logo a more harmonious and blissful aura. They make a considerable difference- mainly if your core values include being more customer-oriented.
Of angles and significance
To go for a more severe approach- one that oozes sharp and immaculate charms- play with your letters' angling. Slanted alphabets with metallic or dark color schemes offer poise.
Furthermore, opt for sharper edges of your characters rather than softer curved ones. Hence, see that the font you are choosing allows for tilted and pointed corners.
Fun fact:
The shapes you select for your logo matter; A LOT. They have a language of their own, understood by different kinds of people.
Angular shapes with sharper edges are ideal if you aim to deliver authority, brilliance, and sleek collectiveness.
Design a catchy Wordmark logo to shine bright
There are one thousand and one reasons why you mustn't choose those ready-made logos or even DIY it all yourself.
I won't bore you with them; I am sure you've researched enough to understand them.
Because I want to be your perfect helpline, let me suggest you something:
If you want a crazy-effective wordmark logo for your brand, hire a professional. The know-how and experience a specialist has been way more powerful than the work of amateurs.
Your logo is vital for numerous reasons-
Your wordmark logo has to have that "IT" factor in making your audience select you, remember your business, and become your loyal customer base.
Your logo must help your target market realize how vital your products are to cater to their needs. Only then will they buy from you and also encourage others to buy from you.
Hence, a good wordmark logo created by a wordmark logo design expert might cost you some on your wallet.
But this is a mighty strategic investment you cannot afford to look away from. Take our word for that!
It's a wrap
Now that I am about to end my short session with you, I hope you jotted down some pretty useful pointers.
Never ignore the significance of wordmark logos because they are rising in their fame each passing day.
Easy to the eye and quick to be retained in your audience's mind- that is the true potential of wordmark logo designs.
Sure, you have some factors to consider when coming up with innovative logos, but your every effort is so worth it. Trust me.
Follow our guide and find the right logo for your business that will help you reach milestones. Make lasting statements with your wordmark logo and,
Remember to thank me later, my amigo!