Flyers have been around since the invention of the printing press. They have been used to kick-start wars and halt major uprisings. Good flyer ideas are still useful in this modern age if used creatively.
If used modishly, flyers can be a great way of marketing your brand, service, or event. In the end, it all comes down to your creativity and vision.
I have made a list down below of some of the coolest flyer design ideas that you can use for your next event or campaign.
The Basic Flyer
Yes, you read that right – There is nothing wrong with 'keeping it simple'. Besides, there's no point in going for something flashy or gleaming if it doesn't adhere to your audience's style.  
Take a look at the flyer below about the invitation for the bible school as an example. It doesn't have anything unusual in it. It is simple yet extremely effective, as it sticks to the basics and doesn't do anything wayward. The target audience for this flyer is church visitors, thus it is important to be respectable.
A summer classes' advert should be basic enough for children to understand and comprehend it. The other flyer, the one for the summer classes, does it right by selecting a soothing background and involving a digestible format. It looks easy and fun to read.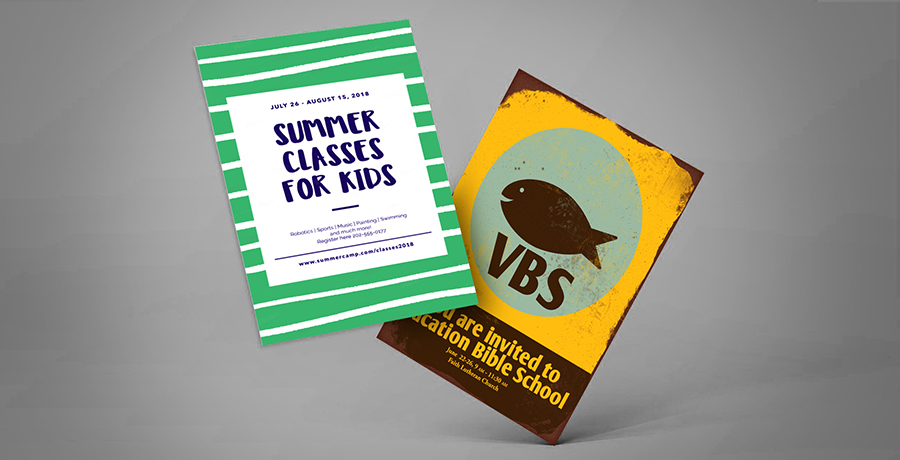 Use a Bold Statement
It is always a good idea to grab the attention first and then explain the prompt later.
Bold statements are a good promotional tool such as this flyer for a seasonal sale. It uses a great marketing cue in the form of a "BIG SALE".
Everything else on the flyer supports the sales prompt – including the color scheme and the background. This is a great flyer idea and is perfect for marketing products and events.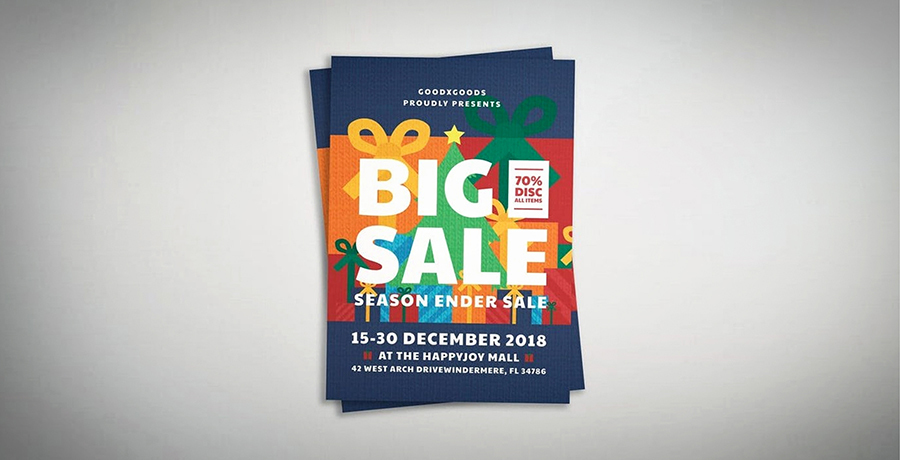 Dive Into Colors
Too many colors can distract the mind – but if used in the right fashion, they can be of great use and can surpass your expectations in terms of attracting attention.
The flyer below on the right about the "Amsterdam skate contest' reaches out quite well to its audience. It has a 'street-punk' vibe and makes it onto my list of 'cool flyers' due to its impeccable use of colors and the adherence to the taste of its audience.
The flyer, on the left of the Skate contest flyer, is a brilliant splash of colors. They have also made use of doodles to make the crown of the woman, which makes it even more interesting.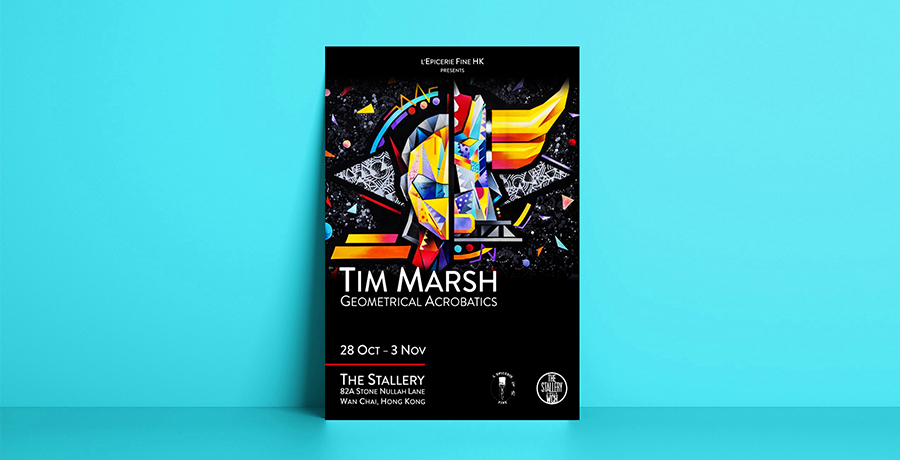 You may find it interesting: 15 Exciting poster designing tips for the amateurs
Make Use of Nostalgia
Retro flyers should be used if your event holds a specific theme.You can dive into the past by having a retro look. Cool flyers such as these create nostalgia that can attract a lot of attention.
Be careful while using them, though. It is quite easy to get carried away in your nostalgic thoughts – Ultimately, you should go for a look that connects you to the audience.
It is also important to keep the flyer idea interesting by incorporating interesting color schemes. Most people tend to go very bland with this theme, which is the opposite of what you are aiming for.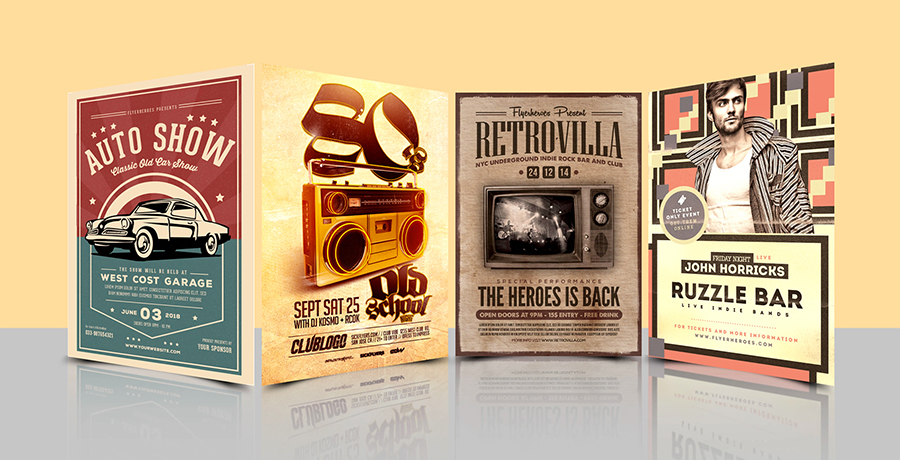 Use Relevant Objects
If used correctly, attractive images of certain objects can be a great promotional cue and can make for a very cool flyer. They can create a visual diversion which is ultimately what you want.
Both of these flyers are great examples of creating visual stimulation through objects. They are relevant and cohesively appeal to their audience.
Have a Sense of Humor
Having a sense of humor is a gift. Unfortunately, it can also be a burden as it can disconnect you from the audience and detract you from the goal.
So, it's always a good idea to have a group of people to keep a check on your ideas. Keep the jokes lighthearted and try not to offend anyone – Playful whips and jokes are always joyous.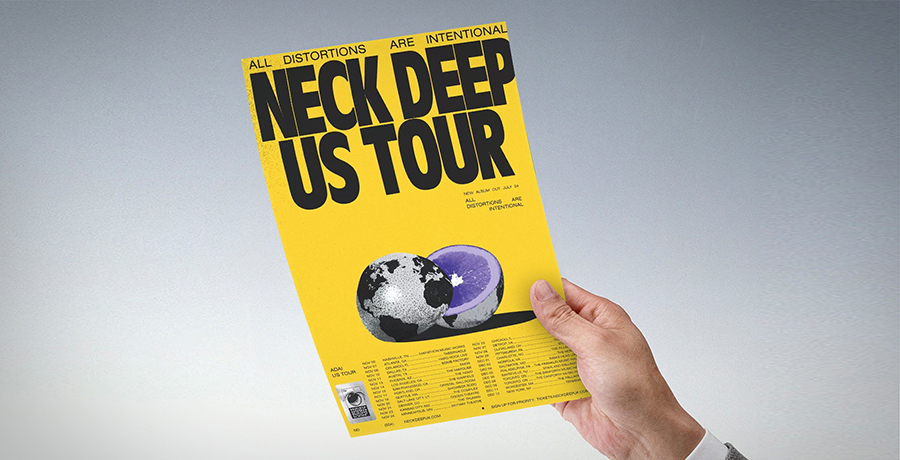 Control The Mood
Ambient colors can soothe the mood and create a calming effect on the mind. A good flyer is 'not always flashy' but is 'always well designed.'
Take a look at the example of this 'club invite.' It has a nice color scheme and a modish design that seems tidy and well put together.
However, you should always be innovative. Otherwise, your flyer can get boring and will be left behind.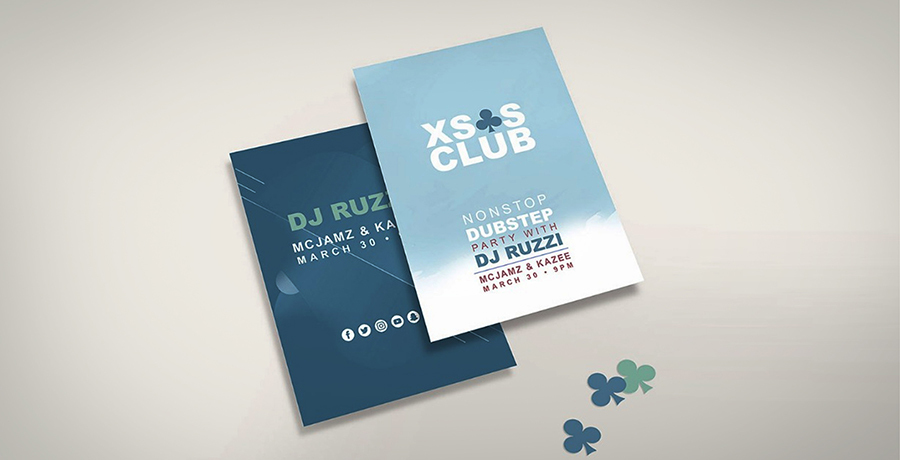 Mess With Some Edgy Art
Art will always be appreciated, especially if it is used in an edgy and creative way. There is a big audience for crazy artistry, meaning that you can innovate freely with your designs and ideas.
The two flyers above are great examples of edgy artistry and make up for very cool flyers. The color scheme is minimal and delves into the background, allowing the imagery to emerge to the forefront.
It is important to always keep the audience in mind and refrain from being overly distracted.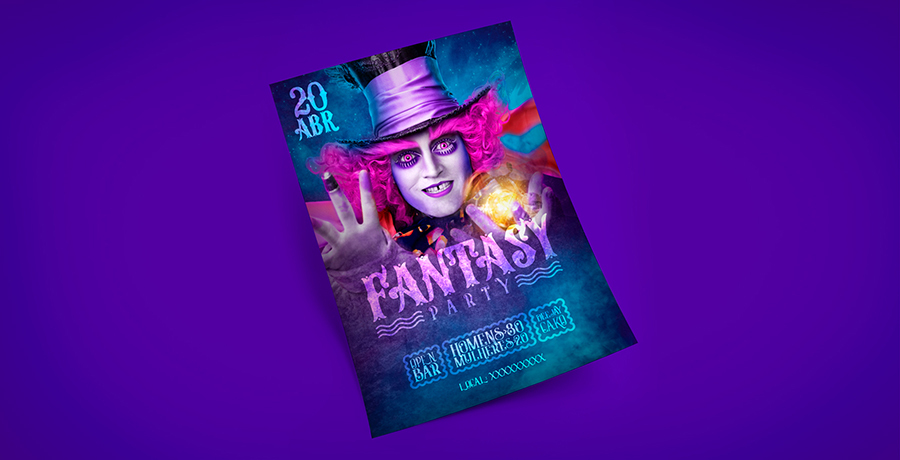 Go Wild With Red
It is common knowledge that red is the color of excitement and attraction. You can use this to your advantage and make use of several shades of red to communicate with the audience.
Red images will always seem distinct (Unless other flyers are red too), so you do not need to go over the top with added colors and imagery. This will allow you to focus on the message freely.
Make Use of Doodles
Doodles are a funny and imaginative way to convey your message. They are a bit overused these days, but if used correctly, they can make for a very cool flyer.
If you do have the talents for it, you can always doodle away something creative yourself
You can hire a designer to get a distinct feel and to explore your imagination. There is also a huge list of templates and designs on the internet for you to select from, which will also save you a lot of money.
Another interesting read for you: 10 Cool Tips to Design Creative Menus & Some Inspirations For You
Break The Rules
Traditions are a good thing, but let's face it – They are boring. Use a bit of imagination to make something unique and distinctive.
The example above shows a foldable flyer. It is still very cheap and easy to make, but the key takeaway is the peculiar design. This flyer design is sure to grab attention and will twist a lot of necks.
The bold message on the inside is also an 'eye-catcher' which leaves the reader intrigued.       
Mix Neon Colors
Using neon colors on a gentle background can make a boring flyer seem groundbreaking. Neon colors are extremely bright and garner a lot of attention making for a catchy advertisement cue.
The simplest of flyer ideas can be illuminated by using neon colors and tweaking the color scheme a little.
The example above shows an interesting flyer – Even though the topic is railway history (which might seem boring to many), the bold use of neon colors makes the flyer distinct and beautiful.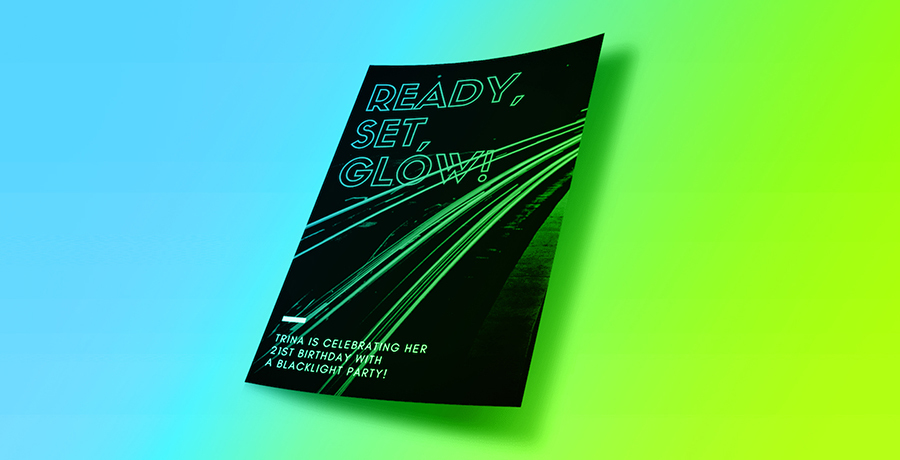 Go for Something Futuristic
Techno and futuristic themes are quite trendy these days. It is not a bad idea to make your flyer seem over-the-top by going for a cyberpunk setting.
It is necessary to keep the theme within the reach of your audience. You can alienate your viewers if they are of an older demographic. The futuristic setting generally appeals to millennials and teenagers, thus it must be used for them only.
An invite to a club or the promotion of a tech-product is the perfect subject for you to use in this setting.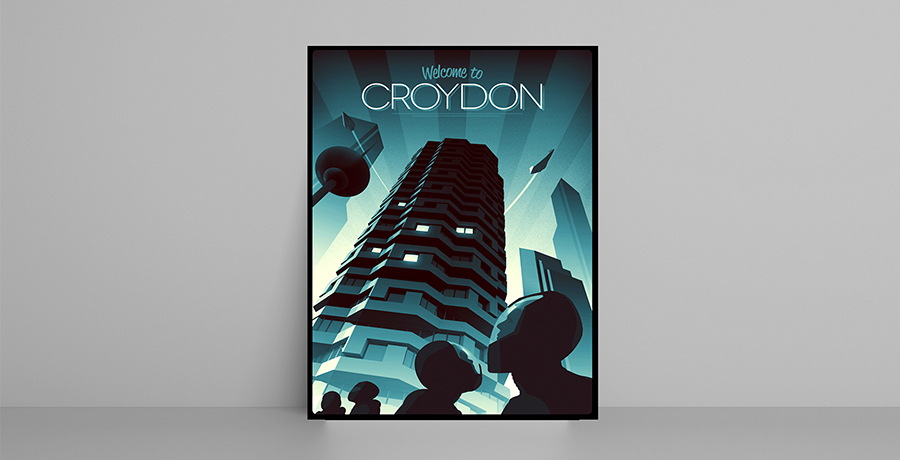 Take Seasons Into Account
Seasons are a fantastic way to excite the customer. A new season symbolizes a new day which might be a great way to advertise the product, service, or event. This strategy is used by large stores and huge multinationals, all over the world.Thematic events can be quite eventful. You can also use them to advertise your products and get a brilliant score on your sales chart! The flyer above on the left portrays the theme of 'Halloween' brilliantly. They have made use of red on a dark background, which makes it seem like the text is written with blood.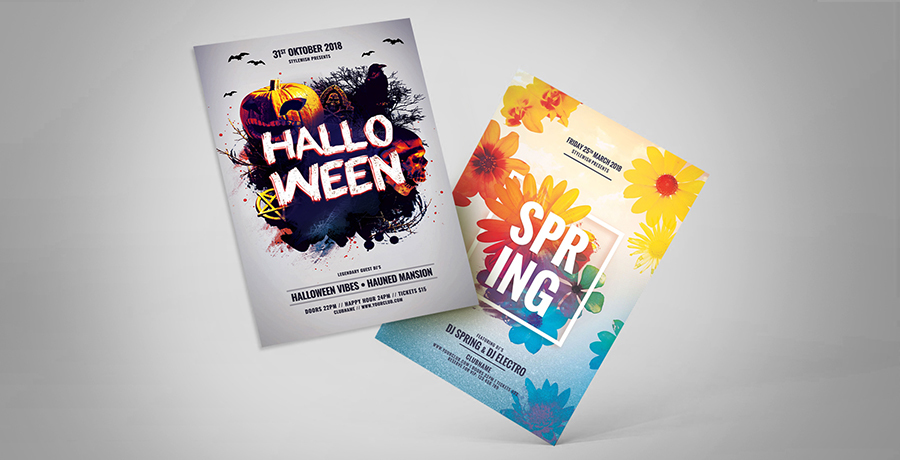 Less Is More
It is not necessary to stuff-in every thought that comes into your mind onto the flyer.
Using subtle art and expressions is a great way to materialize your thoughts – which ultimately creates euphoria and intrigue.
Besides, empty spaces are soothing to the mind. The use of a good minimalist image, a light color scheme, and a civilized font is all that is needed to create an insanely cool flyer.
Minimalist patterns are very trendy these days. The use of the internet and graphic designing software have made them a worthy investment of time, energy, and money.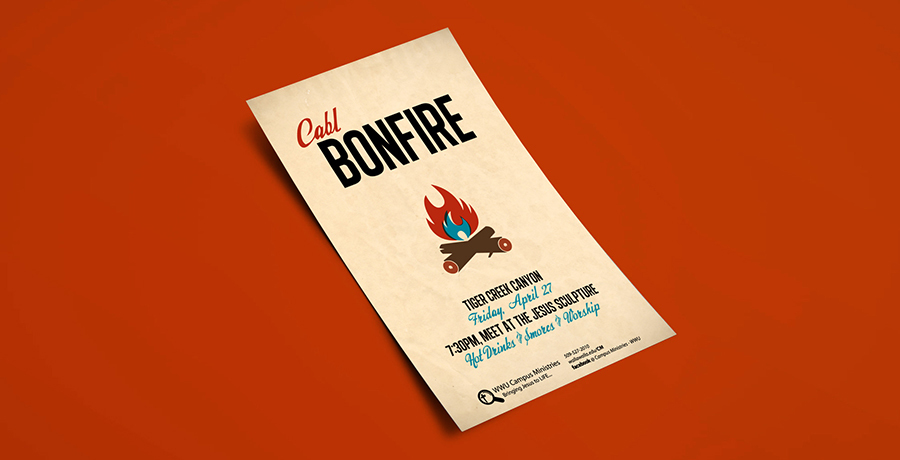 Use Photography
'A picture speaks louder than words' – We've all heard this a million times. Now is the time to transpire these words. Indeed, it is true that you cannot replace images with words. Especially, if the image is a bravura of photography by a professional.
High-quality images are a beautiful way to grab attention. The key is to use relevant images that do not detract from the goal or do not create added expectations from the event.
You can hire a professional photographer and have fun in the process. There are also a lot of stock images on the internet which are ready for use.

Call to Action
A call-to-action is an effective tool to entice the customer into getting your desired result.
You might be surfing through the flyer and five minutes later, you are making a call to the new restaurant, next door. Do you know what prompted you to make that call? It was the call-to-action.
The format is prevalent on websites and the internet, but you can use them on your flyer too. Words like 'call-now' or 'email us' are good prompts to action for a flyer design. The important thing is to make limited time offers and to make the call at the right time.This is a pretty interesting method of playing with the psychology of the customer. It is also pretty effective.
Be Artistic
Unique patterns and geometric designs can make for a very unique and cool flyer. Thoughtful flyer designs are available all over the internet. If you want something unique, going to a graphic designer might be just what the doctor prescribed.The use of abstract art for promotion and advertisement has been prevalent for centuries. It has a wide appeal and if used correctly, can garner a range of emotions for the viewers.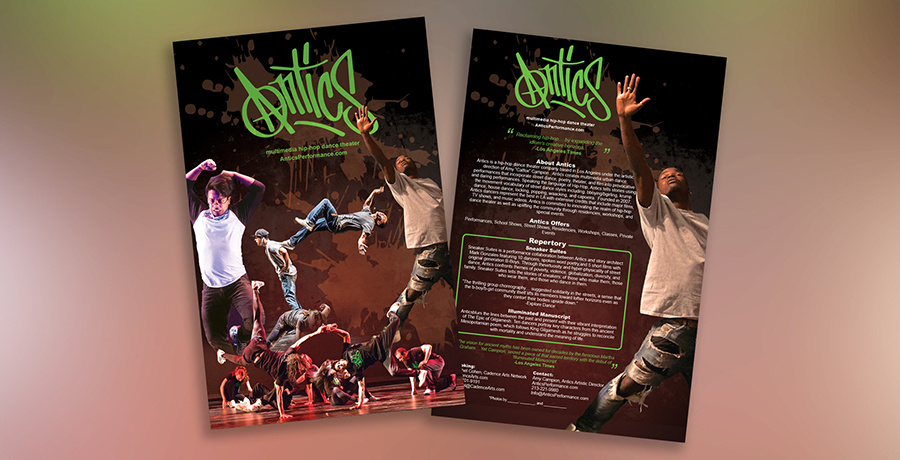 You may like: Book Cover Design Tips: what you need to know?
Use Social Media
Social media is a big thing for now and in the upcoming years. It can allow us to grow in a way that traditional marketing could never think of.
You can give a link to your social media handles on the flyer which will allow them to reach out to you.
Your customers can also share their experiences from your service allowing you to expand your reach further.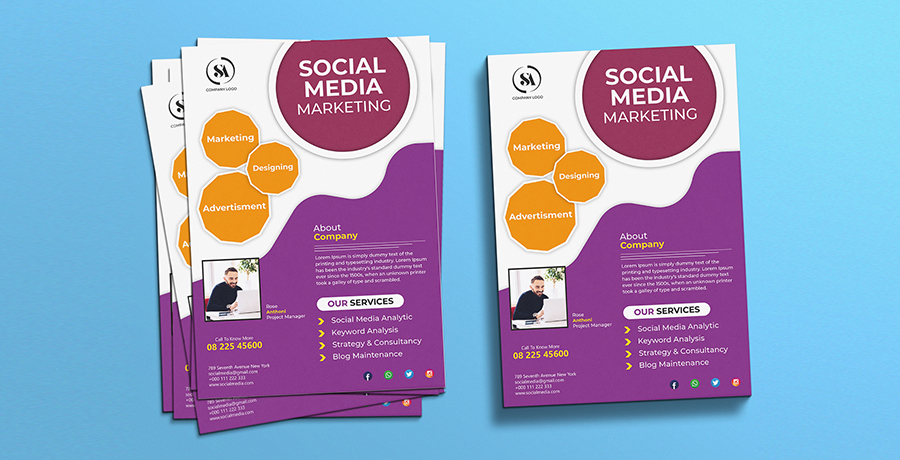 Using Infographics
While it is true that cramming all the details on a single piece of paper might not seem like a great idea, the use of infographics is a very functional method that can provide a lot of information in a visual format – comprising of graphs and charts, without compromising on the overall aesthetic.
Public service messages and health reminders might be the best subject to make this kind of flyer.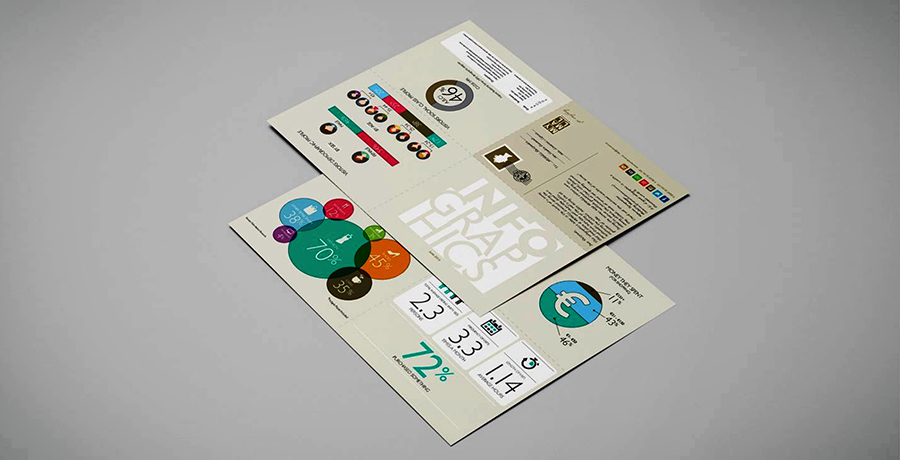 Endnote
It is upon the creative thought process of the individual to create a flyer idea. The ultimate goal of giving out a flyer is to reach the audience and make them understand the message.
It is important to be relevant and make a flyer design idea that is appropriate, applicable, and 'out-of-the-ordinary.'
Emotional connection to the audience is also extremely important when making a flyer as this can attract a lot of sales and attention towards your event or the product.
The list consists of some sharp, unique, and cool flyers. I hope these flyer ideas will spark a range of elegant ideas in your head!