Have you ever been walking on a sidewalk or driving car on a highway when suddenly a stunning billboard caught your attention? Before you try to be a business owner, you have to be an audience first.
What is about that billboard that caught your attention? Do you think you can do the same with your brand's billboard design? Seems difficult, right? But someone has to do it!
Roadside billboards play a huge role in catching your audience's attention in no time. Although it's the age of digital marketing, billboards are still as important as they were once before. Billboards are still an efficient way to advertise your business to the people.
Since you will be investing hundreds of dollars in the billboard design, you must want to be sure if it's going to be a success or not, right? Don't worry, I have gathered some tips for you that will allow you to invest in the right design for your brand's billboard.
Let's get started with it!
Things to Consider when Designing a Billboard Design
There are a lot of things that you should take care of when designing a billboard but don't worry, you will get to know everything about it. It's not any rocket science. All you have to do is go with your gut feeling and think about your audience when designing it.
Here are some tips that will help you in the long run.
Simplicity is the Key
Why do I say this?
If you're investing a lot of money on the billboard, then you must want it to be chic, stylish, and whatnot. But, that's not the case.
Simple billboard designs are the best when it comes to attracting your customers. Speaking volumes about your business with minimal efforts is not a piece of cake and takes more creativity than the billboard filled with unnecessary details.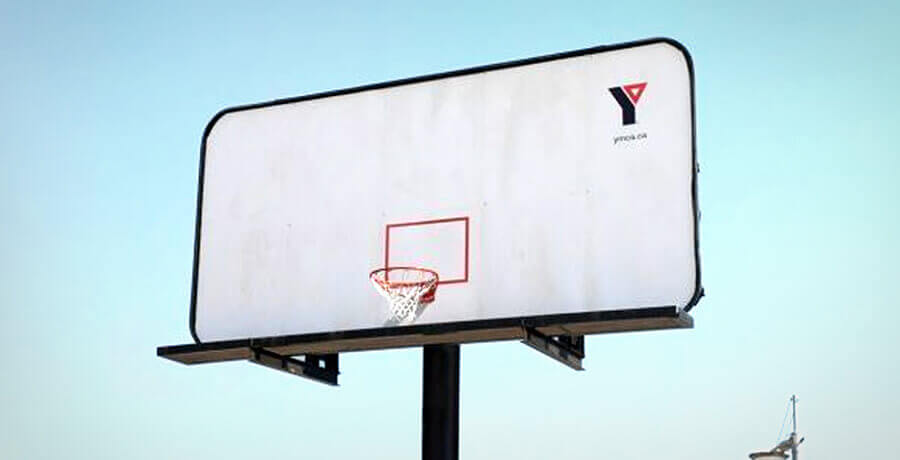 A simple billboard design gives out a clear message to your audience and doesn't leave them confused over anything. If you pay attention to this billboard design, then you will see that YMCA has done a great job with its simple billboard design. The aim is to show and not to tell your audience because there are other ways to do that. Always choose simplicity over anything!
Keep it Short, but Sweet!
Another way to let simplicity take over your billboard design!
How can keeping it short deliver your message? It's a fair question, but trust me, it's better this way!
Using more words on the billboard design can literally steal its thunder, so what should you do? You keep it short and obviously, sweet!
To make an effective billboard, don't use more than ten words on it to avoid forming a cluster. Your product and tagline should be enough to cover the wordy space.
Take the example of BBC where they have delivered such a strong message with few words and their huge creativity. It's a great example of speak more with less. Take inspiration from this design and try to use something creative without saying a lot in your billboard design!
You may also like: How To Make A Creative Brochure Design
Stick to Non-Serif & Bold Fonts
Font can make or break your billboard design. Period!
Using large typefaces with bold fonts can literally take your billboard design to the top. Your audience cannot read thin serif fonts on such a height, therefore, it's best to stick with non-serif and bold fonts.
If you want to ensure readability, then use both upper- and lower-case letters in your typeface, so your audience can read what you're trying to deliver to them.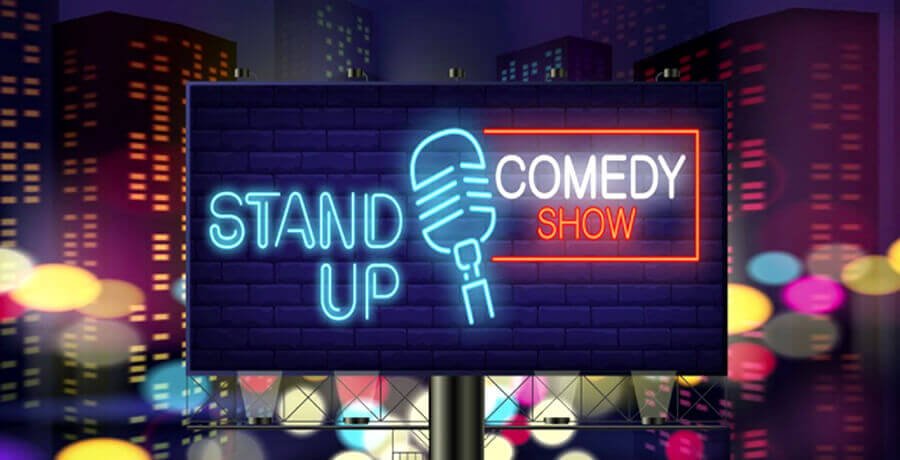 Check out this billboard design that has excellent visibility with a wonderful font style. An effective billboard is nothing, but a combination of great background, exceptional font, and creativity. Take inspiration from this amazing billboard design!
Use Large Text
Large text is all that counts!
Unless you're trying to confuse your customers, using large text is necessary for any billboard. The billboards are usually at a distance of 500ft. so what makes you think that using small text will help you in any way?
If you're adding your tagline, a CTA, headline, or any such thing in your billboard design, then it's a must for you to use large text in it. Most of your audience is mobile, so they are not going to stand there staring at your billboard unless they get a message. You only have a few seconds of their attention to get the work done, make sure to do it the right way.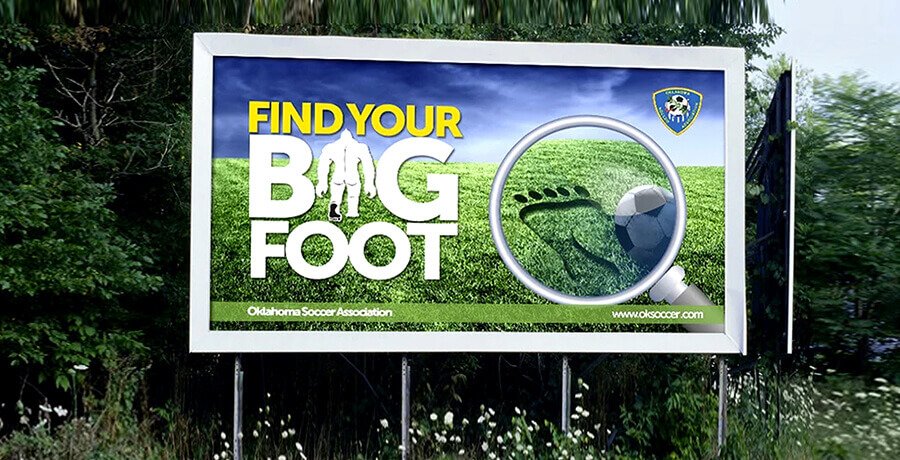 The message of this billboard is quite clear and I am pretty sure that it's hard to miss the message. The background is dark and the typeface is in lighter colors, which adds greatly to its visibility. This billboard design is a huge example of using the right color palette and large text!
Maximize Brightness
No, it's not about adding light to your billboard design!
Using the right contrast in your billboard design is the key to catching your customer's attention. The billboard is going to be up there during the day and the night, so what can you do to make it visible at both times?
Although a good designer can tell you how to do it, your input will also count in it. You're more aware of your brand than the designer, so make sure to make the right call at the right time. Using high contrast in the design will get you the visibility that you want for your billboard.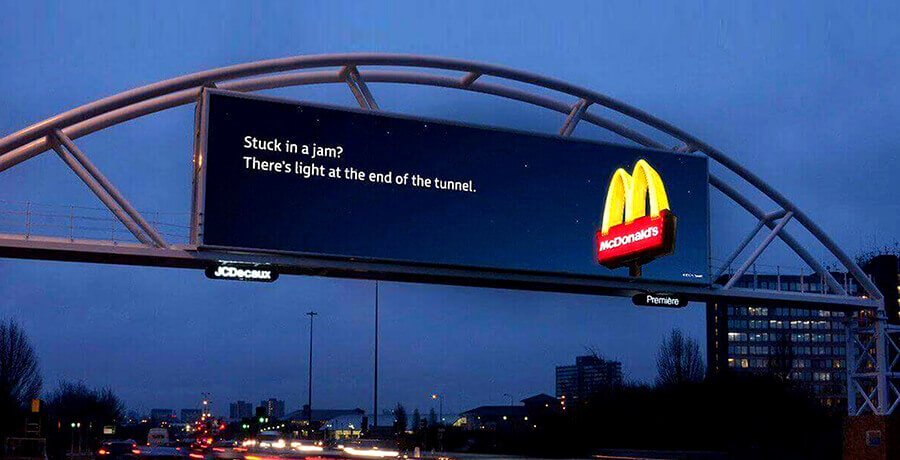 McDonald's billboard designs are catchy for a reason – their color palette!
The contrast is amazing in almost all of their billboards, which makes it hard to miss for the audience. Make sure that you're opting for a similar tone in your design!
Pick Appealing Colors
Using the right colors in your design will add brightness to your design. Some colors that work like a magic on a billboard are black text on yellow background, red, blue, black, white, or plain black. Some colors that you should avoid at all costs are pastels, earth tones, or brown.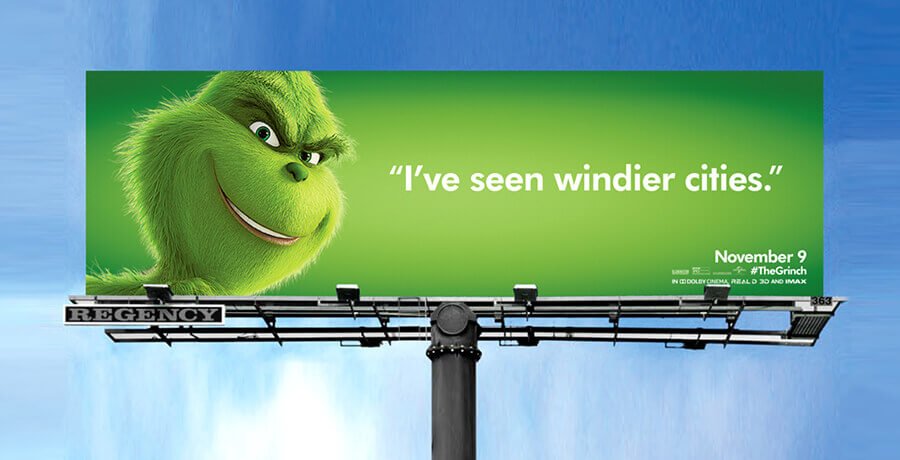 How can you possibly miss this amazing logo design that is just staring at you from the corner of the road? The message is clear, the choice of color is amazing, and the design itself is pretty simple and alluring. It has all the vibe with the relevant details in the corner. Go for something like this in your billboard design to make it hard to miss!
Use Single Image
But why?
Well, for the obvious reason – simplicity!
It all comes down to keeping it simple. Using a lot of images in your billboard design will dim the light on your message and can confuse your audience in the wrong way. You definitely don't want that, right? It's important to make your message as clear as possible. Using one single or no image in your design will make sure that your audience is focused on the message only.
And that's the only goal!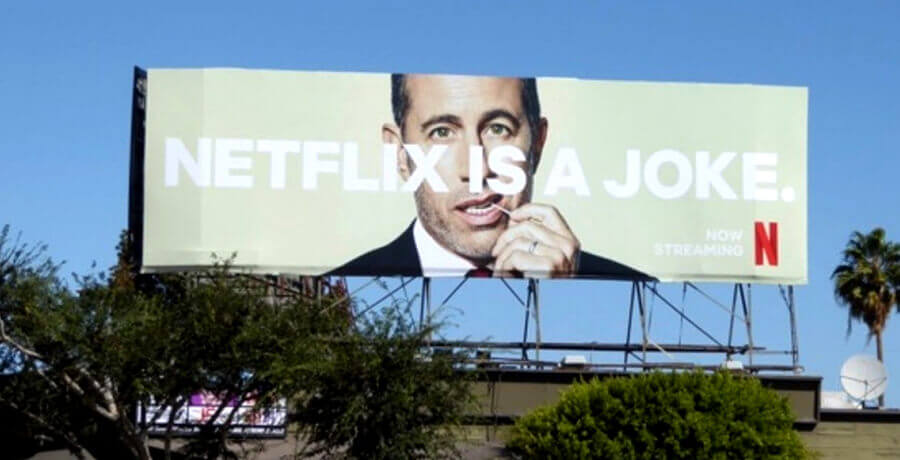 The humor and a single image on the billboard are enough to make people notice it on the side of the road. You can use a similar tactic to impress your audience and catch their attention in no time. Making them laugh will get you more attention than any other thing!
Add a Call to Action
What's a billboard without a call to action?
Yeah, you delivered the message, but now what? What should your customers do after seeing your billboard? Where can they find you? How can they contact you?
Don't ever miss to add a CTA to your billboard design if you want more customers!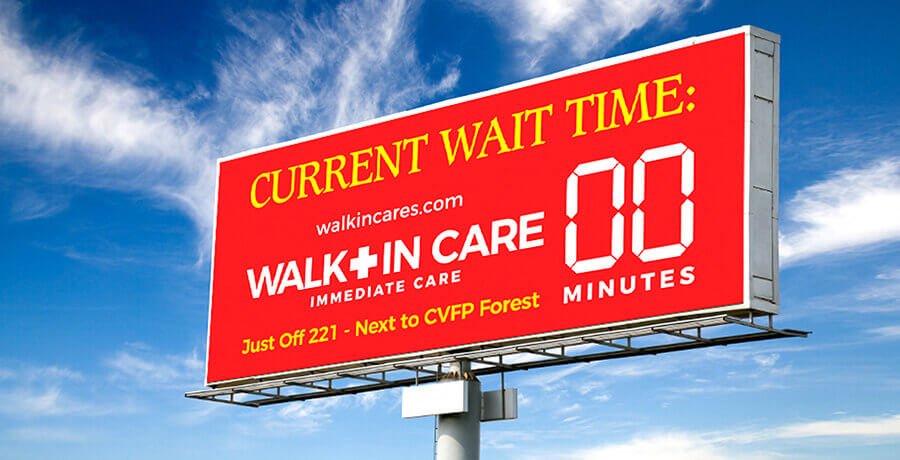 This billboard design is a great example of putting an effective CTA. Make sure your audience knows how to take the next step after seeing your billboard, otherwise, what is all of this for?
Things to Avoid when Designing a Billboard Design
Now that you know what to consider in your billboard design, it's important that you know about the mistakes to avoid as well. A good billboard design cannot be completed without avoiding these mistakes.
If you want to know about them, then read below!
Using Stylized Fonts
It's the biggest error that you can make!
Although these fonts look all attractive and fancy, they are not the right choice for a billboard. Since the stylized fonts are thin and can be hard to read from a distance; you must avoid using them.
You can use some fonts such as Tahoma, Helvetica, or Calibri, but not the stylized ones. Using the stylized fonts is a definite no from my side. If you want to take the risk, then be my guest!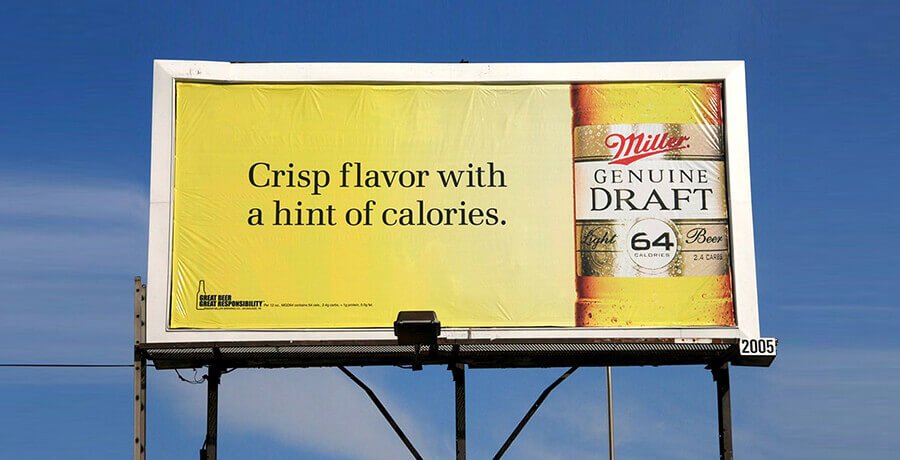 Try and read this billboard at night from a distance and you will understand what I am referring to. Make sure that you avoid this mistake!
An interesting read for you: 15 Exciting poster designing tips for the amateurs
Unnecessary Filling of Spaces
Have you ever seen a billboard that is just filled with large chunks of texts and images all over? I know that I have and it was a misery to read that!
Just because you have so much space on a billboard does not mean that you have to fill it all. If space is left unused, then it's best to let it stay that way. If you have included unnecessary information on the billboard, then it will be hard for your audience to get your message.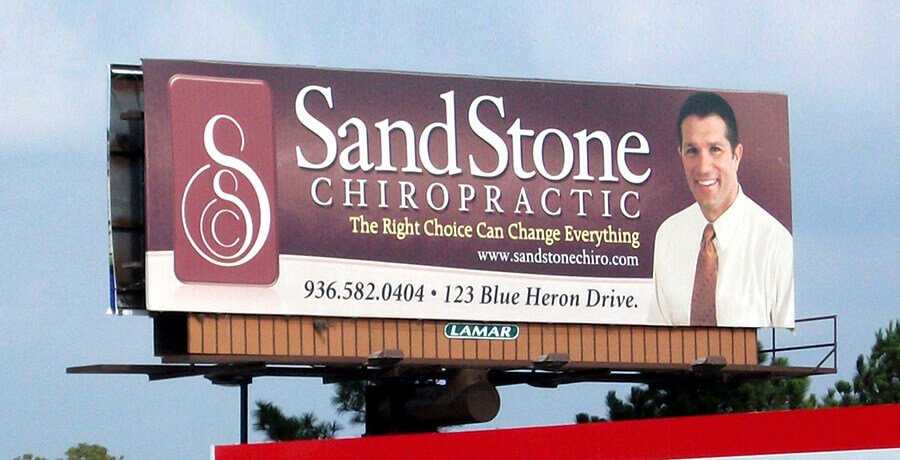 So far this billboard looks like a cluster to me. Nobody will stop reading so much on the board, all they want is the real information. Don't make the same mistake!
Ensure Good Placement
It's important to know what to put and where. You should avoid using the space too much, but you must also know where to put the image and where to put the text. If you have not done this correctly, then your whole billboard will lose its charm.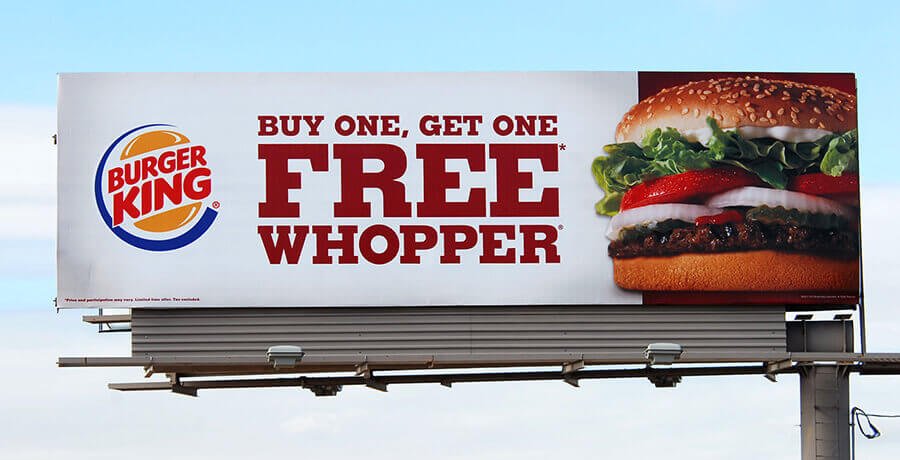 Take a look at this billboard design. Everything is placed perfectly leaving the correct amount of white space and focusing on the deal that the brand is providing!
Now, that's how you do the placement of elements on the billboard!
Using White Background
The white background is the best to work with when you want your message to be the focus (which should be the case) of the billboard. Using dark colors on white makes your message more prominent to the audience, so it's always a wise choice to go for.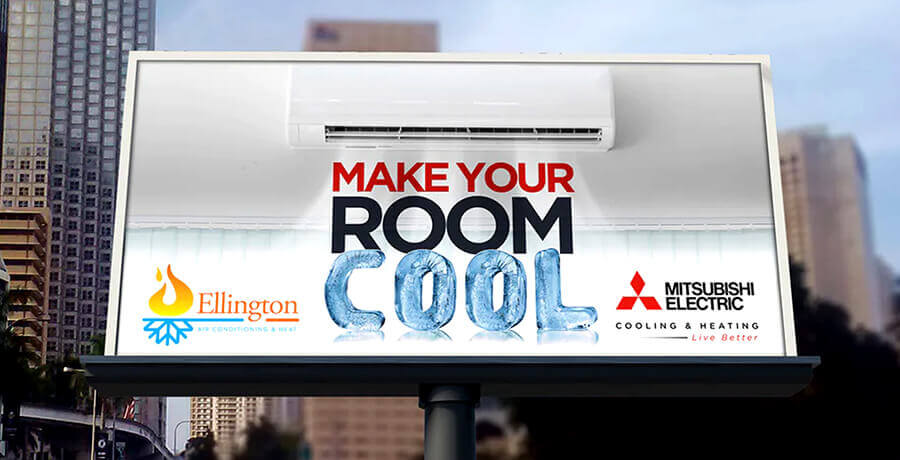 This is an example of the right use of white background. Look at all the fonts popping on the billboard delivering the message loud and clear. So, why not opt for this strategy?
Making it Look Complex
As mentioned above, simplicity is all that you need to make an effective billboard. You don't have to go overboard with your billboard design to make sure that your money is well-invested because it's not the right way to do it.
Making your billboard look complex by adding unnecessary elements on it can steal its thunder. You definitely don't want that, right? Make sure that you're not making this mistake!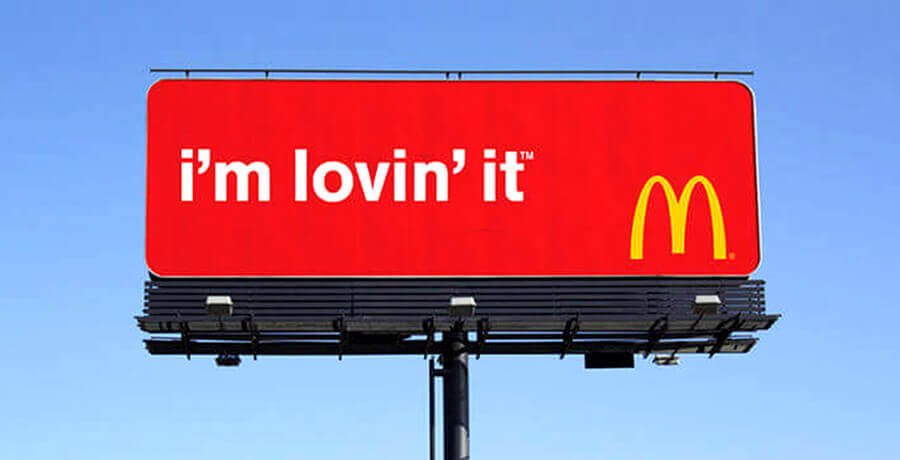 McDonald's is the master of making simple billboard designs with minimal elements on them. You need to learn a lot from McDonald's billboards if you're new in the market and it's your first billboard!
Not Adding the Visual Appeal
Creativity speaks the most through visual elements. How are you trying to catch your audience's attention? Is it a catchy tagline or an exceptionally well image that is hard to avoid for anyone?
It depends on your approach and the brand personality.
But, one thing to note here is that you cannot win it without adding visual appeal to your billboard design. There are hundreds of billboards on the side of the road, why would anyone want to look at yours? If you have the answer for it, then you can nail it!
Now, how can anyone miss this billboard? It's hard, right? You have to make the same effort to make sure that your billboard design stands out from the rest to catch your audience's attention in no time!
Missing Call to Action
Finally, the last mistake that most people make costs them a huge sum of money. Ask yourself, why are you putting a billboard on the side of the road? Obviously to get more sales for your brand, right? To increase the visibility or to deliver your message?
How can you do that if you don't tell your audience what to do next after seeing your ad?
A call to action is the only way that they can contact you, therefore, not including this in your billboard design can be a huge mistake. This does not apply to the brands that already have a huge reach and following, for instance, McDonald's – all thanks to their amazing marketing efforts.
Don't make this mistake or you will be wasting your money on the billboard!
Final Thoughts
Designing a billboard can be tough, but it's definitely not impossible. There are several do's and don'ts of designing a billboard, but they are all worth it.
Many people make such mistakes, which is why it is important to learn from their failures. Doing your research before starting with the design will save you from a lot of loss. A good billboard design is free from errors and is visibly attractive.
Although you can add a lot of elements to it, it's still not going to be appealing unless you do it the right way. From choosing the font to the color palette, everything speaks volumes of how you want to deliver your message.
One way to do it is by placing yourself in the shoes of your audience and then visualizing the billboard design that you are planning. If you're satisfied with it and if you're convinced that it will do justice, then go with your gut feeling. However, if anything feels bad about the design, then it's best to correct it before putting it on a height.
Don't be in a rush to design a billboard because, at the end of the day, it's your marketing efforts. Make sure that you're putting the right efforts in the right place to see the results!