Logos are the prime requirement of every brand but more than that they are your own identifier as a graphic designer! How? Imagine if you had designed the new Apple logo or the logo for Audi. What would have been your market value?
Every designer needs certain tools at their disposal to create unique and innovative logo designs. You may have the brains for creative thought but ideas need tools for implementation. As a designer you should be aware of all the options you can choose from, their distinct features as well as the pros and cons of each logo design software. Here's a list of program (online and offline) which can help you make the right decision.
Now before you make your decision there are certain factors you may want to consider:
Your budget
Which level are you on as a designer? Beginner, intermediary or expert?
Do you own Windows or Mac?
Answers to all of these can also be found below:
1. CorelDraw: the sketch expert
As the name suggests, this logo design software allows you to draw your logo without much hassle. Whether you're new at this or have an expert's hand, this is one of the best logo design software that will make sure your logo design process doesn't get complicated. Additionally the LiveSketch feature provides you with exceptional quality and results. Two of its counterparts namely Corel capture and Corel photo-shop offer advanced tools to "polish" the logo created using CorelDraw, giving you a high quality, professional logo. Who knows, you could be designing the next Nike!
What's more? The easy to use logo design software gives its designer control over the document's structure while it also allows you to make non-pixelated designs (being a vector oriented software). Another significant point to note is that this logo design software is available in both, Windows and Mac versions: only designers will know what a relief that is in this era where there is a continuous struggle between Mac and Windows friendly versions!
Pros:
The LiveSketch feature gives you a wide scope to design amazing logos
Windows and Mac friendly versions are available
Cons:
You need to learn it thoroughly to be a pro at it (not really a con but that's the only flaw I could think of)
2. Gravit Designer: the cost effective one
Another one that has made it to my list of the best logo design software programs is the Gravit Designer. With all the free trials ending in 30 days as in CorelDraw and others, this is an online logo design software which eliminates the hurdle of breaking the bank!
Even though Gravit Designer isn't alone in providing logo design services online, amidst all the online programs this software has by far the most amazing features that can help you create customized logo designs. Features include: blending mode, selection tools, symbols and pretty much everything you need to design a basic yet professional logo!
PS: if you're looking for additional features, well the best things in design aren't free. You'll have to invest in the pro version but once you do it's surely worth it!
Pros:
Vector oriented software. You can create professional logos with ease
Doesn't have a very high learning curve: provides video tutorials to help you learn
A significant number of templates and icons available for better design ideas
Cons:
You'll have to do without the brushes (no brushes available)
Some of its best features aren't free (major drawback)
3. GIMP: the easy one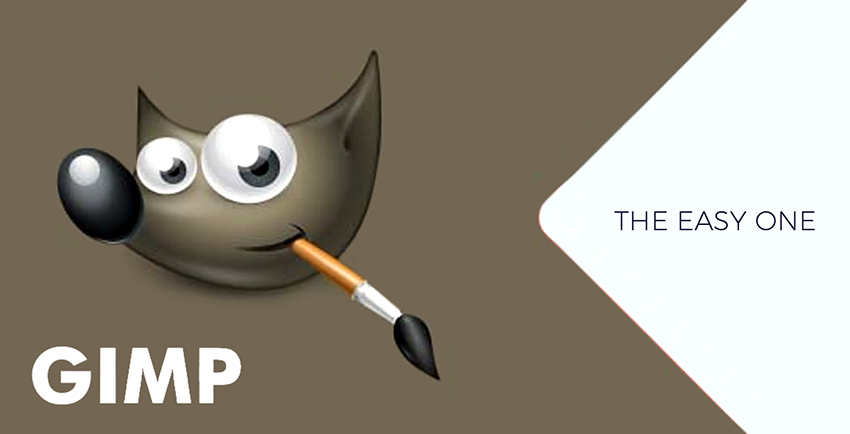 Please note: This logo designing software isn't recommended for the experts, you'd all just get annoyed by the simplicity and ease of use. GIMP or GNU Image Manipulation Software is one of the best logo design software programs for anyone who can't (or doesn't want to) spend money at the moment. The logo design software gives beginners a user-friendly interface with the advantage of creating exquisite designs. It really does make designing a breeze!
Apart from the fact that GIMP is open to all (free of cost) there are a variety of plug-ins which you can download to enjoy advanced features. These include GIMP Paint Studio Plug-in, GIMP resynthesize Plug-in and The GIMP Layer Effect Plug-in.
Additionally, the logo design software is extremely social: it works well with Linux, Mac OS X and Windows!
Pros:
Supports almost all file formats
Very flexible
As mentioned above, it's friendly with multiple platforms
Makes us really believe: good things in life can be free!
Cons:
Updates may take longer than they do in a purchased software
4. Vector: logo design software for the newbies
If you're still on the beginner's level and need an easier option than any of the above, Vector is your problem solver. Vector is an online logo designing software which has a user-friendly interface that allows its user to make customized logos without having to take a designing course. Vector's unofficial motto is to make everyone capable of designing. Whether you create a worthy design or not depends on your natural aesthetic sense and talent. No software can teach you that!
Pros:
Can be downloaded as an app or used online
Learning tutorials for beginners to help them design better
Cons:
Since this software is for amateurs, the tools themselves aren't refined and won't offer the same details as software programs which come at a price
You can either redesign or keep the design: there is no in-between! Vector comes with fewer editing options as compared to other programs
5. Inkscape: another freebie
Another great logo design software that comes for free! We all love things that don't have a price tag attached to them especially when they have something exceptional to offer. Achieving a prominent position amongst the best logo design software programs (which are free of cost), Inkscape allows its user to create numerous illustrations and logos along with other graphic design content. It supports SVG (scalable vector graphics) format like its fellow similar software programs with the added advantage of being able to export and import diverse file formats while also being compatible with Mac OS X, Windows and Linux. (Let me just take a breath)
Okay so here's a summary of the Pros and Cons to help you take a better decision.
Pros:
The 4 letter word we love to hear and see: FREE!
An extensive toolbar with drawing tools such as pen tools, pencil tools, shape tools.
Available for Mac, Windows and Linux
Cons:
Incompatible with Mac without ports
Difficulty of learning on a scale of 1-10: might be 7 for beginners
6. Canva: the popular one for beginners
This my friends is one of the best logo design software programs available online for free and which can be learned by even those whose work might be just remotely associated with design. So even if you're working in a very small budget for an online business for example you can easily create a log on Canva. Nevertheless, unlike Vector or Inkscape which are labelled as free logo designing software programs, you'll need to buy the Canva Pro version to unlock the best of it. A setback I agree, but the silver lining is that you can practice your designing skills on the basic version which offers above 50,000 design templates, before you eventually decide to spend some bucks!
Pros:
It offers a 30 day money back guarantee in case you're not satisfied
It's completely online
It is as easy as pie (extremely user-friendly)
You can share your logos on social media platforms directly
Cons:
Social media sharing is restricted to Facebook and Twitter
You have to buy the Canva Pro version to avail the best of this logo design software
7. Adobe illustrator: the one that started it all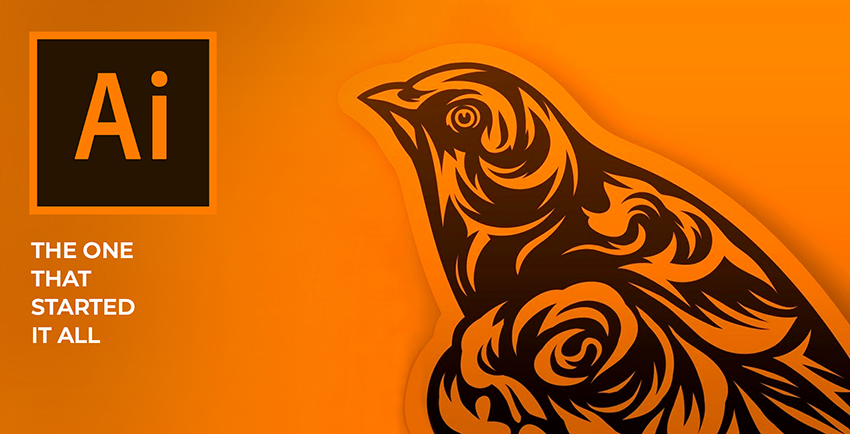 The personal favorite of anyone who wishes to pursue a career in logo designing. Ladies and gentlemen, the pioneer in vector designs, the star amidst logo design software programs: a real celeb! Despite multiple logo design software programs having emerged since Adobe illustrator's inception in 1987, the master remains undefeated. Zero insecurity because it knows its worth as the best logo design software yet! Some may say its mere popularity but we know as designers that Adobe illustrator is the king of all logo design software programs.
From the various tools available to create vector images of your choice (not just logos), to editing options, color variation tools, brushes and much more, the software deserves what it is accredited for. This is the real deal!
I naturally am incapable of predictions about what the future holds but as for now, illustrator retains the championship title as the best logo design software in the world.
Pros:
Every tool you can possibly think of to create vector designs is available
You can customize your canvas or workspace
Works well with other Adobe programs such as InDesign and photoshop
Cons:
The best things in our work-life definitely aren't free: Adobe illustrator comes with a free 7 day trial but that's it. You've got to pay
You tube tutorials might just help you learn the basics: TBH Adobe illustrator has a steep learning curve and a course might be needed to learn it thoroughly
8. Adobe Photoshop: the raster master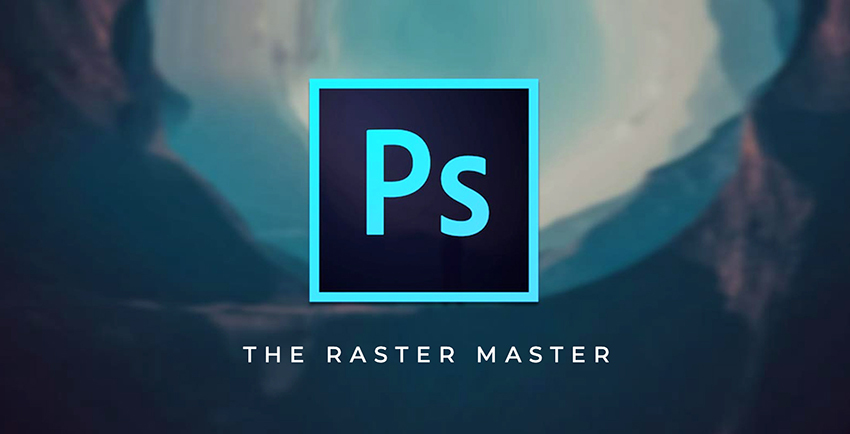 A software that's popular as its sister software, Adobe illustrator. Every designer (no matter where in his/her designing career) knows what this software is worth (metaphorically). Even though Adobe Photoshop is perceived generally as a photo-editing/manipulation software, it provides exceptional tools for logo designing as well.
With the right updates, Adobe Photoshop allows you to create logo sketches with the help of multiple tools. It provides various editable options with layers and selection tools while you can easily rewind with ctrl + z.
Pros:
A multitude of features to create graphic designs and logos are available. The brushes are advanced and can be used to make graphic paintings or sketches.
Can be used to design packaging or metallic visuals with embossing and gradients.
You can set your workspace or canvas according to your requirements.
Has a good compatibility with Adobe illustrator and InDesign.
Perfect for when you want to add raster images to your logo design.
Cons:
Photoshop could be installed for free once upon a time but those were the good times. In short: it's not free anymore.
Needs a lot of practice. To use the tools to the best of their potential, you need to be an expert in Photoshop which takes time to learn.
Unlike Adobe illustrator, this logo design software isn't primarily suitable for detailed vector sketches due to its limited vector tools. It's mostly used for raster images or logos.
9. Affinity designer: the best of both worlds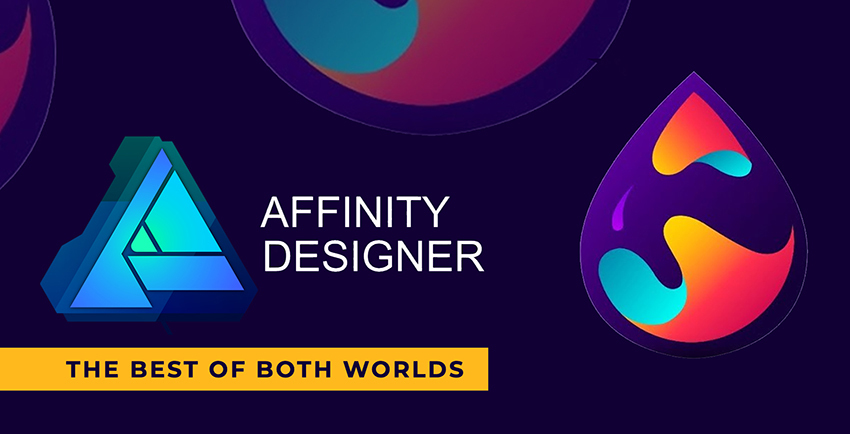 Ever heard the phrase, "the best of both worlds"? Affinity is by far the best logo design software which offers exceptional tools for vectors as well as raster images! In a nutshell, it's all you need as a designer. The software is what I'll call intelligent enough to know that both vectors and raster images have their own significance and neither should be neglected.
While vectors are the smart choice to design logos, raster elements are used for advanced designs. Thus, a designer doesn't need two separate software programs for distinct projects! Another noticeable aspect of Affinity (and which make sit such a strong rival of Adobe) is that Serif (the publisher of Affinity) offers it at a fixed rate without the hassle of subscription charges or different packages depending on how many months you intend to use it for. Designers definitely like this option better.
Pros:
The best logo design software for designers who want to design more than just logos.
Supports a wide range of export formats including PSD.
Eliminates the subscription stress (as I call it)
Various features with raster and vector elements: every designer's dream come true.
Cons:
Every great invention needs an update. Affinity may offer both vector and raster elements but lacks in providing necessary features like customizable workspace or grids which are so important to check if our design is balanced or not.