Looking for the best desktop computers for 2021?
Are you a graphic designer who always finds it hard to work on their PC or another machine? A wrong PC for the right designer is never the best option. When it comes to working on a smooth machine, the experience is always different.
Being a designer, you must understand how difficult it is to find the right machine for you. There are a lot of things that you have to look for when it comes to choosing a PC for graphic designing. But, what's the hype for?
If you are not a designer, then you probably won't understand.
For a designer, it's necessary to have the best computers at disposal that can handle their heavy software and work efficiently without any lags. Zero lags is a must!
Designing is not an easy or simple job. Even the simplest files take a huge chunk of the memory-making the PC go slower day by day. Now, that's not what a designer certainly wants. So, if you are just starting or are a professional already, well, it seriously does not matter.
What we are about to tell you is the list of the best desktop for graphic design that you're eventually going to need in the long run. Beginner or professional, everyone needs a smooth working machine to get the work done efficiently. So, are you ready?
In this article, you will find the best PC for graphic design for you; however, before moving to that, let us explain to you how you can choose them from a pool of machines.
What to Look for In the Best Graphic Design Computer?
Now that we are moving ahead with the reviews, why not first discuss how we found them? It's the basic way of telling you that if we can do it, then so can you. There are a lot of things that you should consider in your PC before buying it for yourself.
Graphic designing is not like writing content, there are a lot of things that you will need to install on your PC. Furthermore, most designers work with two screens, so you need to be ready for that as well.
Here are the first few things that you must check in a PC if you are buying it for graphic designing.
Hard Drive
The hard drive is an important part of the PC. You can find two types of hard drives in the market.
Solid State Drives (SSD)
Hard Disk Drives (HDD)
Although they function in the same way, there are still some differences between them. The main difference between HDD and SSD is the price difference. HDD is a lot cheaper than the SSD. On the other hand, the HDD has a lot more storage than the SSD. HDD has moving parts, whereas, the SDD does not, which is why it is much more durable than the HDD.
Apart from it, the speed of both is also different. If you have an SSD on your PC, then you can expect it to boot and function faster than the HDD. Even if you want to upgrade your hard drive in the future, you can certainly do it at a price.
Monitor
A lot of computers come with a great monitor, but sometimes they don't too. So how can you tell that the monitor is the right choice for your graphic designing endeavors?
Make sure that the monitor that you purchase comes with a 1280×800 resolution. It might get expensive, but it will all be worth it. One reason for doing it is to make sure that the screen shows a great image.
Also, monitors with in-plane switching are the best choice for any designer, but that comes at a price. So, if you are willing to invest heavily in your future, then that's the deal that you are looking for.
GPU
GPU stands for Graphics Processing Unit, which is another important part of the system. If you are a designer and looking for a PC for this sole purpose, then this is what you need to check first.
If you have the budget, then invest in the best GPU to ensure that you get excellent quality images. You can also get additional graphics cards to get amazing visual quality, which is all you need during graphic designing work.
Memory
Memory is another part of the computer that speeds up the computer. If you are a professional designer, then this is certainly what you need on your computer.
The memory in the PC is known as Random Access Memory (RAM). It's short-term memory. For a designer, it's necessary to at least get a computer with 16 GB of memory. So, if you want to finish your work within time and without any lags, then don't forget to check the memory in the machine.
Processor
CPU plays a huge role in the computer and if that's perfect, then you already have a great PC. If you're a designer, then you at least need 2GHz or more in your CPU. You will be performing extremely intensive operations and programs every day, so if you want the perfect experience, then make sure to invest in a good PC.
Also, make sure to check the price before jumping on the bandwagon. If you don't have the budget, don't worry, you can also find some relevant machines under your budget in the market. 
The Best Graphic Design Computers in 2021
Now that you know what to look for in the PC before purchasing it, here's the list of the best graphic design PC for you to purchase in 2021. Let's move to them without any delay!
GPU: Nvidia GeForce GTX 980M (4GB GDDR5 VRAM)| CPU: 2.7GHz Intel Core i7-6820HQ | RAM: 32GB DDR4 |Storage: 2TB, 5,400 rpm Rapid Hybrid Drive Storage (128GB SSD)
| | |
| --- | --- |
| Coming with the Intel Core i7 processor, the Microsoft Surface Studio is a great deal for the money. Another important thing about the PC is the great 2TB of hard drive and 32 GB of RAM providing enormous speed and efficiency to the computer. Although the Nvidia installed on the computer is not up-to-date, it still offers great video editing opportunities. | |
Apart from it, the screen size and the colors of the display further adds five stars to the overall experience. The Microsoft Surface Studio comes with 4500×3000 pixels monitor enough to handle big projects. The computer comes with enough USB ports, an Ethernet jack, a mini DisplayPort, and an SD card slot.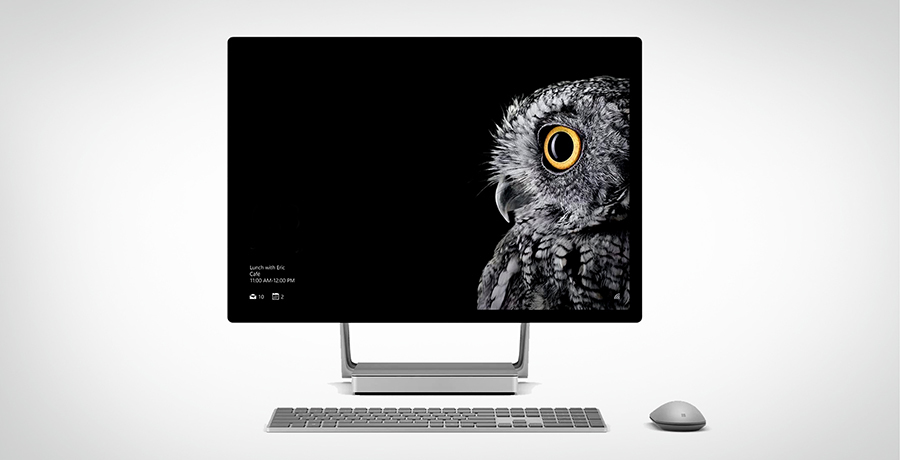 GPU: AMD Radeon Pro 5300 | CPU: 3.3GHz 6-core 10th-generation Intel Core i5 | RAM: 8GB of 1600MHz DDR3|Storage: 512GB SSD
Apple holds its separate place in the hearts of the designers. With the invention of the Apple iMac 5K Retina display, it's on top of everyone's list.

It's hard to miss the quality of the image and the efficiency that the computer offers to the designers. Coming with a dedicated 2GB memory for video editing, the Apple iMac is definitely something else. If you compare it with the older model, then you will definitely find a great difference in the speeds with Apple iMac being the fastest.
Furthermore, the retina display is the highlight of the whole system. It offers vivid and high-quality images that enhance the color by 100 times. Crisp and colorful images are all that you will get out of the Apple iMac. Furthermore, it comes with 4 USB ports, 2 USB-C ports, and an SDXC card slot.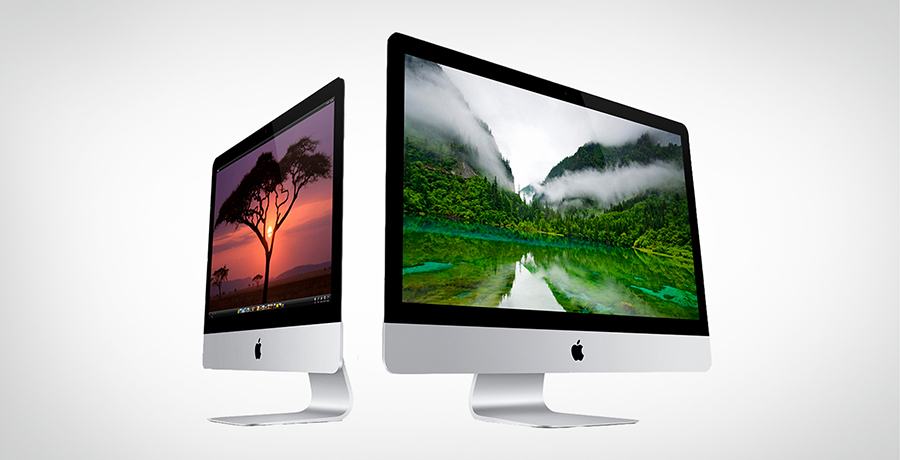 GPU: Radeon Pro Vega | CPU: 3.0GHz Intel Xeon W| RAM: 128GB DDR4|Storage: 2TB SSD
Do you have the budget? If yes, then there is nothing better than buying an Apple iMac Pro as your graphic design PC. Coming with a 4TB SSD, a fast processor, and an excellent GPU card, this computer is all that you need for your work.

Apart from it, the PC comes with a 27-inch LED-backlight Retina 5K display that is one of its kind when it comes to showing vivid and crisp images. Another best thing about the machine is that it is a one-piece design, so you don't have to worry about the clutter on your desk.
Furthermore, the PC has an SD card port, 10 GB Ethernet port, 4 USB 3 ports, and 4 Thunderbolt 3/USB-C ports. With so many features and an appealing design, it's the best computer that you can buy for your use.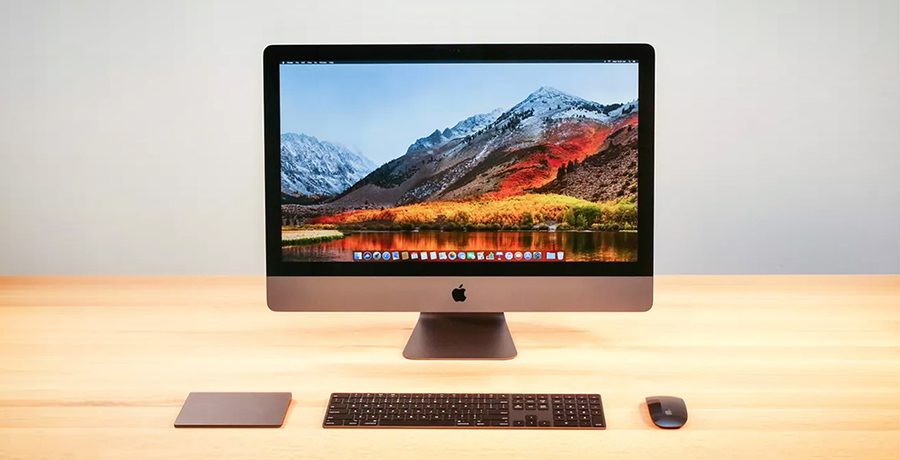 GPU: Nvidia GTX 950M – AMD Radeon RX 460 | CPU: Intel Core i5 – Core i7| RAM: 8GB – 16GB|Storage: 1TB SSHD, 1TB – 2TB HDD; 256GB SSD
Where this PC is the best for watching movies, it serves its purpose for the designers as well. Apple and Dell might have their versions of all-in-one PC, but HP has really outdone itself. This PC is a great deal for both professional designers and beginners.

Coming with an Intel Core i5 processor, the computer offers great speed. Since all designers look for speed, this PC can certainly give it to them. Apart from it, the 34-inch curved screen shows the brightest images that you would ever have seen in your life.
This PC comes with full-bodied audio, so why not enjoy your favorite music while you design the best image of your life? Get the best experience by using the best graphic design PC.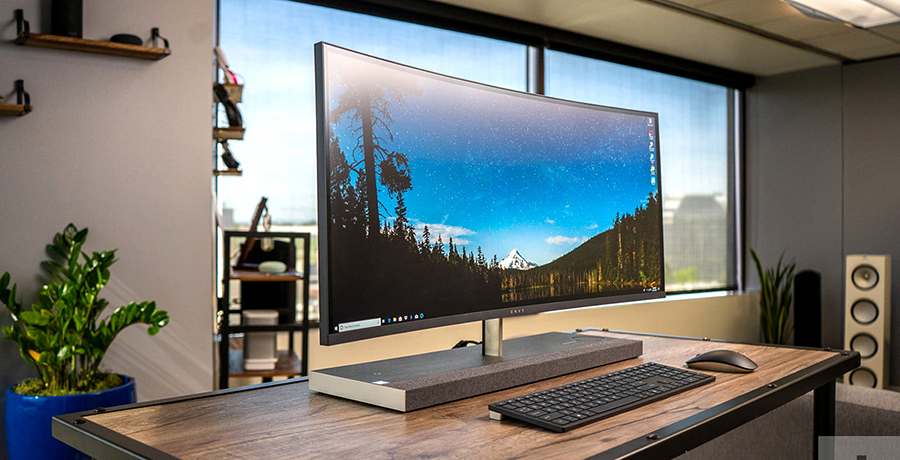 GPU: UHD Graphics 630 | CPU: Intel Core i5-9400T| RAM: 12GB RAM |Storage: 512GB SDD
| | |
| --- | --- |
| Simple design, excellent storage, and enormous display – this PC is all you need to kick start your graphic designing career. The desktop is all about showing crisp images glowing with vivid colors. With 12 GB memory, an i5 processor, and so much more, you will not find a better computer for graphic designing anywhere else. | |
Apart from it, the monitor comes with advanced features, so your eyes are never compromised again. The PC is equipped with great storage that is enough for graphic designing and gaming as well. Take advantage of the enormous features that are present in this one PC! 
GPU: Nvidia GeForce GTX 1060 | CPU: 3.2GHz Intel Core i7-8700 | RAM: 32GB DDR4 |Storage: 256GB SSD + 2TB SATA Hard Drive
| | |
| --- | --- |
| Dell XPS 8930 is definitely the talk of the town due to its amazing design, quality, and functionality. It's not the first time that Dell has stolen the market with its eye-catching, fast, and efficient machines. As amazing as this PC is, the computer does not come with a monitor, which is definitely a drawback. | |
If we look on the bright side, the PC comes with 256GB SSD, Intel Core i7 processor, and an Nvidia GeForce 1060 graphics card. The PC is fast and offers amazing colors and images, thanks to the great graphics card in it.
In the future, if you plan on upgrading the memory of the computer, you certainly can with the upgrade option. Currently, the PC comes with 32GB RAM, which is enough to get you started with the work.
GPU: Nvidia GeForce RTX 3070 8GB | CPU: Intel Core i9-10900KF Ten Core Processor (20MB Cache, 3.7GHz-5.3GHz) | RAM: 64GB DDR4 2933MHz| Storage: 2 1TB NVMe SSD, 2TB HDD
| | |
| --- | --- |
| You must be thinking that how come a gaming PC comes in between a graphic design computers list? Well, you can guess how wonderful a machine it is that we are recommending it on a completely off-list. | |
The hardware of the PC is the one that deserves all the praise. It's a fantastic machine that allows you to work efficiently and without any hassle. Some great features of the CUK Continuum are 12MB cache memory, Nvidia GeForce graphics card, 64GB RAM, and 8th generation Intel Core processor.
As this was not enough to catch everyone's eyes, the PC further comes with 5 pre-installed fans to keep it cool. So at a fair price, you're getting everything that you can possibly think of.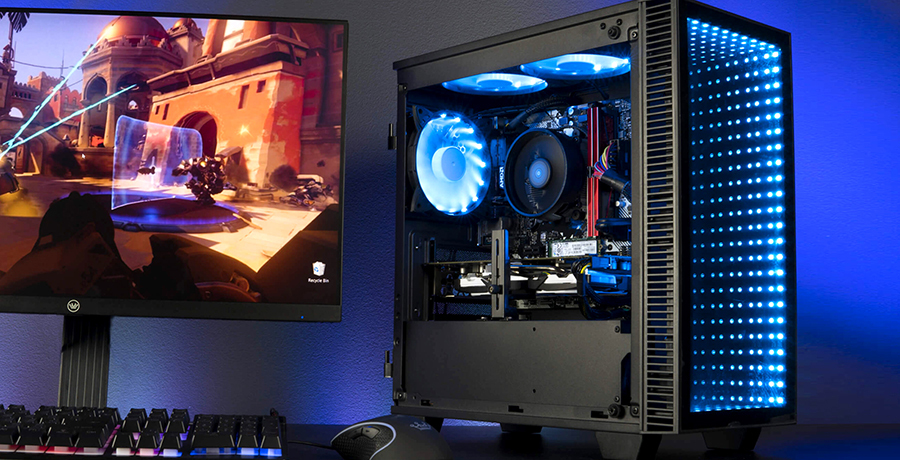 GPU: Nvidia GeForce GTX 1060 | CPU: 3.20GHz Intel Core i7-8700| RAM: 8GB DDR4| Storage: 256GB SSD, 1TB HDD
| | |
| --- | --- |
| No matter if you are looking for a PC that offers exceptional gaming performance or is perfect for your graphic designing – Acer Predator Orion 3000 is the one for you. | |
The enormous storage and the fast processor enables you to forget about PC lagging altogether. With this amazing machine on your hands, you don't have to worry about anything. Design as much you want on the super Acer Predator that works like magic!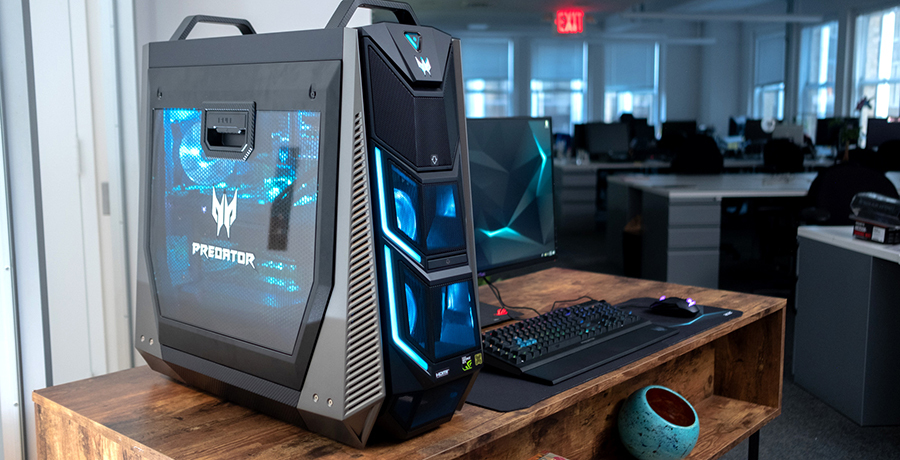 GPU: Integrated AMD Radeon Graphics | CPU: AMD Ryzen 3 4300U | RAM: 8GB DDR4| Storage: 128GB SSD PCIe NVMe
| | |
| --- | --- |
| Lenovo is no doubt one of the best machines that you will find in the market. Now, coming to Lenovo IdeaCentre AIO 3, it's not less than the Microsoft Surface Studio 2 and Apple iMac. It's a wonderful combination of speed and simplicity. For all the creative heads out there, this is an all-in-one computer that will leave you with an experience of a lifetime. | |
The PC part is built in the base of the stand of the PC giving it a unique touch. Apart from it, it comes with a thin screen and a Retina display. A computer is an amazing option for designers and photographers.
The price of the PC is also affordable considering the number of features that you will be getting with it. So, why not invest in something that is both efficient and offers value for money.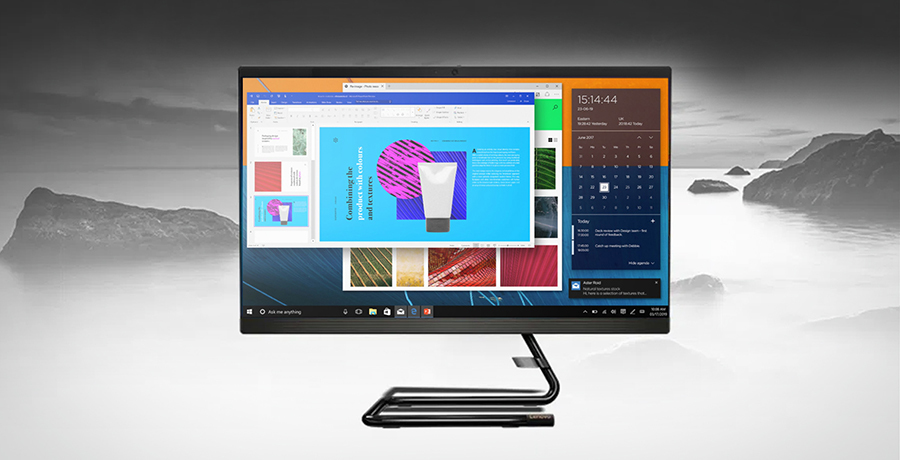 GPU: NVIDIA GeForce GTX 1660 Ti 6GB GDDR6 | CPU: 2.90GHz Intel Core i5-9400F | RAM: 8GB – 32GB| Storage: 1TB SSD + 2TB SSHD
| | |
| --- | --- |
| A wonderful-looking PC with all you want is the first choice of any graphic design. The HP Pavilion Gaming Desktop comes with astonishingly amazing features that set it apart from the rest of the competition. It comes with a great graphics card that never lets you compromise on the image quality. | |
Furthermore, the PC offers great speed so you can enjoy a great time in designing without any lag. Every graphic designer can get this machine for their use as it's one of the best in the market.
Also check:
Final Word
So, are you ready to invest in the best graphic design PCs of all times? If yes, then this list will serve you right!
There are only a few machines in the market that catches your attention and if they do, then they are certainly right for your creative endeavor. If you are looking for some amazing options to make the most out of your career, then the list of the best graphic computers is the one that you are looking for.
Why wait when you can grab the best PCs for your graphic designing work? Don't put your work behind and invest in your career with zero regrets. From image quality to speed, these PCs excel in everything, so be stress-free before investing in these machines.
All you need in a PC is just one decision away from you. So, which one are you rooting for from the list?
Disclosure: This content is reader-supported, which means if you click on some of our links that we may earn a commission.