Congratulations on making a big decision and stop taking pictures of your artwork, first!
Having access to the best scanners for graphic designers can help you maintain the brilliance of your design work eliminating the reflective light or shaky camera issues. And there are various brilliant options to select a scanner and up your design work.
Wait, are you worried about the pricing issues? Or is it the feature selection confusion that doesn't let you pick one right option for your home office?
Today is truly your lucky day as we've this handy list to suggest various best scanners for graphic designers that are affordable and offer best scanning results.
So, continue reading and discover the right option when you're seeking the best scanners for designers in a low-budget price.
Key Selection Features
Before I start mentioning the best scanners for graphic designers, why let me tell you how to find them. Let me explain you what makes a scanner worth purchasing and what particular feature (that lacks) makes an option a poor selection. Below are some selection metrics that you must seek into every prospective scanner before hitting the payment button.
Connectivity
With the advancement in technology, we prefer to connect devices wirelessly but scanners still use old connection methods. Usually, you'll find two types of connection methods even in the best scanners for graphic designers that are USB connectivity and Wi-Fi connection method.
Both offer certain benefit for the end product of your scanning endeavors so do look which device has better scanning functionality with either of connectivity methods.
Size
Generally, a scanner is designed to accommodate your A4 papers and offer almost same scanning dimensions. Since you're seeking the best scanners for graphic designers, you should go for a scanner that can support larger dimension so that you can easily scan large artwork without getting into scuffle with your machine. Because if you opt for a rather smaller machine, you may have to scan half of the artwork at a time and this could affect your artwork's quality, digitally.
Weight
If you're seeking a scanner that is easy to carry wherever you go, do select a scanner that is lightweight. Ideally, a scanner weights around 1.5 kg that is a lot of weight to carry. Try seeking one that weighs below 1kg in order to consider it one of the best scanners for graphic designers.
Image Quality
Image quality is one of the deciding factors when seeking the best scanners for designers! If you're buying a scanner for casual, non-professional work, then any entry level scanner would be sufficient to cater your needs. But if your scanning requirements are of professional grade then you must analyze the image quality of the prospective scanner, too.
Price
There's a simple rule that spend only that you can afford!
And here you should practice this rule by keeping in view the key scanning requirements of your work. For example, if you're buying the scanner for non-design work just like documents, books and receipts then you may seek a simple, non-color, scanner that costs less. And, in the same way, if your scanning demands to convert artwork in Hi-Res graphics, you must seek the best scanner regardless of the price tag.
Best Scanners for Designers & Illustrators
I know it could be extremely confusing when you're seeking low budget best scanners for designers and almost all the options have identical features. So, I kept the list in chronological order (starting from least price to highest one by the end) for your ease. Continue reading and discover the best scanners for graphic designers under your budget.
Come, let me suggest you the best scanners for graphic designers matching your budget!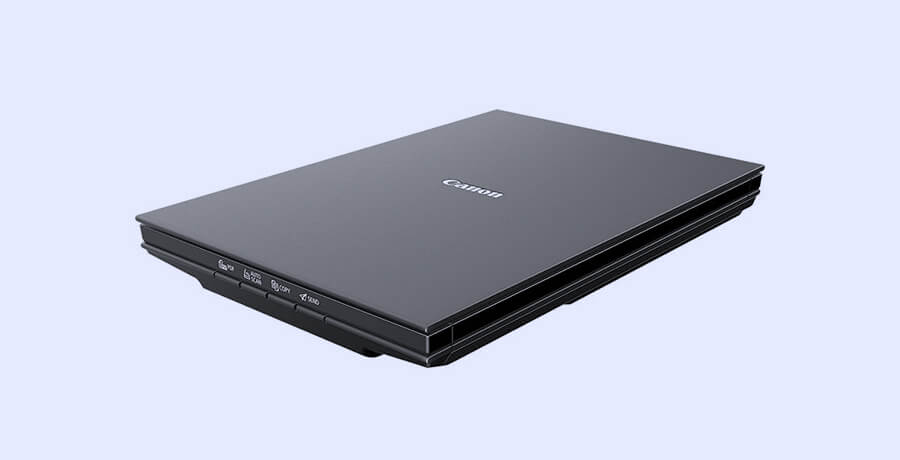 If you're new to selecting a scanner and don't have much knowledge in this domain then let me suggest you to buy Canon's CanoScan LiDE 300, an entry level scanner for your routine needs. Having an optical scan resolution of up to 4800 DPI, this scanner offers a decent 10 seconds scan time.
There is a USB interface for connectivity and you get to have 2400 x 2400 resolution with Canon CanoScan LiDE 300. Its entry level features make it an ideal option for a low-priced scanner which is why I've included into this list of best scanners for graphic designers for someone using this machine for the first time and has no detailed expertise in evaluating scanners.
What I like about this scanner is the software at such a low price that compelled me to include it in best scanners for designers. Plus, the Easy-To-Use interface is another plus point of CanoScan LiDE 300.
The only thing that I found uncomfortable is the lack of mobile device support that may be a hindrance if you're someone who relies on mobile for most of the design work.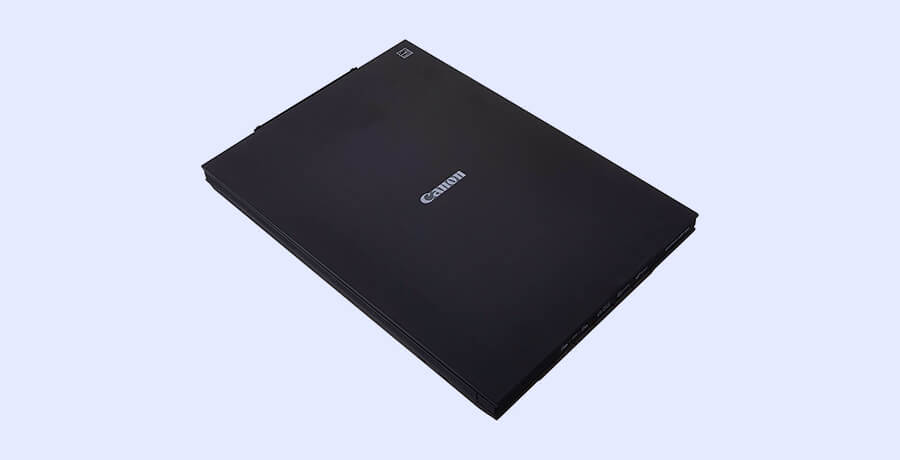 Next, in the list of low-price best scanners for graphic designers, is yet again from Canon. CanoScan LiDE 400 is another viable option for those buying a scanner for testing purposes.
It offers a decent 4800 resolution (just like LiDE 300) but has 14.5 x 9.9 x 1.7 inches dimension. Again, it isn't very different from LiDE 300 as it offers the same connectivity method like USB Type C. But it has a slight difference in scanning time (it offers 8 seconds of scan time).
Why I added CanoScan in the list of best scanners for graphic designers is that it offers kickstand positioning feature (that you don't get into its predecessor). And it has the same, amazing software with a vibrant photo scan facility as well.
Again, you might not like this for not having mobile device support as well as it doesn't offer accurate scanning for san-serif fonts, too.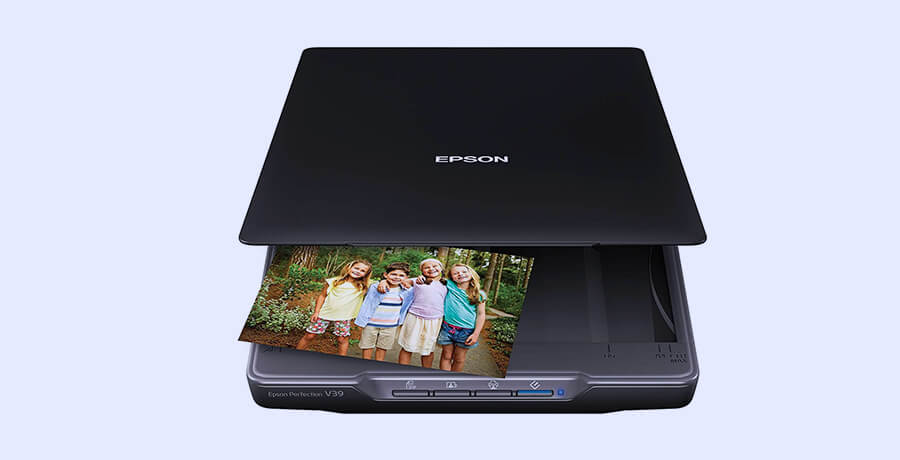 Let me introduce you another strong contender in scanner industry, Epson, that has a low budget scanner for you in shape of Epson Perfection V39. This scanner is one of the best scanners for graphic designers who want to maintain the quality of their work or trying to secure some old photographs. Apart from having extremely lightweight (of 3.4 pounds), it offers USB connectivity, too. Plus, you can connect it with Google Drive (or other cloud services) too.
The reason for adding Epson Perfection V39 in this list of best scanners for graphic designers was the HD photo scans and a fully automated scan mode that makes it an ideal choice.
Although it does offer interesting features with such a price tag, it lacks film-scan capability that may prove a turn-off for you.
If you're in search of a premium scanner, I've just the perfect option in my list of best scanners for graphic designers in shape of NeatReceipts. This innovatively designed clean white machine offers about 4800 DPIs on a 10 seconds scanning speed. You'll find the USB connectivity a little old school for such an amazingly designed machine, though. But the sort and scan PDF document might change your mind, too, if you deal mostly with documents.
In comparison to most scanners, NeatReceipts has a very low weight which makes it extremely portable.
The only downside of this machine is that it may wash out your design's quality if you fail to pay attention on color settings.
I understand that this post is meant for suggesting best scanners for graphic designers only but there's an important reason for adding Epson WorkForce DS-30 in this list. Don't get decieved by the name WorkForce as it offers superb scanning results when you're required to create business cards, too. Offering USB connectivity with 600 resolution, this machine is an ideal option if you're seeking an efficient scanner mainly for graphic design work.
The super-fast scanning speed of 4.6 seconds and 9600×9600 DPIs are the other reasons why I added it into the best scanners for graphic designers list.
Yes, it may get slower if you require Hi-Res color prints in your laptop.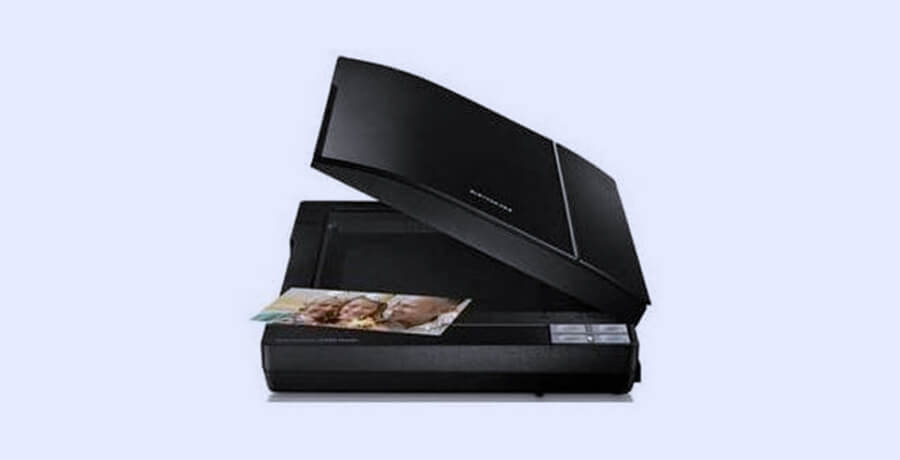 If you deal mostly with abstractive designs and looking to maintain the design quality with a scanner that gives you more control over usage then I'd recommend you to consider Epson's Perfection V370 scanner.
The scan to cloud option, included into this device, is what pushed me to add it to the best scanners for graphic designers list. Plus, the 4800 DPIs are another reason that compels you to go for this machine in this price range.
The good news is that you can scan 35 mm negatives and each side of your creative work. Plus, the coloring accuracy is beyond any praise for Epson Perfection V370.
But I'm not a fond of its imaging sensors that are pretty much average in comparison to its other amazing features.
Don't like wired scanners? I've just the right option for you in shape of Doxie Go WiFi. If you prefer portable devices then this one is one of the best scanners for graphic designers that you can ever have by paying 300 bucks (or slightly more).
Fast scanning, rechargeable battery and a software that supports versatile range of apps, what else do you need into your compact scanner? Plus, the 8 seconds scan time is what makes it worthy to be included in our list of best scanners for designers.
For me, it was the portability feature of Doxie Go Wifi that I added it into the best scanners for graphic designers. I mean you can scan every little piece of paper on the go without even having your laptop around and transfer them all later when you do.
The only negative aspect that I noticed is the slow scanning pace per page otherwise it is a decent device in this price range.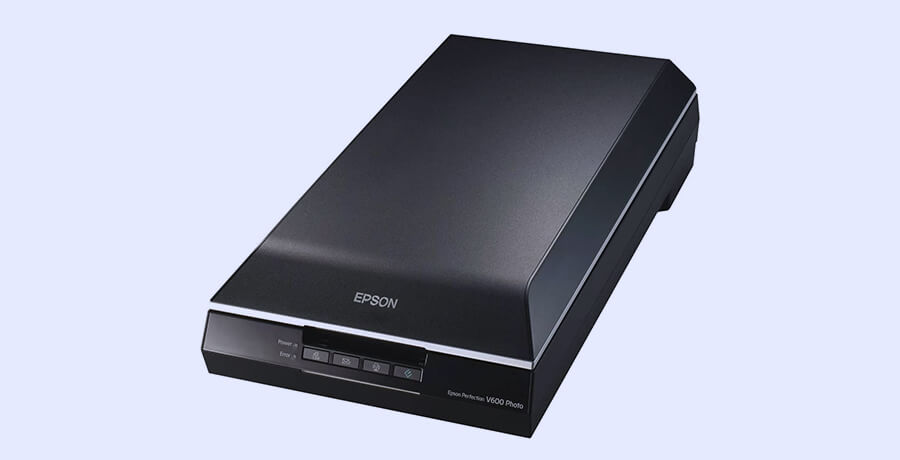 Whenever it comes to best scanners for graphic designers, Espon never fails to impress with its innovative range of scanning machines.
Let me suggest you another machine from Epson, the Perfection V600!
This adjustable scanner is ideal for photos, documents and negatives that a graphic designer does require for completing the project. The USB connectivity offers you an uninterrupted experience along with the wider scanning dimensions of 19 x 11 x 4.6 inches. This device offers up to 9600 resolution and has a quite flexible scanning time, too.
What I like the most about Epson Perfection V600 is the excellent quality flatbed scans for 35mm films, and the OCR recognition technology that makes it a worthy addition into the best scanners for graphic designers.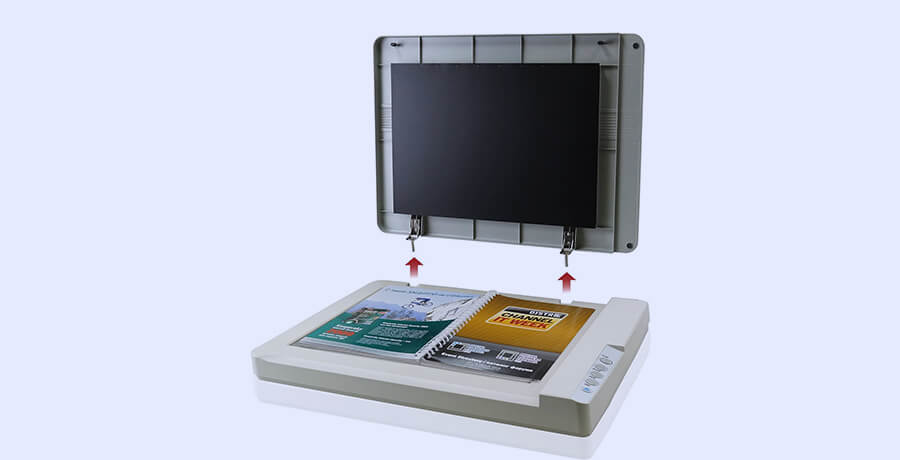 Not an industry leader like Canon or Epson but Pulsetek 1180 flatbed scanner has earned a notable place amongst the best scanners for graphic designers. It offers 15 second per page speed and has a dimension of 11.7 x 17 inches that allows you to scan larger pages, too. The machine offers 1200 DPIs and has an LED light source type giving a fine look to its overall design. It can be a trusted scan partner with up to 2500 scans per day.
Given the daily scan quantity, this machine is an ideal option for professionals or even for home office usage which is why I added it into this list of best scanners for graphic designers.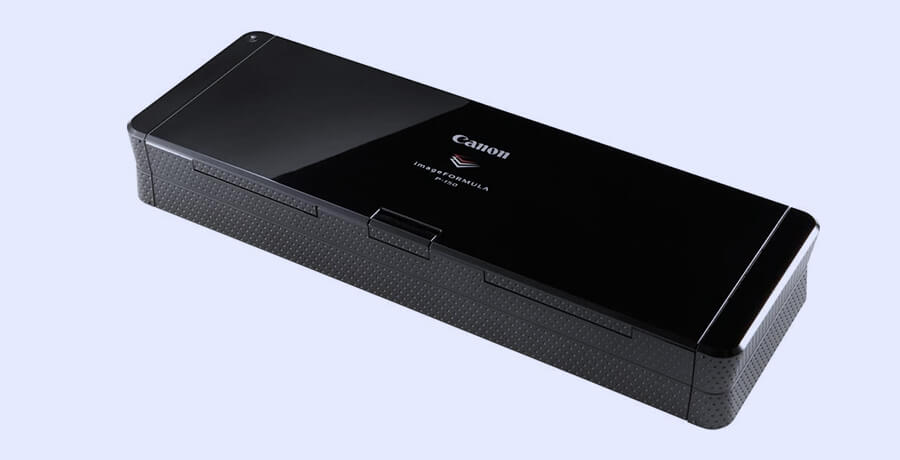 Staying on top of scanner war, Canon released its imageFORMULA P-215 scanning machine in November 2014. This device accepts a multitude of operating systems and offers up to 15 pages per minute scan frequency. With an optical scan resolution of 600 DPIs, this machine is an affordable addition to best scanners for graphic designers.
The automatic document feeder is an awesome addition to Canon's scanning machine lines along with the 15 PPM range.
The only downside that I didn't like in this scanning machine was the initial setup that took much time than usual.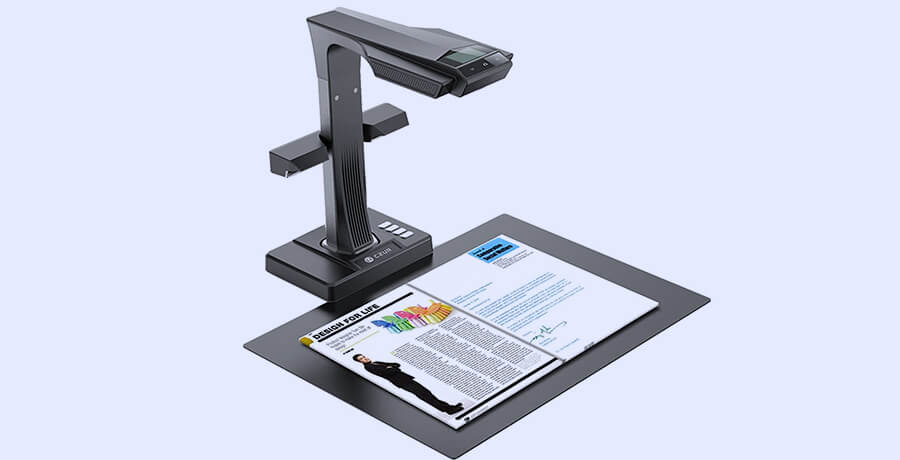 Does your designing work involve books and abstract art? I've one futuristic scanner suggestion to make in shape of CZUR ET16 Document Scanner that is a true game changer. Where most scanners have a flatbed mechanism to imitate your hardcopy designs, this one works on a flash technology. Copy your books, convert them into PDF or make Word copies of your material all on a thunderbolt speed with CZUR ET 16, the ideal addition to the list of best scanners for graphic designers.
Having 40 PPM frequency is what primarily got my attention for adding it to the best scanners for graphic designers along with the unconventional design.
You might give up on this machine if you're not well versed with new tech, though.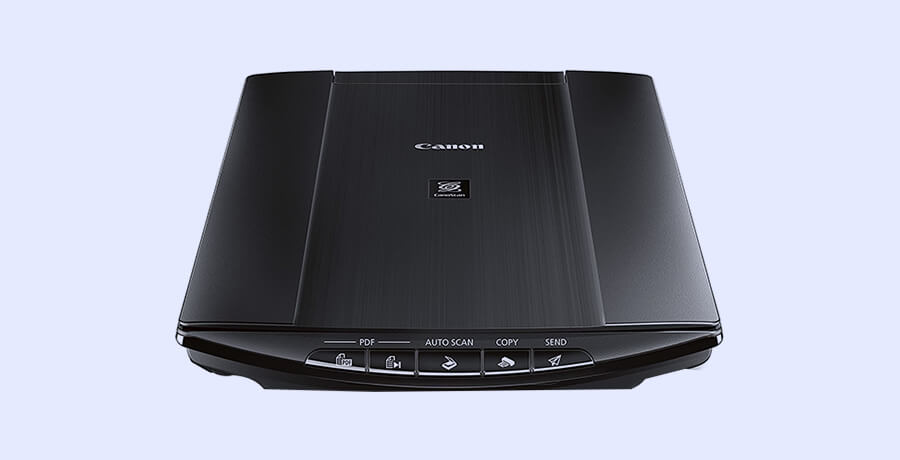 Last, in my recommendations for best scanners for graphic designers under $450 budget, is the Canon CanoScan LiDE 220. This one is another wonder from the house of Canon and is especially made to cater to your scanning needs for design work. The front button menu is extremely easy to master, unlike the CZUR ET16 Plus that has a rather complex operating system for an entry level scanner user. This, again, offers USB connectivity as most Canon devices and scans the whole page in less than 10 seconds.
I'm sold at the image enhancement functionality of this machine that I added it to the best scanners for graphic designers. But I did notice that CanoScan LiDE 220 lacks the photo editor which you might want to have.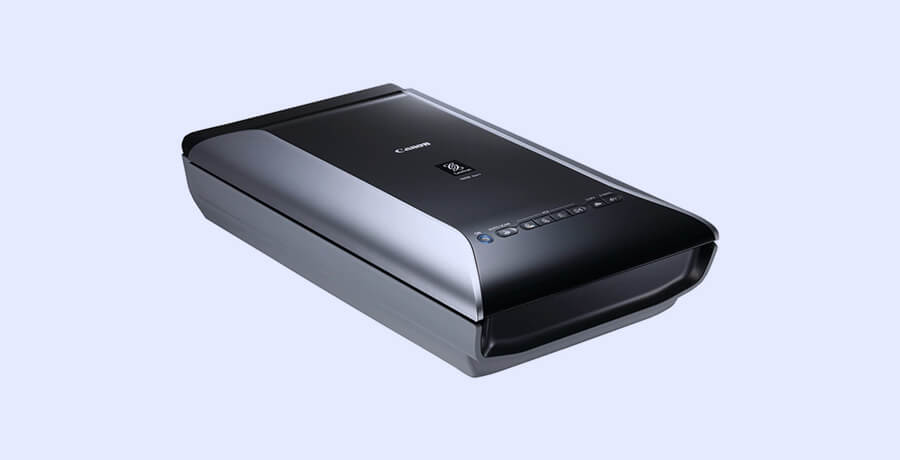 Satisfaction is the alternative name of Canon as it proves with the CanoScan 9000F MKII scanner that is a recent release. With an impressive scan speed of 7 seconds, you can truly harness your work pace and enjoy its crystal-clear result with the FARE Level 3 technology that makes it a worthy inclusion into the best scanners for graphic designers.
The only downside that I noticed is that the scan speed slows down when you have multiple documents for scanning at once. But again, this is not as prominent drawback as to leave this wonder in the most affordable scanner options.
***Premium Scanners***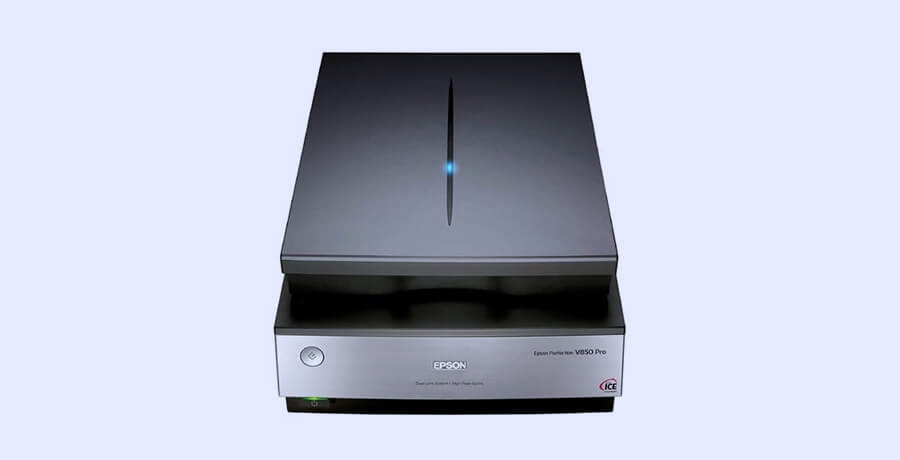 Epson is known for its premium products and Perfection V850 is one of them. If you want the best scanning quality and willing to go way too out of your initial budget, I recommend you to consider this machine that proves its worth with all the astonishing features for inclusion in the best scanners for designers.
Offering 4800 DPIs, quick 10 seconds scan time and USB connectivity, the final results speak for Epson Perfection V850. The minor, rather frustrating, aspect of this machine is that you'll to adjust color calibration software for maintaining the result as you prefer.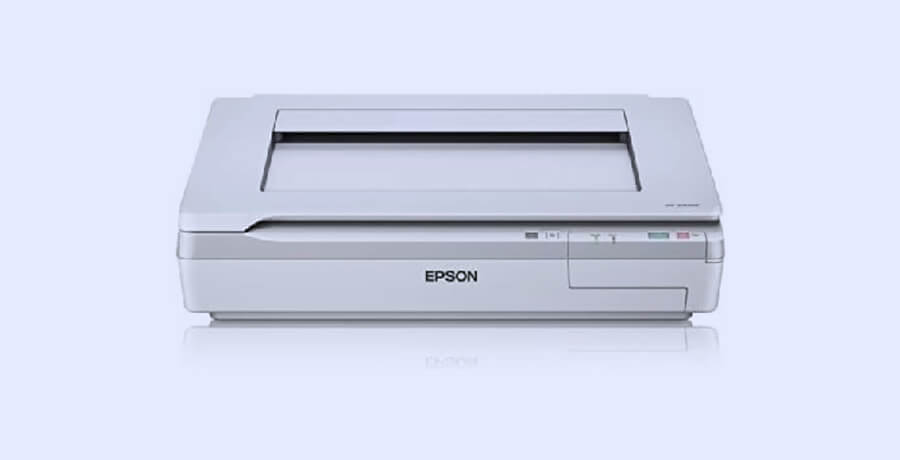 Before I conclude my list, for the best scanners for graphic designers, here is another premium recommendation in shape of Epson DS-50000 that exceeds in price, though. This beast is literally made for scanning large artworks at 600 DPIs and has 40 PPM frequency, too.
Although, the Epson DS-50000 is fully loaded with amazing features but you might feel the need of Bluetooth or Wi-Fi connectivity.
Also check:
Final Words
Continuing my tradition to suggest premium options at the end, I've included Epson Perfection V850 Pro and DS-50000 in this list of best scanners for graphic designers. Where they have a higher price tag, they also offer versatile range of features that can harness your work's pace with astonishing scanning speed.
If you're on a limited budget, my recommendation list for best scanners for graphic designers also includes likes of Canon CanoScan Lide 300 and 400 Slim that have an unbelievably low price, too. And do remember to follow the selection metrics that are mentioned in the beginning for evaluating all the options mentioned in the post.
Keep creating awesome work, keep exploring new tech, Adios!
Disclosure: This content is reader-supported, which means if you click on some of our links that we may earn a commission.